There are two ways most forex brokers charge fees when trading currency. These are through:
1) Spreads
Spreads are the difference between the buy and ask price of any currency pairing. The total cost is calculated through the combination of the:
Spreads
Pip Cost
Number Of Lots Traded
There is a natural spread rate for all currency pairings but some FXCM accounts and other forex brokers spreads are increased in allow for the brokers margins when making trades.
2) Commissions
A commission is a set amount charged on all currency pairings based on the volume of forex traded with total costs calculated through:
Spreads
Pip Costs
Number Of Lots Traded; and
Round-Turn Commissions
The increase in commission when trading is offset by lower spreads offered by specialist ECN forex broker accounts and specialist forex brokers. These commissions can start from $0.03 per 1,000 lot.
FXCM Spreads Based On Their Three Accounts
1) Forex Capital Markets Mini Account
The FXCM Mini account is a 'spread only' account. This means that while there are no commissions, the spreads are larger when trading. The minimum balance required is $50 with a $1k minimum lot size. This highlights how the account is focused towards those new to trading. Below shows the average spreads from 1/1/2017 to 31/03/2017.
This mini account offers dealing desk execution. This conventional model sees the forex trader deal directly with the forex broker (in this case FXCM). MT4 or Trading Station are the forex trading platforms available for mini account forex trades. Maximum leverage is 400:1.
2) Forex Capital Markets Standard Account
The standard FXCM account is the most popular option by their forex traders aimed at intermediate and expert traders. The minimum lot size is 1k and the minimum balance is $10k. The FXCM spreads are lower compared to the mini account as the account has no dealing desk execution. This means traders deal directly with liquidity providers with no spread markups. Below provides example spreads in 2017.
There are commissions added to the above spreads to keep them low. This benefits day traders and scalpers providing greater transparency as to forex trading costs.
Leverage of the standard account is smaller at maximum of 100:1. If your looking for a higher leveraged ECN forex broker account Pepperstone may be a better option.
3) Forex Capital Markets Active Trader Account
The active FXCM account is designed for high frequency traders with a minimum deposit of $25,000. The spreads are the same as the standard account but the commissions are lower based on the monthly volume.
Leverage remains at 100:1 for the account but an added benefit is the support provided. Along with a relationship manager, a dedicated back-office team provides support from aligning the right technology to trading solutions to meet the traders needs.
FXCM Compared To Other Australian Forex Brokers
Over a decade ago, FXCM was revolutionary offering the ECN forex trading option. Today, many other forex brokers offer ECN forex broker trading including Pepperstone, AxiTrader and IG. Below is a screenshot of a comparison table showing some of these forex brokers and their spreads.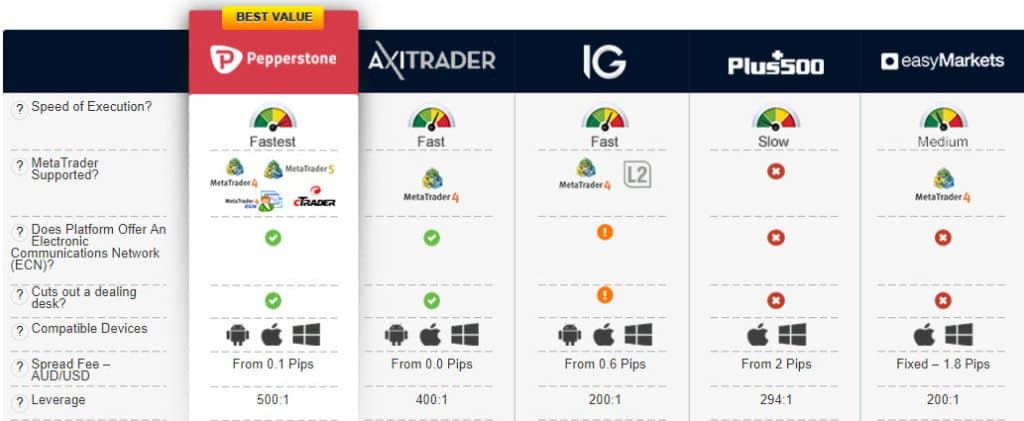 FXCM spreads are competitive but other forex brokers do offer superior fees and associated features like negative balance protection so it's worth comparing first. FXCM also only offers three forex trading platforms:
Trading Station
MT4
NinjaTrader
Popular forex trading platforms including cTrader are not offered which can be limiting. The newest MetaTrader 5 is also not currently offered by FXCM. The execution speeds for Australian forex brokers is also limited. Most other ECN forex brokers offer Equinix server capabilities. These Australian servers are satellited on New York and London near liquidity pools. This minimises latency reducing the risk of slippage in turbulent markets.
Other Key FXCM Information
FXCM is not just a forex broker. The broker also offers indices trading with up to 200:1 leverage. There are no trade commissions or exchange fees when trading indices. Instead, the spreads are the only charges across the 10 indices including the 6 shown below.
The most popular indices in Australia is the AUS200's. This is the underlying instrument of the ASX based on a weighted average performance of the countries top 200 stocks. Another trading option is commodities. This ranges from copper, oil, gold and silver and like indices, only has spreads as their fees structure. FXCM Spreads are also the same at 200:1.
For advanced currency traders, there are also API fees and Expert Advisor (EA) options. In fact, a unique offering you can find in our Pepperstone vs FXCM review is that FXCM will create an EA based on a traders rules is requested. There are also hundreds of educational resources from the basics of forex to advanced techniques.