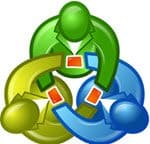 MetaTrader 4 is available for apply devices including the:
MT4 for Mac
MT4 for iPad
MT4 for iPhone
Features Of MetaTrader 4 For Mac
MetaTrader 4 offers real-time charts, news analytics and live quotes when forex trading. Automation is also offered through Expert Advisors allowing strategies to be traded over the marketplace or developed. These can be back-tested using historical data. So in summary, key features include:
Customised Indicators
1-Click-Trading
Multiple Time Frame Options
Live Quotes
Unlimited Charts
Automation
How To Install MT4 On Mac
Step 1
The first step is to install Play On Mac. This is an application that allows users to play windows programs on a mac. The application is free unique its alternatives like Bootcamp and Virtual Machines. These though can be used as an alternative if that's your preference.
Step 2
When you download Play On Mac, you will need to allow the XQuartz component using the X Window System on Mac OS.
Step 3
Next, you will need to go through the terminal installers. Download MT4setup.exe, launch the setup file, allow shortcuts the follow the prompts.
What Forex Broker Is Recommended For MetaTrader 4?
A comparison of the top 10 forex brokers offering the MetaTrader 4 trading platform found Pepperstone was the best forex broker.
The finding was based on five key factors:
1) Spreads
The difference between the buy and sell price of any currency pairing is called the spread. In almost all cases there is almost a natural spread between an ask and sell price but most forex brokers add extra pips as their charge. The exception is forex brokers with ECN trading accounts including the:
Pepperstone Razor Account
AxiTrader Pro Account
IG Forex Direct Account
IC Markets True ECN Account
ECN accounts allow forex trading that is direct with liquidity providers such a global banks and financial institutions. Pepperstone's arrangement with liquidity provides combined with their Price Improvement Technology which routes currency orders to detect hot-spots helping achieve low spreads.

2) Execution Speeds
Execution speed is the time it takes to make a currency trade on the market. This is critical when forex trading as slow trading can lead to slippage. This phenomenon is when a trader executes a trade but the contract is filled at a worse rate due to the delay of the forex broker. Factors that impact execution speeds include the physical connection, server and access to inter-bank servers. The two top forex brokers based on execution speeds (Pepperstone & IC Markets) both use the Equinix setup to achieve the top speeds.

Equinix is on the Nasdaq with forex trading servers both in New York and London. The New York (NY4) facility is used for MT4 traders and is located near the banks (11km from wall street). This facility has over 60 exchanges and more than 150 financial service providers. With over 400 buys/sell first and close to 700 network bandwidth options, its the ultimate forex transaction hub.
3) MT4 Forex Trading Platform Features
The two most popular forex trading platforms are MetaTrader and cTrader. Pepperstone offers both including MT4 platform for mac.
The MetaTrader Platform for Mac through Pepperstone offers:
Live Quotes
Real-Time Charting
Detailed Analytics & News
Expert Advisors
Management Tools & Indicators
The platform can be customised for different environments and it easy to use and integrate with Pepperstone funding. There is no need for the Windows emulator, over eighty pre-installed currency indicators and multiple charting setups. This makes it easy to complete physical forex trading or use automated trading which can utilise a VPS. This is why Pepperstone is viewed as the preferred MT4 platform for Mac.

4) Leverage
Leverage is the amount a forex broker will amplify a deposit by when currency trading. For example, a 100:1 leverage level will amplify a $100 to be $10,000 on the forex market. This means a small movement will lead to large profits or losses, increasing the risks and also the potential rewards.
Pepperstone was considered the best MT4 forex broker in-part due to their high leverage of 500:1. One of the highest rates of the leading forex brokers.

It's important to understand the risks associated with high leverage levels. Pepperstone offers stop-loss orders and technology to prevent negative balances. Neither of these though are guaranteed so if your risk appetite is lower, then consider a forex broker offering the following:
Deal Cancellation
Guaranteed Stop Loss Orders
No Negative Balance Guarantee
One forex broker offering these three features is easyMarkets. This forex broker though doesn't offer the MT4 for Mac forex trading platform.
Open a demo account >>Visit easyMarkets>>
Other Information On Pepperstone
Regulation
Forex trading involves leverage which leads to increased exposure to currency markets. It's therefore important to fully understand the risks and seek independent advice if forex trading is right for you. Choosing a forex broker that is regulated by the Australian securities regulated (ASIC) such as Pepperstone can help reduce some risks. This is because Pepperstone's regulation ensures they meet training standard and segregate clients deposits. Information on this site further explains other features that Pepperstone offers.
MT4 Trading Markets
Pepperstone offers MT4 trading on more than just forex. They also offer CFD trading on precious metals, CFDs and even cryptocurrency such as Bitcoin. Like currency trading, contract for differences (CFDs) carries a high level of risk due to them also attracting leverage. It is therefore important to understand the risks involved before CFD trading.