Overview Of The Forex Trading Platform Market
With the boom in retail Forex trading in the mid-2000s and the ever-growing number of brokers trying to compete for business, the Forex trading platform became one of the key differences between trading houses. When analysing the software offered by most brokers, you'll find that the technology behind each one is not all that different. Continue reading for all the ins and outs of Forex trading Australia platforms.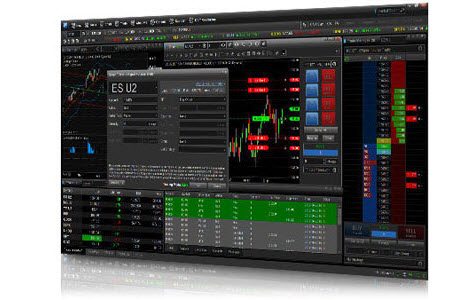 The Difference Between Third Party Platforms & Proprietary Software
The term 'proprietary software' is bandied about quite a bit. Does choosing a broker that offers their software mean you're settling for less? While it is convenient using a Forex broker house's software, are you sacrificing Forex trading platform power? The short answer is no. All trading platforms both in house and 3rd party, offer similar features when it comes to trading. They all act as a medium of information between brokers and traders providing pricing information, charts and order execution. Where they differ is in areas such as fee structure, user interface, types of orders available and whether the software supports 'expert advisors,' otherwise known as algorithmic trading programs.
Most brokers allow you to trial their software in the form of demo accounts, which is highly recommended for getting a feel for the different types of Forex trading platforms.
Companies That Offer Their Platforms
In our research, we found the spread fees associated with the proprietary Forex trading platform were marginally higher. This may be due to companies trying to pass on some of the costs associated with developing and maintaining their software. Looking at some of the companies that offer their software, it's quite easy to spot their slightly higher spreads.
Plus500
Plus500's Forex program was generally quite easy to use. While the spreads, especially the AUD/USD look slightly prohibitive starting at 2.0 pips, the company which belongs to the top forex brokers is just one of the 3 Australian based companies currently offering guaranteed stops. Where the company's platform falls over is in the area of speed. Due to the presence of a dealing desk, order execution is rather sluggish.
FXCM
FXCM's proprietary software is called Trading Station and comes in a web-based version, a downloadable program for your desktop or PC and a mobile trading station. Due to the company having access to access to a large network of liquidity providers and interbank markets, they can afford their customers No Dealing Desk (NDD) execution. This means client orders are settled quickly and accurately with minimal slippage.
Go Markets Ezy Trader
Go Market's in house software is a web-based trading program that doesn't require any software installation. The platform is fully customisable and guarantees a seamless, albeit slightly slower, trading environment. Pricing is also not as cheap as it could be with spreads for the AUD/USD pairing starting at 1.5 pips.
Some Common 3rd Party Trading Platforms
We've detailed some of the better-known in house currency trading platforms. Let's now visit some of the popular 3rd party platforms.
MetaTrader 4
MetaTrader is quite possibly the most popular program in the Forex market and is offered by Forex brokers the world over. The industry-leading platform has been around for several years. MetaTrader 4 is the readily available program with the newer MetaTrader 5 only just starting to take off. The reason for MetaTrader's popularity is due to ease of use, algorithmic trading ability and interactive charting ability. Orders are executed quickly and spreads are quite low. The platform's compatibility across most operating systems, mobile and tablet devices just adds to its attractiveness.
MetaTrader 5
MetaTrader 5 was released in 2010, some 5 year later than MetaTrader 4. While it might sound like MetaTrader 5 is an update of MetaTrader 4. This isn't necessarily the case. While the graphical interface is a slight improvement, it is very functionality very similar, MetaTrader 5 was designed to do a few things not available on MT4 that is needed by a different target market to MT4 users.
MT5 is designed to help users trade in CFDs that are not Forex. This includes shares, commodities, metals and indices. Unlike Forex which is trade in an uncoordinated fashion which varying prices, these CFDs will change ownership only after going through a centralised process.
The other major difference with MT5 vs MT4 is that MT5 is designed to be compliant with 'no hedging' rules of the USA.  MT5 does not allow hedging while MT4 does. So MT5 is fine if your trading with the USA but it's not likely to be useful if your trading outside the USA.
While these are the two major difference, there are also some minor differences. For example, MT5 uses MQL5 rather than an MQL4 programming language. This is great is you want to use programming to further customise your trading platform.
cTrader
cTrader is a powerful piece of software that was created by Forex traders specifically and boasts a huge variety of personalised user interfaces. The program also allows traders to test the viability of their trading tips and strategies and was awarded the top "Retail Platform" in 2013 by FX Week.
cAlgo
Where cTrader doesn't stack up is in the area of automated or algorithmic trading. It is for this very reason that cAlgo was created allowing users to backtest their trading strategies and robots.
While the popularity of cTrader and cAlgo is not as popular as the already mentioned MetaTrader 4, the cTrader programs are becoming more mainstream each year.
Some Popular Forex Trading Platform Features
We've briefly touched on some of the features embedded in some of the platforms highlighted above. However, if you're serious about becoming a successful Forex trader, the following features are non-negotiable:
Direct Market Access
Liquidity is always a problem in currency markets and in times of high volatility or low liquidity not using the best broker that provides Direct Market Access could result in price inaccuracy and slippage. Cutting out a dealing desk is hugely beneficial as it removes the broker's conflict of interest as they are no longer counterparty to a trader's trades.
Speed
When trying to find the right platform for you, always try to utilise a broker with servers located close to data centres such as currency exchanges in New York and London. Fast platforms, even by just a few milliseconds are incredibly advantageous as orders are usually settled first giving traders the upper hand.
Mobile Compatibility
Traders often find themselves on the go. It is very rare for a currency trader to be able to sit at their trading stations all day without interruption. Choose a platform that easily allows you to trade from your mobile apps or tablet. Most mobile software nowadays does an incredible job of replicating the desktop or web trading experience on mobile.
Added Features
A good platform will include lots of features that will help the forex traders experience. For example, some platforms include 'one-click trading' for fast trade execution, advanced charting so you can see patterns in currency pairs movements, real-time technical analysis so users have access to all needed information when currency trading and technical analysis to help you with your decision making when you trade forex. Brokers will also include leverage, to allow traders to maximise their investments as well as automated trading which enhances the customer experience.
Some platforms have these added features will be included as part of the platform while some brokers choose to have them as an added feature and will charge for some or all of these added features.
How To Choose The Forex Trading Platform Right For You?
Take the time to select a Forex trading platform carefully and for starters use our Forex trading platform comparison.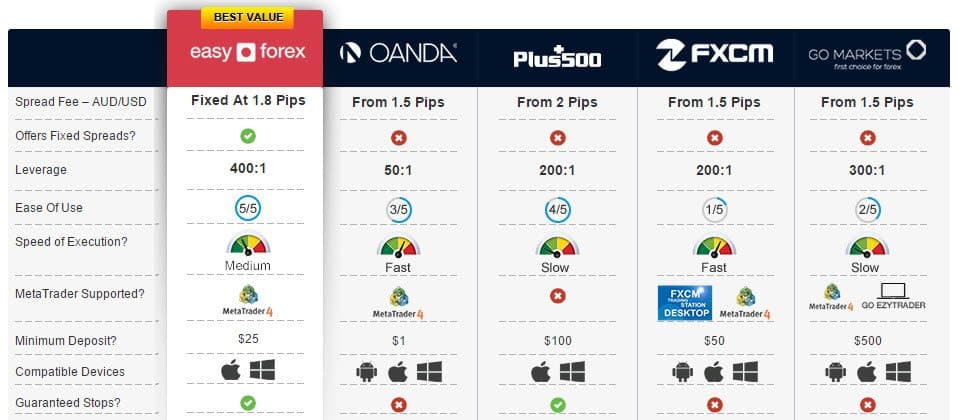 If you are to trade long term you will be spending hours staring at your computer screen. Trading software not only needs to be powerful, but it also needs to have a practical interface too. Elements such as historical data availability, strategy backtesting and trade execution speed are all vital for trading success. Take advantage of demo accounts and get to know a Forex broker's software including the ones in our forex capital trading review before you commence trading live currency.