Pepperstone Has 24/7 Expert Support
Pepperstone was rated the best Australian forex broker based on over 13,000 forex traders.

This includes:
- Overall Client Satisfaction
- Customer Service
The forex broker also won the top marks in the 2016 customer survey.
---
Why Pepperstone Support Is Considered The Best
Over several years Pepperstone has won a plethora of awards including the strongest customer service of the Australian forex brokers. This high rating from forex trading has been based on three key pillars:
1) Experienced Customer Service Team
Pepperstone has won several investment trends awards based on the personalised customer expert service offered by their team. The men and women in charge of the customer service have extensive forex trading experience providing the expertise and knowledge required to meet traders needs. This differentiates them from other Australian forex brokers, some of which don't offer the same level of service.
2) 24/7 Support
Pepperstone has a global network of offices ensuring that support when forex trading is always available. This includes their Melbourne office (in Australia), their Shanghai office, Bangkok office, USA office (in Dallas) and their recently opened London office.
There is a local phone number (1300 033 375) for Australian traders and several others for the other office locations. Support is also office-based via e-mail and contact forms allowing local contact for different locations of the Australian forex broker's main forex trader locations. 24/7 support is relatively unique among brokers. Plus500 is another broker with 24/7 support.
3) Live Chat
Pepperstone recently launched live chat allowing forex trading support online. As the below screenshot indicates, users can sign-in for sessions through Facebook, Google+ or an e-mail address. Several language options also are available. Our Pepperstone review found this to be a unique feature when compared to the other Australian run forex brokers.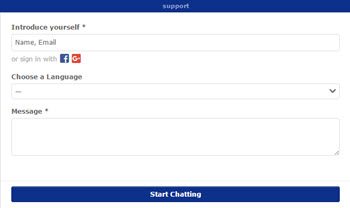 The key advantages of live chat are that all the conversation is logged. It also means the forex trader can share their screen and trading details with the operator behind the live chat. This support like other contact details is also 24/7 and is available not only to current traders but those considering joining.

 Overall Key Strengths Of Pepperstone
a) Leverage
Forex trading wouldn't exist without leverage as on average currency pairings move less than 1% daily. Leverage amplifies these moves by providing a multiple of the deposit made by the forex trader. Pepperstone offers one of the highest leverage levels of the Australian forex brokers including FXCM and OANDA. At up to 500:1, a forex trader can trade with 500 times the deposit. As an example, a $100 deposit could lead to the equivalent of $50,000. This higher level can lead to higher profits or the full loss of the deposit so it's worth understanding the risks of leverage and selecting one in-line with your trading style. Other 500:1 leverage forex brokers are AxiTrader and IC Markets.
b) Trading Platforms
Rather than create their trading platform that some broker such as easyMarkets offer, Pepperstone has utilised the two most popular forex trading platforms, cTrader and Pepperstone. These are also the most popular for Australian forex trading based on their ease of use, execution speeds and advanced features.
c) Low Trading Fees
There are two account types. The standard account is a spread only account whereas the unique 'Razor' account has a standard commission plus as a spread. This Razor account is an award winner as their spreads are near zero and the flat commission ensures trading costs are transparent. This 'Razor' account offers ECN forex broker trading conditions which means traders have direct access to liquidity pools.
d) Australian Compliance
Pepperstone was founded in Australia and has the local regulator backing. This means that is needed to meet Australian requirements including segregating traders deposits in bank accounts and ensuring staff meet trading requirements. Most old 'horror stories' with brokers are related to overseas regulated brokers so choosing Pepperstone lowers the risk.
e) The Broker Offers More Than Forex
Pepperstone is often called Australia's leading forex broker but the truth is that the Pepperstone offers a range a wide range CFDs.
This includes soft commodity trading including:
Orange Juice
Coffee
Cocoa
Cotton
Sugar
There is also Index CFDs where traders can choose the leading index and trade based on their predicted direction. Like forex, leverage is offered as indexes have relatively small movements daily. Precious metal trading from a wide range of resources including Gold, Silver, Platinum to Palladium with a minimum trade size of 0.1 pip and no commissions. Finally, oil and gas are the main energy markets offered through the forex broker.

The information compiled in this article is taken from the Pepperstone Group Limited website. Information is up to date as on January 2020 however please always verify the information is correct with the Pepperstone website. As Forex deal with leverage of up to 500:1, it is important that you fully understand the risks involved when dealing with leveraged products. Forex markets are volatile and unfavourable movements may result in you losing your investment so always ensure you fully research all buy and sell trade decision you make. Compare Forex Brokers encourages traders to seek independent advice even after reading the information on this website. By doing so, you will be able to maximise your initial investment rather than throw capital down the drain. You can view our page where we compared Pepperstone with GO Markets and IG Markets to learn more.