If you're researching spread betting or just starting out spread betting, our guide below is designed provide statistics and information about the size, demographics of traders, and brokers.
Top 5 Spread Betting Stats
Spread betting popularity has steadily been increasing since the early 2000s
In 2022, 1.1% of all gamblers in Great Britain were engaged in spread betting
With sports spread betting, major tournaments such as the FIFA World Cup can increase spread betting activity by 150%
Approximately 65% of spread bettors are aged between 18 and 34
44% who have felt the impact of rising inflation and the cost of living, with many spread bettors looking for alternative brokers due to reduce trading costs
History of Spread Betting
The concept of spread betting has its roots in the early 1900s with the advent of bucket shops, where people could bet on the price movement of stocks without owning them. Fast forward to 1974, Stuart Wheeler, the founder of IG Group, revolutionised the concept by allowing people to trade the price of gold as an index. This was a workaround for British citizens who were not allowed to trade gold for speculative purposes at the time. Wheeler's idea led to the creation of the 'Investors Gold Index,' which later became IG Index.
The Evolution of Spread Betting: 1980s to 1990s
The 1980s saw the emergence of other spread betting providers, but the market was still limited to a narrow segment of the population. The lack of technology made it difficult for both investors and companies. However, the mid-1990s technology boom played a significant role in the industry's development. The internet and advancements in technology allowed spread betting companies to offer more markets and up-to-date quotes.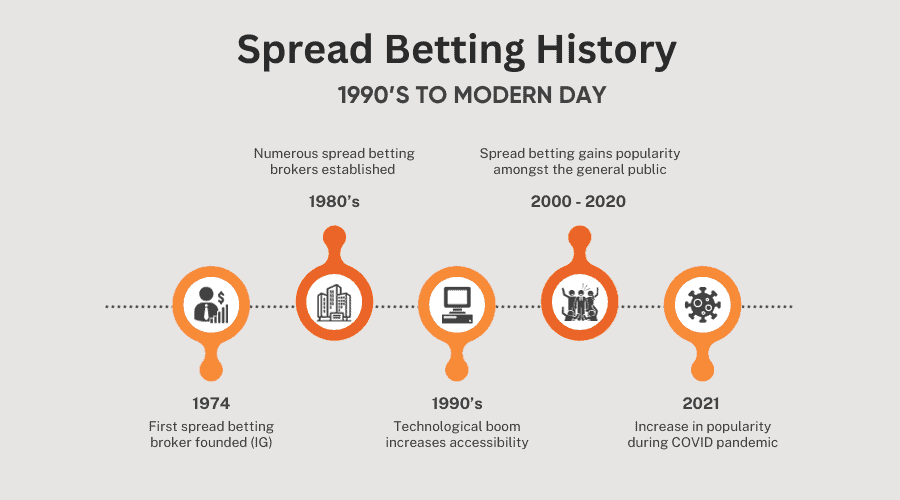 Modern Day Spread Betting
The industry has come a long way since the early 1990s. The internet has made spread betting accessible to the average retail trader. The economic turmoil and COVID pandemic in recent years has pushed financial markets into the mainstream, making people more aware of the impact of markets on their lives.
This has helped the spread betting industry evolve and grow, offering investors more choice, tools, and markets than ever before.
Spread Betting Markets Today
Spread Betting Popularity and Growth
The popularity of spread betting has been steadily increasing since the early 2000s. While recent statistics are limited, data from 2012 indicated that there were 92,000 active spread bettors in the UK, a significant increase from 83,000 in 2010. This growth rate outpaces that of CFD trading, a trend brokers attribute to the ease of learning spread betting and its tax benefits.
Further supporting this upward trajectory, reports published by the UK's BeGambleAware show a noticeable increase in the percentage of gamblers in Great Britain who are engaged in spread betting.
From 2018 to 2022, the percentage of gamblers involved in spread betting rose from 0.9% to 1.1%.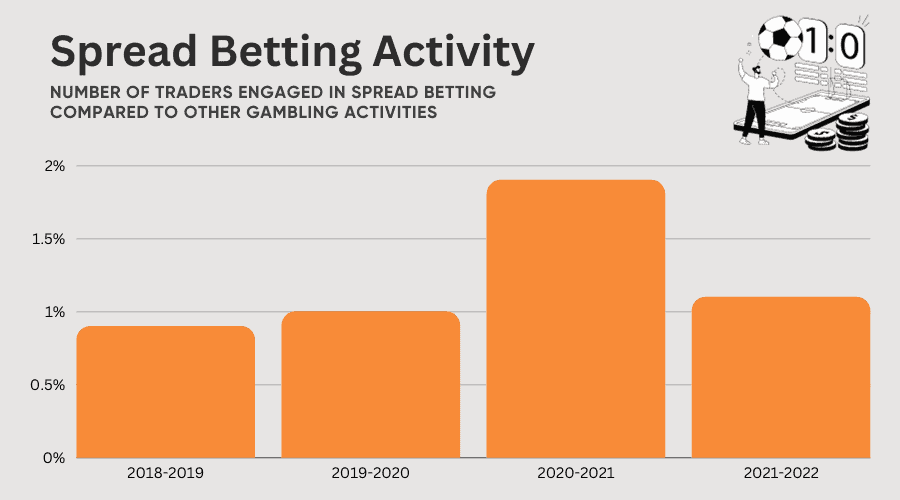 During the 2020-2021 period there was a noticeable uptick in the number of UK based spread bettors, yet this is likely due to the increase in trading activity throughout the COVID pandemic. Similar upswings in CFD trading activity occurred at this time, you can read more here in our comprehensive Forex Trading Statistics Guide.
| | |
| --- | --- |
| Time Period | Gamblers in Great Britain Spread Betting (%) |
| 2018-2019 | 0.90% |
| 2019-2020 | 1% |
| 2020-2021 | 1.90% |
| 2021-2022 | 1.10% |
Financial vs Sports Spread Betting
In the United Kingdom, spread betting is a versatile activity that caters to various interests. Brokers often specialise in either financial or sports spread betting, although some offer both. The distinction is crucial because, unlike CFD trading, which is considered a form of derivative trading, spread betting is classified as gambling in the UK. This classification has implications for taxation and regulation.
Spread Betting Market Trends
Market trends show that financial spread betting enjoys a more linear growth in popularity. In contrast, sports spread betting experiences dramatic spikes during major sporting events.
The 2006 World Cup saw some brokers experiencing a staggering 150% increase in demand.
When it comes to financial instruments, gold, EUR/USD, FTSE, and Dow Jones are the most popular among spread bettors.
Demographics of UK Spread Bettors
Geographical Distribution of Spread Bettors
While Dublin and London are the primary hubs for spread betting, the activity is gaining traction in other cities like Croydon, Poplar, and Brentford. This geographical spread indicates a growing market that extends beyond the major financial districts.
Age and Gender
Approximately 65% of spread bettors are aged between 18 and 34.
London Capital Group, a UK spread betting broker, reported 90% of their clients are men, and a significant portion (one-third) are aged between 33 and 43 and reside in London and the southeast.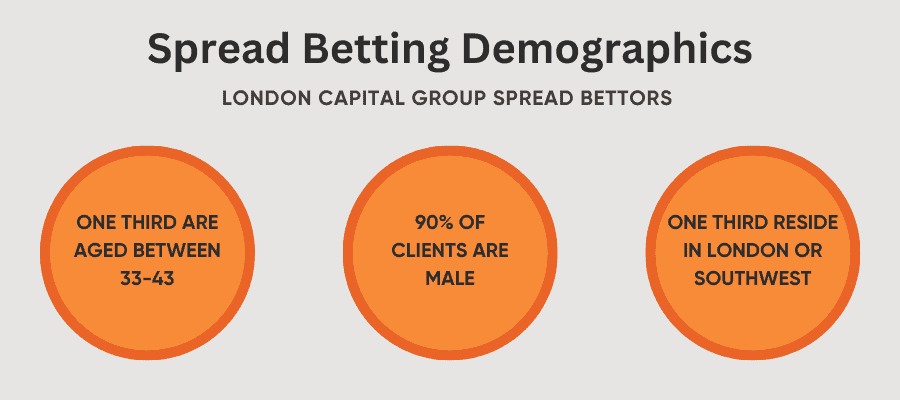 Occupation and Lifestyle
Spread betting is no longer an activity exclusive to City investors and financial professionals. It has permeated various occupational sectors.
Spread betting is now attracting doctors, lawyers, and even taxi drivers.
This diversification suggests that spread betting is becoming a more mainstream form of investment or gambling, depending on one's perspective.
Consumer Confidence When Spread Betting
In today's challenging economic climate, consumer confidence in spread betting is being tested.
44% of UK online investors have felt the impact of rising inflation and the escalating cost of living.
These financial pressures are not just theoretical concerns; they're affecting investment behaviours. Tough market conditions have led to a paralysis among dormant online investors, with high fees exacerbating the issue. The result is a noticeable uptick in platform-switching activity, reaching a five-year high.
More than one in ten online traders are contemplating opening a new account with a different platform in the next 12 months due to rising trading costs.
This trend underscores the growing apprehension among spread bettors and the need for brokers to address these concerns to maintain client trust.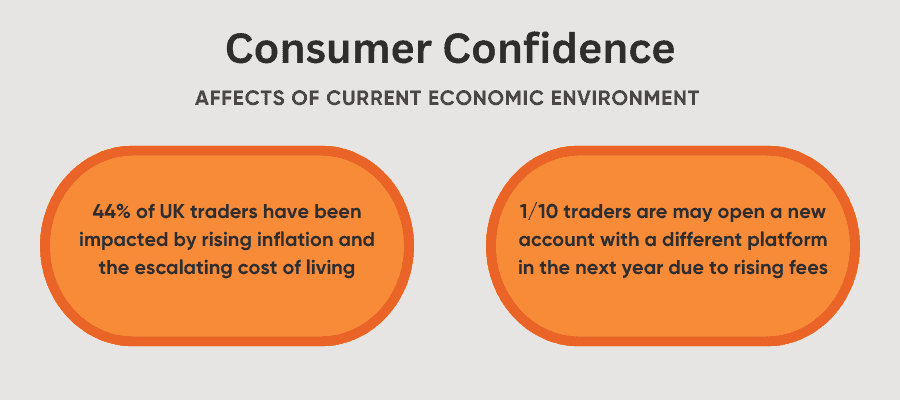 Spread Betting Industry and Brokers
Profitability and Market Conditions
The industry landscape is mixed. While 38% of advisers have reported increased profitability over the last year, major forex brokers like CMC Markets have suffered a 20% decline in profits.
Client Activity and Market Share
Client activity has surged, reducing the average number of dormant accounts from 17 in 2022 to just 6 in 2023. IG Index remains a dominant force, holding a 41% market share as of 2011. The market has become fiercely competitive, with brokers offering tight spreads and reduced margins to attract clients.
Risks of Spread Betting
The risks associated with spread betting are not to be underestimated. The volumes are highly volatile and largely depend on the traders' skill and risk appetite.
Spread betting firms estimate that only about 1 in 10 traders turn a profit, underscoring the high-risk nature of this activity.
According to industry estimates, only about 10% of traders consistently turn a profit. This statistic alone should serve as a cautionary tale for anyone considering entering the spread betting market. The majority of traders end up losing money, often because they underestimate the risks involved or overestimate their ability to navigate them.
Reducing the High Risk of Spread Betting
When it comes to mitigating the inherent risks of spread betting, several key tools and strategies can serve as your first line of defence. Various order types can help cap losses and maximise gains, while diversification is another crucial strategy, spreading your capital across various markets to reduce risk.
Daily Funded Bets (DFBs) offer a way to manage the risk of overnight market gaps. Lastly, never underestimate the value of education and research; many brokers and third-party platforms offer invaluable resources to help you stay informed and make smarter trading decisions.
To help you measure risk and exposure, you can use our spread betting calculator to calculate potential profit and losses for various spread betting strategies.
Choosing a Spread Betting Broker
When it comes to spread betting, the broker you choose can make or break your trading experience. There are several factors to consider, such as fees, trading platforms, and the range of markets available. When researching the best spread betting trading platforms and brokerages, we found three of the best spread betting brokers were:
Pepperstone: Known as the best UK spread betting broker, Pepperstone offers a choice of four trading platforms and boasts the lowest spreads, fast execution speeds, and 24/7 customer service.
City Index: Specialising in guaranteed stop-loss orders (GSLO), City Index provides an in-house trading platform, 84 currency pairs, and a wealth of educational resources.
IG: A pioneer in the spread betting industry since 1974, IG offers the largest range of markets and multiple trading platforms, including MetaTrader 4.
View the top spread betting brokers and trading platforms.
Statistics for Beginners
"Numbers speak louder than words."
If you're new to spread betting, statistics can be your best friend or worst enemy. Our spread betting guide for beginner traders offers a comprehensive introduction to spread betting, including how to interpret and use statistics effectively. It's a must-read for anyone opening a retail investor account.
---
Real-World Applications: Examples & Statistics
Statistics are the backbone of any trading strategy, but how do they translate into real-world actions? Our Examples page provides practical insights.
Learn how to apply statistical data in live trading scenarios.
Understand the risk and rewards in different financial markets.
---
Bonds: A Safer Bet?
Statistics often reveal that bonds are less volatile than other financial instruments. Our Bonds guide delves into the numbers and offers strategies for diversifying your portfolio. It's especially useful if you're already familiar with margin trading.
---
How to Succeed with the Right Stats
Statistics can be a roadmap to success if used correctly. Our How to Succeed guide is packed with tips and strategies that leverage statistical data.
"In trading, knowledge is power. And statistics provide that knowledge."
---
A Statistical Approach To Tutoring
Forex trading involves various currency pairs and is heavily influenced by statistical data. A section of the site with a tutorial on spread betting provides a statistical approach to understanding this dynamic market.
Learn how to interpret forex charts.
Understand currency pair trends through statistical analysis.