Spread betting is a form of derivative trading where you speculate on various financial markets future price movements. Below we discuss popular spread betting strategies, and how it is different from trading CFDs.
Financial Spread Betting
Spread betting is a type of derivative product that allows you to speculate on financial markets like forex, commodities, and shares. Spread betting is unique to the United Kingdom and only offered by brokers that are regulated by the UK's Financial Conduct Authority (FCA).
Similar to CFD trading, when spread betting you are not buying or selling the underlying asset, but rather betting on whether the market price of the asset will increase or decrease in the future. When opening a spread bet position, you put up an amount of money per price movement in the underlying asset's price. You can learn more about spread betting on our what is spread betting page.
Some UK traders prefer spread betting over trading CFDs due to the tax benefits. Retail investor accounts in the UK pay Capital Gains Tax (CGT) on any profit made from CFD trading, while spread betting profits are exempt from CGT. Neither style of speculative trading is subject to stamp duty.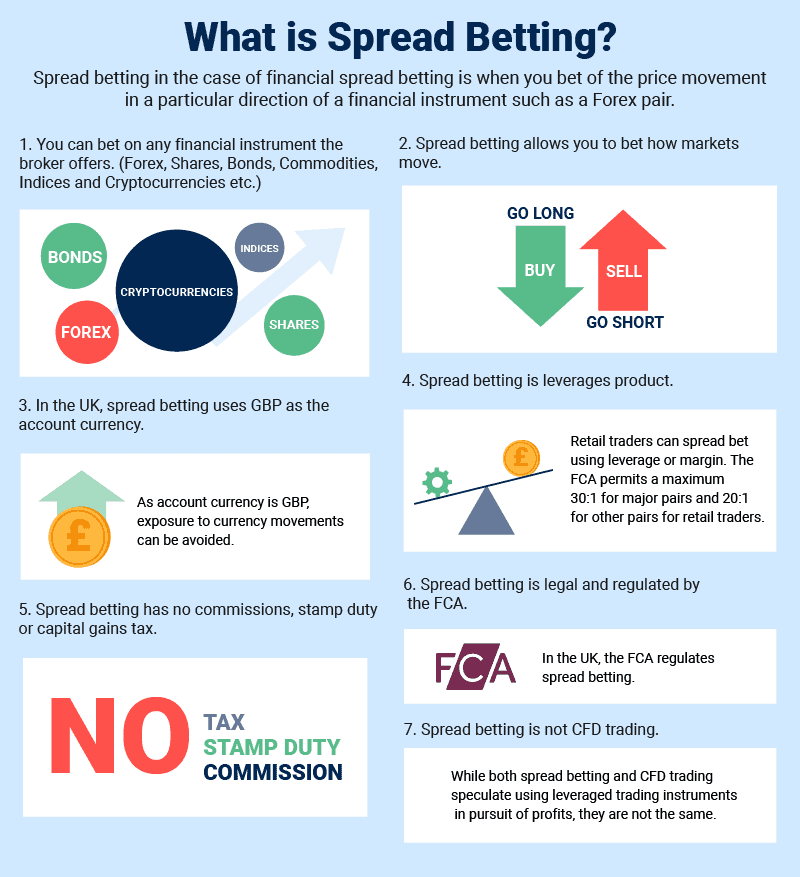 Spread Betting Example
For example, pretend that after conducting a technical analysis, you thought Barclays shares were going to increase in value. Your spread betting broker is quoting a buy price of 150p and you put up £100 per every price movement.
Say the market moves in your favour and the share price increases to 155p. Barclay's share price has then increased by 5 points and you will gain £100 for each price movement the asset has increased in value. Therefore, your total gain will be 5 points x £100 = £500.
Yet, if the market moves in the opposite direction, you lose £500. Please note this is a basic spread betting example and spreads nor fees are accounted for in this example.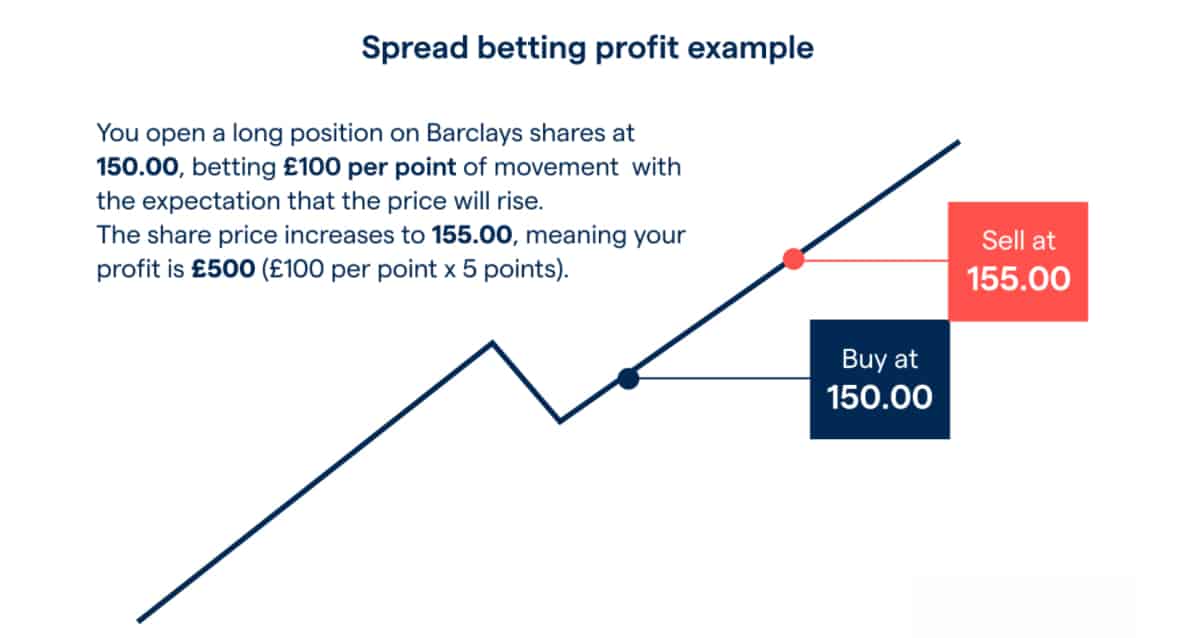 Spread Betting Strategies
Similar to CFD trading, you can approach spread betting with scalping, hedging, and day trading strategies. Below we will discuss specific spread betting strategies:
1. Reversal Spread Betting Strategies
Reversal spread betting strategies involve using fundamental and technical analysis to identify areas where trends are likely to change direction.
To execute this strategy, you open a spread bet in the opposite direction to the current market trend.
If you believe the market will increase, you bet bullish
If your research suggests the market will decrease you bet bearish
Technical indicators and tools are vital when developing successful reversal trading plans. Spread betters will often use the Fibonacci retracement tool to help determine if a financial market is experiencing a retracement or reversing. If prices go beyond the identified levels this signifies a reversal in the market.
Commonly used confirmation tools for reversal strategies include:
Key reversal candlestick patterns: Double top and bottom, Head, and Shoulders
Technical indicators: Moving average, moving average convergence divergence (MACD)
Stochastic oscillator volume: High volumes indicate the market is going to continue in the same direction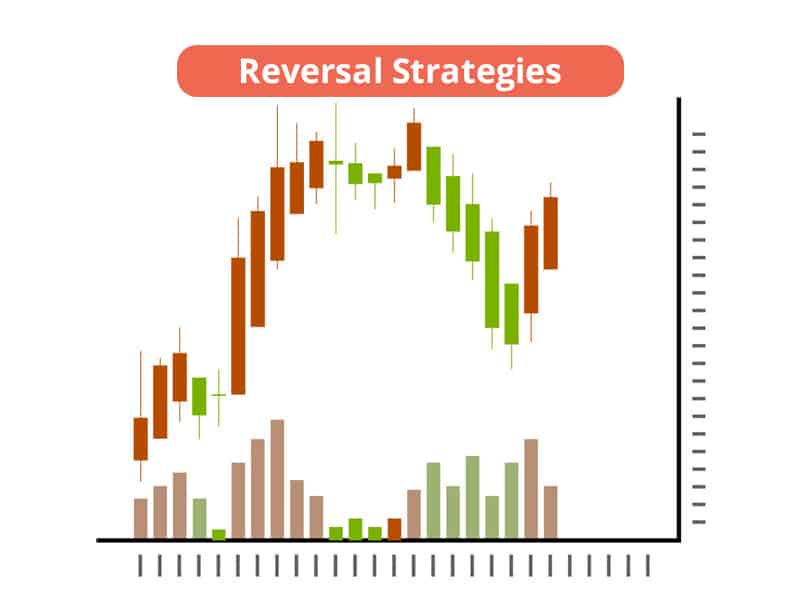 An Example: Reversal Spread Betting
Say you want to place an FTSE 100 bet. After a week of being in an uptrend, your analysis suggests the index is going to experience a reversal in the short term.
Your trading plan is to place a bet if you identify a double-top candlestick pattern. If the market reverses, you'll make a profit, but if the market moves on the same path you'll experience a large loss.
2. Trend Market Spread Betting Strategies
Trend market spread betting is a popular medium-term strategy. Spread betters utilise technical analysis tools to identify a trend and then place spread bets in line with the trend.
Using technical indicators like moving averages and MACD, you can establish the start and finish of a market's price movement helping you find the best open and close positions.
Trend market spread betting is useful as it allows you to track a financial market regardless of whether you are going long or short. Yet, it's best to decide on a timeframe to watch prior to placing a bet and remain vigilant as trends can change instantly.
Beware of overnight risk when implementing this trading plan.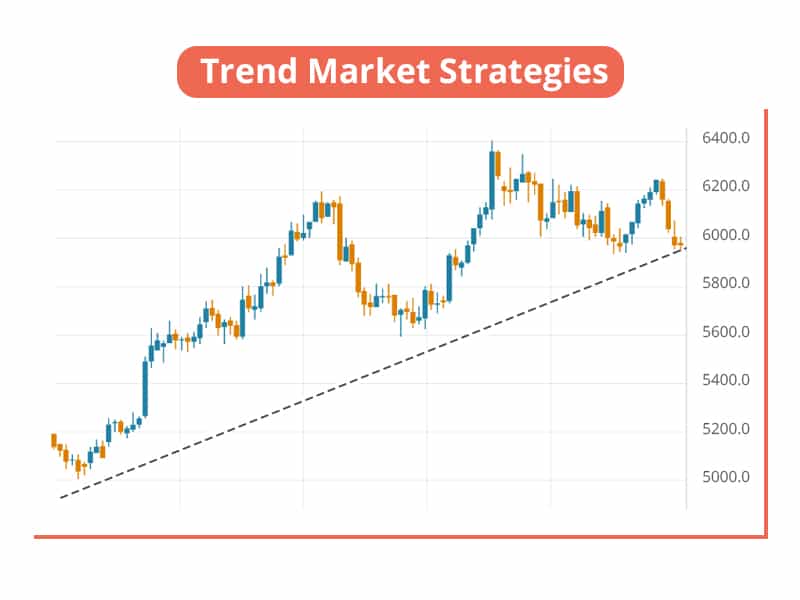 An Example: Trend Market Spread Betting
A forex pair is on an uptrend. You open a long bet position by buying the forex pair.
If the data indicates the market is going to reverse, or you reach your desired profit level, you sell the forex pair and make a profit.
If the forex pair were in a downtrend, you would sell and open a short-spread betting position.
3. Breakout Spread Betting Strategies
Breakout spread betting strategies come from the idea that key price points can be viewed as an indicator of an expansion of volatility or price movement.
The aim is to enter a trend as early as possible in anticipation of the asset price breaking out. If you come in at the correct time, you can take advantage of the trend from start to end.
Technical indicators used to identify resistance and support levels by spread bettors include:
Moving average convergence/divergence (MACD)
RSI indicators
Volume trading indicators – breakout and consolidation patterns
Utilise limit-entry orders at identifying price points to facilitate this spread betting technique. This means if the market moves, your order is automatically placed.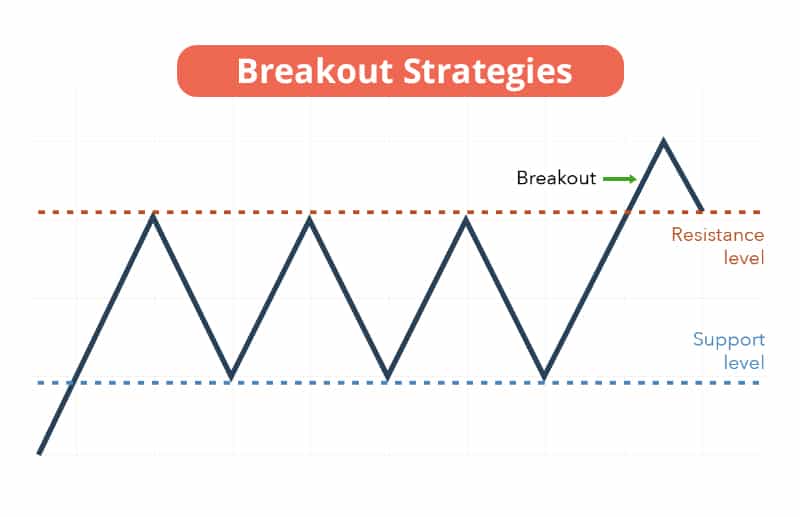 An Example: Breakout Spread Betting
Suppose gold's current price is £1,400. After two weeks like this, the data suggests gold will break out into a downward trend.
Historic support levels identify the key price point as £1,380. To implement a breakout spread betting strategy, you place an entry order to open a short position if the price decreases below £1,379.
If the asset price falls, your order is automatically triggered and placed. If it doesn't, you haven't gained or lost anything.
4. News-Based Spread Betting Strategies
News-based spread betting strategies suit traders who are well-versed in global political, economic, and social events.
The spread betting strategies involve trading based on market expectations and news. For this trading plan to be successful, you'll need the skills and resources to quickly analyse the information as to its release.
News-based spread betting suits asset classes that experience high levels of volatility, such as commodities. Nearly every day there's news or data released regarding commodities like oil or coal that can lead to spreading betting opportunities.
Fundamental analysis tools such as economic calendars are vital when developing news-based strategies.
To be successful, you'll need to:
Determine the credibility of the information by identifying whether it matches market expectations
Assess whether the news has been partially or fully integrated into the market price
Treat each market and news update as individuals
Create strategies and trading plans for each kind of news update
Analyse the market reaction to the latest news as it offers further insight and information
An Example: News Based Spread Betting
Assume the votes for a presidential election are being counted in the United States. Two swing states voted differently from what the polls predicted.
This leads to speculation that the USD will increase in value by 0.23 cents on the GBP.
Based on your knowledge of forex and the result of the previous election, you believe the value will not change in the short term.
Rather than taking drastic action, you place a forex order to open a short position if the value rises by 0.20 cents.
Trading Platform Impact On Spread Betting
When it comes to spread betting, the choice of trading platform can significantly influence the strategy a trader adopts. From MetaTrader 4, renowned for forex trading, to MetaTrader 5, popular for CFD trading, the platform's functionality, ease of use, and execution speed can shape the trader's approach. For spread betting, platforms like TradingView and cTrader also stand out, offering advanced charting tools and real-time data.
The right platform aligns with the trader's preferred strategies, such as Reversal, Trend Market, Breakout, or News-Based Spread Betting. It's essential to consider the broker's spreads and fees, regulation by authorities like the FCA, and the range of asset classes available. By selecting a platform that complements their trading style, spread bettors can enhance their decision-making process, adapt to market changes, and optimise their potential profits or minimise losses.
We recommend viewing the best spread betting demo account page which compares accounts that don't need a deposit. This way you can test the spread betting platform with virtual currency to see if you like the software and also to test your strategies in the process. This also applied to testing spread betting apps offered within each software package.
Choosing The Right Spread Betting Brokers
There are key points to consider when choosing a spread betting broker such as:
Regulation and whether the broker is licensed to operate in the UK by the Financial Conduct Authority (FCA).
The competitiveness of the broker's spreads and fees.
The range of asset classes and financial instruments you can spread bet. Access can range from forex and stock markets to interest rates and ETFs.
Risk management tools such as guaranteed stop loss orders and demo accounts.
To find a spread betting broker, you can read our Best Beginner Spread Betting Platforms in the UK list. Our analysis found the top 5 brokers for spread bettors are:
1. Pepperstone – Best UK Spread Betting Broker Overall
2. IG – Top Spread Betting Broker for Beginner Traders
3. City Index – Good Broker with MetaTrader 4 (MT4)
4. FxPro – Top Risk Management Tools for Spread Betting
5. CMC Markets – Top Platform to Spread Bet Financial Markets.
Overall, Spread betting broker selection is similar to finding the best broker for forex UK. Focus on the fees levels, trading platforms offered, and customer service levels to ensure the broker is right for your circumstances.
How Trading Instruments Impacts The Strategies Deployed
In spread betting, traders can speculate on a wide array of instruments, each influencing the strategies employed. These include:
Forex: Requires understanding of currency pairs and global economics.
Shares: Focuses on company performance and market news.
Indices: Necessitates a broader view of market trends. The choice of instrument dictates the analysis tools used, time frames considered, and risk management techniques applied, shaping strategies like Reversal, Trend Market, or Breakout.
The impact of the chosen instrument on spread betting strategies is profound. For example:
Commodities: Involves monitoring global supply, political events, and weather.
Shares: Hinges on earnings reports, mergers, and industry trends.
Forex: Demands attention to interest rate changes and geopolitical stability. By tailoring strategies to the specific characteristics of the instrument, spread bettors can navigate the market's complexities, capitalise on opportunities, and mitigate risks.
We developed a few pages specific for the most traded instruments such as FTSE spread betting page and best spread betting broker for stocks comparison.
Spread Betting vs Forex vs CFDs
Spread betting in the UK is taxed differently only in the UK as the tax authorities deem it as gambling. This is not the case for the two other types of trading we cover on this website which is why we created two more guides:
1. Forex Trading vs Spread Betting
2. CFD Trading vs Spread Betting
There are many similarities between these types of trading with spread betting rarely offered in most countries. With the tax benefits that exist only in the UK (to UK residences), our personal view is that spread betting is the best option of the three. If you are still unsure then view the how to spread betting guide that explains the concept of this type of trading more.
Spread Betting Tips
Our key tips when spread betting include:
Stay informed. Keeping up to date with global political, social, and economic events will help you under different financial markets, especially forex and stock markets.
Expand your knowledge. There are plenty of educational resources available online. If you are going to take on the high risk of spread betting, it is best to develop a strong understanding of different trading strategies and technical analysis techniques.
Confirm your data with a second opinion. There are different third-party tools available that are relevant to a particular country and financial market.
Utilise risk management tools. Spread betting is a high-risk activity involving complex instruments. You should establish your risk tolerance before you start spread betting use your broker's various risk management tools.
Focus on specific financial markets. Find markets that suit your trading plan and style. Learn everything possible about a few financial markets rather than trying to do it all.