MAS Regulated Forex Brokers in Singapore
Below we review the top MAS (Monetary Authority of Singapore) regulated forex brokers in Singapore. The top 5 forex brokers in Singapore for 2020 are reviewed on the following criteria:
Trading Platforms
CFD and Forex Product Range
Minimum Deposit and Fees
Trading Accounts and Spreads
Demo Accounts
Interactive Brokers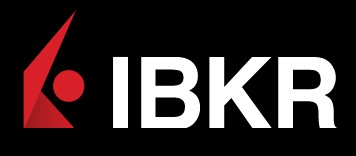 Interactive Brokers is a US forex broker that recently acquired a MAS (Monetary Authority of Singapore) license and established offices in Singapore. The top forex broker provides one of the most diverse product ranges of all brokers around the globe, with low fees and competitive ECN-like spreads.
Trading Platforms
Interactive Brokers (IB) clients' are able to execute trades using the forex brokers proprietary trading platforms. IB's Client Portal is an easy-to-use platform suited to those new to forex trading. Users' can easily manage their account, place trades, and analyse data and charts. Although excellent for investors' new to forex trading, Client Portal lacks customisation that many advanced traders require.
For experienced, active traders, Interactive Brokers Desktop TWS platform allows users' signed up to an IBKR Pro account to trade multiple instruments and develop algorithmic trading strategies. To assist in developing advanced strategies, clients' gain access to real-time news as well as risk management and research tools. An alternative to IB's Client Portal and Desktop platforms is IBKR WebTrader, an HTML-based system. WebTrader offers the best of both worlds, with a no-frills interface with the ability to utilise IB's advanced trading tools.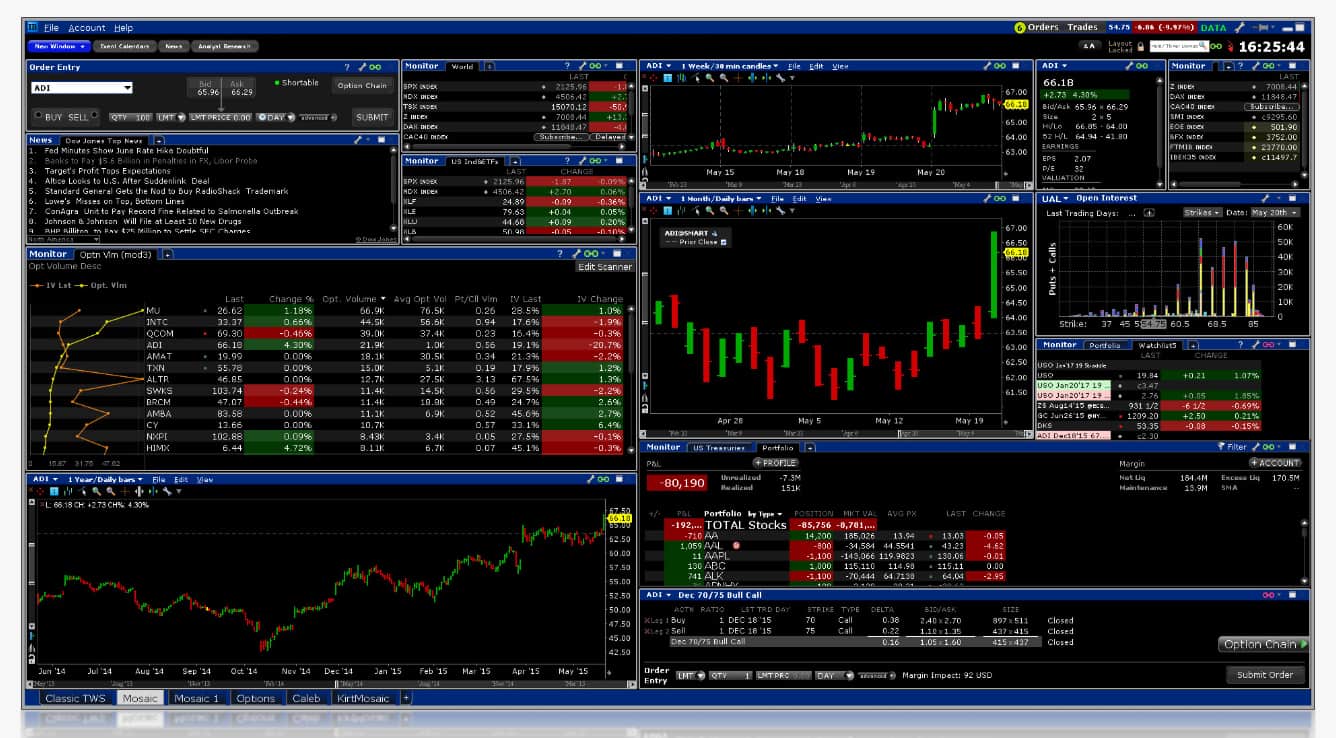 For those wanting to execute trades on the go, the IBKR Mobile app offers a fully-functional interface with the same market information as Interactive Brokers desktop platform. A unique feature to Interactive Brokers is their iBot software. Traders' are able to place orders via text commands. The iBot feature is compatible with Interactive Brokers Desktop, Mobile and Client Portal platforms, as well as via Facebook Messenger.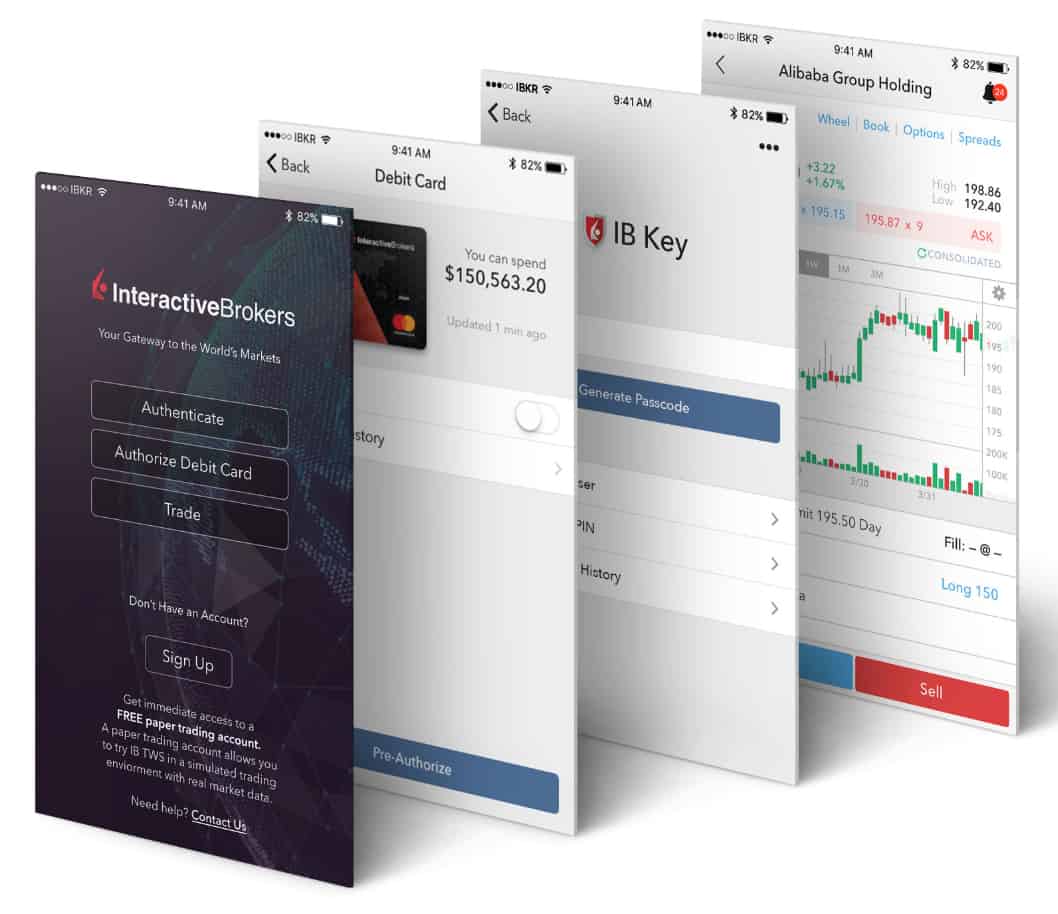 CFDs
Interactive Brokers product range is one of the most diverse out of all top forex brokers. Traders can easily establish diversified portfolios and complex trading strategies with the varied asset classes available. IB clients have access to Stock, Index, Option, Bond, CFD, ETF, Forex, Future and Cryptocurrency markets. Clients have market access to over:
78 Stocks
13,000 ETFs
105 Currency Pairs
257 Indices
72,900 Bonds
33 Options
32 Futures
13 Stock Index CFDs
7,100 Stock CFDs
2 Cryptocurrencies
For less experienced traders' or those low on time, IB offers an asset management service. Interactive Advisors offers clients' the option of enlisting a mix of robot and social trading. With investments starting from $5000, clients can copy professional strategies as well as tried and tested portfolios.
Minimum Deposit and Fees
Interactive Brokers' are renowned for their low-cost account structures. To open an account, no initial minimum deposit is required. Along with a $0 minimum deposit, traders face no fees when making deposits or withdrawals. Yet, Singaporean clients should beware of the inactivity fee when inadequate commission is produced. To avoid a $10 monthly inactivity fee, clients' are required to generate $10 in commissions per month.
Trading Accounts and Spreads
Interactive Brokers clients' can choose from an IBKR Lite or IBKR Pro account structure. The two account types vary in fees and platform availability. Pro accounts are charged up to $10 a month in accounts fees, yet they gain access to IB's Desktop Platform, while IBKR account holders avoid the monthly account fee yet are unable to use the desktop platform.
Interactive Brokers offer ECN-like spreads as low as 0.1 pips due to their Direct  Market Access (DMA) and top-tier liquidity providers. Commission fees vary depending on a clients' monthly trading volume, ranging from 0.08 to 0.20 basis points.
Demo account
As per the industry standard, Interactive Brokers offers demo accounts for those wanting to trial the different platforms. After signing up for a trial, users' have access to all of Interactive Brokers' platforms, along with the ability to analyse real-time market data and conduct in-depth research. As well as being an excellent resource for beginner traders wanting to gain experience, the demo account provides an opportunity for traders to test complex trading strategies and explore Interactive Brokers' advanced trading tools.
CMC Markets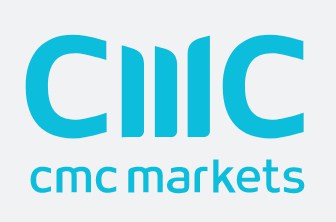 CMC Markets is a broker specialising in spread betting, forex, and Contracts for Difference (CFDs). CMC Markets UK parent company was established in 1989 and is listed on the London Stock Exchange.
Trading platforms
CMC Markets clients' can place orders via MetaTrader 4 or the forex brokers proprietary platform, Next Generation. MetaTrader 4 is the most widely used trading platform amongst forex market participants, with MT4's Expert Advisors allowing for automated trading. The MT4 trading platform is available as a desktop, WebTrader, mobile and tablet app. Yet, CMC Market's offering of the MetaQuotes software is restricted in some ways.
The Next Generation platform has numerous advantages over CMC Markets MetaTrader 4 offering. Clients are able to stay up to date with market movements thanks to an economic calendar, insights and real-time news. Along with the wider product range compared to MT4 discussed below, the highly customizable platform web platform offers advanced charting functions and trading tools that require no downloads to employ.
CMC Markets mobile trading apps offer sufficient tools to conduct analysis and place orders. The forex broker offers custom-built apps for Android, iPad and iPhone devices, designed for traders who want to keep up to date with trading conditions while on the go. The fully-functional apps provide traders with a customisable app over 40 technical indicators and drawing tools, in addition to the market calendar available on the desktop and WebTrader platforms.
CFDs
CMC Markets offers clients' market access to over 9500 financial instruments. Clients' can choose from CMC Markets extensive range of forex products with over 330 forward and cash currency pairs available. Many investors' are drawn to CMC Markets due to their Cryptocurrency offering as they have over 12 crypto products available with competitive spreads compared to other cryptocurrency providers. In addition to the popular Bitcoin, Bitcoin Cash, Litecoin, Ripple and Ethereum products, clients' can trade less common cryptocurrencies including Dash, EOS and Monero.
In addition to CMC Markets forex and cryptocurrency market access, Indices, Commodities, Shares and Treasuries can also be traded.
Minimum Deposit and Fees
CMC Markets does not require a minimum deposit. Credit and debit cards are charged a 2.3% fee for deposits, however, if the initial deposit is made via credit card, CMC Markets waives the deposit fee. Like many other top forex brokers, CMC Markets charges an inactivity fee if a trading account is dormant for 12 months, equating to USD $15 per month.
Trading Accounts and Spreads
CMC Markets clients' can choose from a CFD Trading or Corporate Account. Market access is similar between the two account types, although a Corporate Account is not able to trade Cryptocurrencies.
Regardless of whether a client is signed up to a CFD Trading or Corporate Account, CMC Markets spreads on forex are as low as 0.7 pips for major currency pairs. For forex trading, commission is built into the spreads, while Shares carry a minimum $7 commission fee.
EUR/USD from 0.7 pips
GBP/USD from 0.9 pips
EUR/CHF from 2.5 pips
USD/JPY from 0.7 pips
AUD/USD from 0.7 pips
AUD/JPY from 1.3 pips
AUD/NZD from 2.7 pips
Demo account
CMC Markets offers a demo account for prospective clients wanting to register under a CFD Trading Account. A trial account is quick to set up, with no payment information is required to gain access. A major benefit of signing up for a trial with CMC Markets compared to other forex broker demo accounts is that there is no time limit. Traders are given up to $10,000 in virtual money to practice trades and build confidence, as well as full access to charting tools and mobile and tablet devices.
Swissquote
Swissquote is a MAS regulated top forex broker originating from Switzerland. In addition to MAS oversight, Swissquote subsidiaries are regulated by various well-regarded authorities around the world, including FCA (Financial Conduct Authority), DFSA (Dubai Financial Services Authority), and the SFC (Hong Kong Securities and Futures Commission).
Trading Platforms
Swissquote offers forex and CFD trading on MetaTrader 4, MetaTrader 5, and Swissquote's proprietary platform, Advanced Trader. Advanced Trader is offered as a WebTrader or mobile platform. No download is required to use the WebTrader software, with mobile apps being compatible with iOS and Android devices. The platform provides various charting tools, automatic pattern detection and real-time news sourced from Bloomberg. As well as standard order types, Advanced Trader offers sophisticated order types such as Order Cancels Other (OCO), If Done, and If Done/OCO.
As with other top forex brokers, trading via Swissquote on MetaTrader platforms enables investors' to evaluate trends with advanced analysis tools, automate trades with copy trading and Expert Advisors, as well as backtest strategies against historical data. For clients wanting to trade forex that does not require hedging abilities, MetaTrader 4 is sufficient. Yet, if investors are wanting to hedge, MetaTrader 5 is better suited as CMC Markets offers a 'Close By' function where two open positions (in opposite directions) are linked to reduce spread costs.
To supplement MetaTrader platforms, CMC Markets offers a free Master Edition functionalities with an additional 12 trading tools and 15 indicators. To assist with Expert Advisors and sophisticated trading strategies, the MetaTrader Master Edition provides a Correlation Matrix, Sentiment Trader, Tick Chart Trader, among other tools. Further indicators include a Candle Countdown, Renko Bar, High-Low,  Keltner, and Magnifier Indicators, among others.
CFDs
Swissquote offers a product range covering many assets. As well as Forex and CFDs, investors can diversify portfolios by trading ETFs, Indices, Bonds, Options, Futures, Stocks and Crypto. Over 78 foreign exchange products are available. Although sufficient for many forex traders, competitors such as Saxo Markets offer far greater market access for currency trading.
Although Cryptocurrency CFDs are available at CMC Markets, they cannot be traded with leverage. In total, five cryptocurrencies are offered:
Bitcoin
Bitcoin Cash
Ripple
Litecoin
Ether
Minimum Deposit and Fees
No deposit fees are charged for bank transfers, yet debit and credit cards carry a fee between 2-2.5%. Transfer methods are limited, with Swissquote clients restricted to making deposits and withdrawals via bank transfer, China UnionPay, and credit/debit cards. Unlike many other top forex brokers, Swissquote does not allow customers to transfer funds via e-wallet providers such as Skrill or Neteller.
Swissquotes requires no minimum deposit for a Standard Account, although Premium and VIP account structures require significant minimum deposits.
Trading Accounts and Spreads
Three account types are offered by CMC Markets. A Standard Account, A Premium Account, and a Prime (VIP) Account. Spreads decrease as clients move up tiers, with Standard Account spreads averaging 1.7 pips for EUR/USD. Premium Account spreads average 1.4 pips while Prime Account holders gain access to spreads of 1.1 pips for EUR/USD. 
Demo Account
As per industry standard, Swissquote offers a demo account for traders to familiarise themselves with the brokers' tools and financial markets. Demo accounts are available on Advanced Trader, MetaTrader 4, and MetaTrader 5, allowing future clients to find a platform that suits their preferences prior to depositing real funds. A generous virtual balance is provided compared to other top forex brokers, with trial accounts receiving up to USD $100,000 of virtual funds to simulate trades and practise trading strategies.
Saxo Markets
Saxo Markets is one of the most well-known top forex brokers due to their large market access and global reach. The forex broker offers a choice of proprietary platforms, an extensive range of products, and professional-grade trading tools.
Trading Platforms
Saxo Markets offers two trading platforms for clients to choose from, each suited to different levels of forex trading experience. SaxoTraderGO, the brokers user-friendly, web trading platform is an excellent option for those new to trading foreign exchange. While SaxoTraderPRO is a professional grade interface available as a desktop platform.
SaxoTraderGO provides an intuitive platform with easily accessible tools and charting features. SaxoMarkets in-house analysts supply a stream of news and research to supplement the platforms technical and fundamental analysis tools. Although well-suited to beginners, SaxoTraderGO does offer advanced tools and features for experienced, high-volume traders.
SaxoTraderPRO is a multi-screen, fully customisable platform that provides advanced trading tools suitable for high volume, active investors. Clients using the professional-grade platform can execute trades with few quicks, place algorithmic orders and trade from charts. Due to the high-risk nature of forex trading, SaxoTraderPRO's risk management tools assist users' in maximizing net gains. Pro clients' can close one or all positions with two clicks, set customized margin alerts, as well as employ stop-limit orders and trailing stops.
CFDs
Saxo Markets is an established forex broker providing investors' extensive market access. Asset classes that Saxo Markets clients' can trade include Futures, Options, Bonds, Crypto, CFDs, ETFs, Stocks, Indices and Forex. Although known for their comprehensive product range, the forex broker only offers two different cryptocurrency products, Bitcoin and Ethereum.
A unique feature that Saxo Markets offer is their SaxoSelect system. Various trading strategies and portfolios are recommended to users' based on their desired risk level. The combination of mutual funds and robot trading allowing traders to build confidence and save time.
Minimum Deposit and Fees
Saxo Bank charges no deposit fees with 19 base currencies to choose from, including the Singapore Dollar (SGD). Deposits can only be made via credit and credit cards, FAST, PayNow, MEPS, HSBC, wire transfer, bank transfer or USD/SGD cheques. There is no fee to withdraw funds from your trading account, yet clients' are restricted to bank transfers. Saxo Markets require a high minimum initial deposit compared to the industry average. Singaporean clients' need to initially fund their account with SGD $3000 to trade forex and CFDs. Inactivity fees are reasonable, with clients' facing a $25 fee if they do not make a trade in the past three months.
Trading Accounts and Spreads
Saxo Markets offer three account types with tiered pricing. Standard Accounts require an SGD $3000 minimum deposit and offer spreads on AUD/USD as low as 0.5 pips. Platinum account holders are required to deposit SGD $50,000 but will gain access to tighter spreads and priority customer service. For investors' trading high volumes and wanting access to the lowest Saxo Markets spreads, a VIP account is offered. VIP account holders are allocated a personal relationship manager and are invited to exclusive financial sector events. AUD/USD spreads are as low as 0.4 pips, with SGD 1,000,000 initial minimum funding required to open a VIP account.
Demo account
Saxo Markets offer a demo account for prospective clients to test trading strategies and explore Saxo platforms. Access is granted for 20 days, with demo users' given 100,000 in virtual money for the duration of the trial. Demos are available on both platforms, SaxoTraderGO and SaxoTraderPRO.
Open a demo account >>Visit Saxo >>
Plus500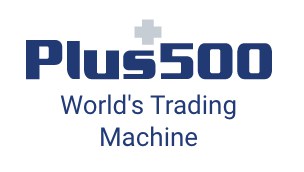 Plus500 is an Australian based forex and CFD provider that holds a MAS Capital Markets Service License. Plus500 is a top forex broker for novice investors' wanting an intuitive and simple trading platform, with no flat-rate commission fee spreads.
Trading Platforms
Trading platform options when trading CFDs and forex with Plus500 include a webtrader platform and a mobile app. Both platforms are proprietary interfaces and very user-friendly. The mobile app is compatible with iOS and Android and available in 32 languages.
The web and mobile platforms provide advanced charting tools, price alerts, and an economic calendar to assist with strategy development. Plus500 is well-known for their trader sentiment feature, allowing traders' to assess to supply and demand of different instruments and buy and sell accordingly.
Order types available on the Plus500 platforms include:
Market
Stop
Trailing Stop
Limit
CFDs
Plus500's product range focuses on currency pairs, Crypto and CFDs. Over 70 forex instruments are available to trade, along with CFD assets such as Stock Index, Stock, ETF and Commodity CFDs. Four of the most popular Cryptos are offered – Bitcoin, Ethereum, Litecoin, and Ripple.
Minimum Deposit and Fees
A minimum deposit of $100 is required to open an account with Plus500. Deposits and withdrawals can be made by Credit Card, Debit Card, Bank Transfer, Skrill, or PayPal. Plus500 requires withdrawals to be made by the same method as deposits are made, and although there are no withdrawal fees, there is a minimum withdrawal amount that must be satisfied.
Trading Accounts and Spreads
Two account types are offered by Plus500, a Standard Account and a Professional Account. A Standard Account offers clients' reasonable spreads with no commissions fees. The retail investor account is well-suited to those new to trading as fees are built into the spreads, simplifying the process. Spreads are as low as 0.6 pips for major currency pairs such as EUR/USD, while currency pairs such as USD/CHF start from 1.4 pips.
A Professional Account requires traders' to make at least 10 trades every three months for the past year, with Plus500 or another forex broker. Upgrading to a Professional Account (Investor Account) means traders' will access to higher leverage, although a significant minimum investment portfolio value is required.
Demo account
Plus500's demo account is known as one of the best trial accounts offered by top forex brokers. There is no time restriction, unlike many other CFD brokers. Users' have unlimited access to the trial platform that is available as a webtrader or mobile app, providing an excellent environment to test trading strategies and learn new analysis techniques.
Demo Account >>Visit Plus500 >>
What is MAS?
The Monetary Authority of Singapore (MAS) is Singapore's financial regulatory authority that oversees the country's financial sector. As well as ensuring financial markets run fairly and efficiently, MAS operates as Singapore's Central Bank. To be a MAS regulated forex broker and deal in the foreign exchanges markets, brokers must hold a Capital Markets Services License  Globally MAS is seen as a credible financial authority, with a strong reputation of ensuring Singapore's financial markets function competitively.
How does MAS compare to other international financial authorities?
MAS (Monetary Authority of Singapore) is seen as a credible regulatory body by financial institutions and investors worldwide. As Singapore is the largest financial hub in Southeast Asia, MAS encourages competitive but fair financial markets and trading conditions. Like ASIC (Australian Securities and Investments Commission) and CySEC (The Cyprus Securities and Exchange Commission), MAS requires companies and representatives to separate client funds from operational capital, as well as hold a Capital Markets Services License.
Is forex trading a scam?
No, forex, cryptocurrency, and CFD trading is not a scam and a legal investment activity in Singapore. Although legal and overseen by a top-tier regulatory authority (MAS), trading forex comes with a high risk that prospective traders should understand prior to participating in the foreign exchange market. This high level of risk varies with asset classes. Trading CFDs, forex, cryptocurrencies are considered to carry a high level of risk due to historically volatile market conditions.
Full List Of MAS Regulated Forex Brokers
| MAS Brokers | Co. Reg. No |
| --- | --- |
| OANDA Asia Pacific Pte. Ltd. | 200704926K |
| Balyasny Asset Management (Singapore) Pte. Ltd. | 201619395D |
| Blackrock (Singapore) Limited | 200010143N |
| Caxton (Singapore) Pte. Ltd. | 201608384E |
| CGS-CIMB Securities (Singapore) Pte. Ltd. | 198701621D |
| Citigroup Global Markets Singapore Pte. Ltd. | 199002673E |
| CMC Markets Singapore Pte Ltd | 200605050E |
| Eaton Vance Management International (Asia) Pte. Ltd. | 201018767G |
| First State Investments (Singapore) | 196900420D |
| GMO Singapore Pte. Limited | 200301509R |
| Goldman Sachs (Singapore) Pte. | 198602165W |
| Haitong International Financial Services (Singapore) Pte. Ltd. | 199804150R |
| HGNH International Financial (Singapore) Pte. Ltd. | 201632142Z |
| Interactive Brokers | Pending Jan 2020 |
| INTL FCStone Pte. Ltd. | 201130598R |
| KGI Securities (Singapore) Pte. Ltd | 195500144H |
| Long Asia Capital Pte. Ltd. | 199908215D |
| Maybank Kim Eng Securities Pte. Ltd. | 197201256N |
| Merrill Lynch (Singapore) Pte. Ltd. | 198602883D |
| MF Global Singapore Pte Limited (In Creditors' Voluntary Liquidation | 198403253G |
| Millennium Capital Management (Singapore) Pte. Ltd. | 200617839E |
| Morgan Stanley Asia (Singapore) Pte. | 199206298Z |
| OCBC Securities Private Limited | 196600262R |
| Orient Futures International (Singapore) Pte. Ltd. | 201831776Z |
| Phillip Futures Pte Ltd | 198305695G |
| Plus500SG Pte. Ltd. | 201422211Z |
| Point72 Asia (Singapore) Pte. Ltd. | 200914693H |
| Saxo Capital Markets Pte. Ltd. | 200601141M |
| SCB-Julius Baer (Singapore) Pte. Ltd. | 201825230W |
| SG Securities (Singapore) Pte. Ltd. | 198200823Z |
| Straits Financial Services Pte. Ltd. | 201023452M |
| Swissquote Pte. Ltd. | 201906194G |
| Systematica Investments Singapore Pte. Ltd. | 201431676K |
| UOB Bullion And Futures Limited | 193500026Z |
| UOB Kay Hian Private Limited | 197000447W |
| Worldquant (Singapore) Pte. Ltd. | 200914678W |
We have created a page to help you choose a broker if you need more information to help you decide which CFD broker is right for you.