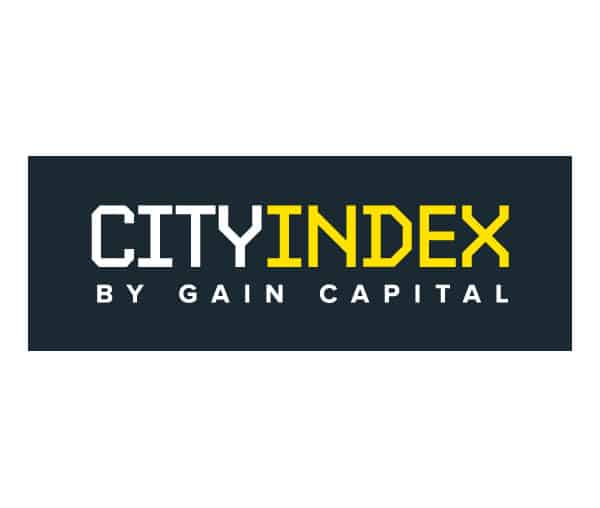 Background To City Index
City Index's parent company is GAIN Capital Holdings Inc, a large retail and trading provider around the world. GAIN Capital was founded in 1999, with the mission to provide traders with low-cost access to foreign exchange markets. City Index has been serving Australians since 2006 and has an office based in the heart of Sydney. City Index's Forex trading Australian Financial Services License: 345646

In our comprehensive City Index review, top three key strengths found in the platform were:
Top three key weaknesses found in the platform were:
City Index Range of Markets
There is a range of CFD trading options available with City Index. Forex exchange traders can have access in real-time to over 4,500 markets. With a City Index live account, you can trade indices, shares, crypto, forex and commodities through:
Contract for Difference (CFDs)
Spread Betting (only for the UK traders)

1) Forex Trading
City Index offers 84 currency pairs for trade through the CFD trading platform MetaTrader 4. As below highlighted minimum spreads start from 0.5 points on EUR/USD and margin (leverage) is 500:1. The Forex broker offers two currency trading accounts. The first which is the most popular option is to trade currency as a contract for difference (CFD). Choosing this option allows other asset classes to be chosen that are explained below. The second option is to use MT4 to trade spot Forex which means you can only trade currency. Below shows the CFD account average spreads.
2) CFD Share Trading
City Index allows the trading of over 4,500 global shares as a CFD. This allows trading with leverage from 20:1 on leading shares from Amazon to Rio Tinto. Commissions start from $5 on Australian shares or 0.08% for larger trades. Traders can speculate on long or short positions using the CFD trading account.
3) Indices Trading
With leverage from 200:1, City Index allows trading on 21 of the leading global indices. This included the Australia 200, UK 100, Singapore and Wall Street index. Fixed spreads start from 1 point with 24-hour support on offer.
4) Cryptocurrency Trading
Crypto trading is highly volatile and is unique against traditional technical analysis CFDs. Trading CFDs with crypto are high risk and spreads differ by the type of cryptocurrency as shown below. Complex instruments are involved so it's recommended to understand the risks for any retail investor accounts.
City Index clients can stay up to date with the latest prices of the world's biggest cryptocurrencies (Bitcoin, Litecoin, Ethereum and Ripple). A live account with Citi Index will give you access to 6 crypto pairs. Australian traders can also benefit from trading Bitcoin against the AUD.
5) Interest Rate Trading
Short selling opportunities exist with leverage of up to 400:1 when predicting interest rate changes. This exists across the Eurodollar, Short Sterling and Euribor. Spreads start from 0.02 points across 15 global markets.
Overall, parent company GAIN Capital Holdings market power allows for City Index's work to span across a range of products from currency, indices to crypto trading with affordable margin requirements. The main account type that allows for the full range of financial markets is the CFD account, whilst the MT4 account allows only for currency trading. Advanced traders are recommended to choose the CFD account while those with MT4 trading experience may prefer the currency trading only account. With law variable spreads and advanced trading tools, City Index has one of the best ranges of markets of any CFD broker.
City Index Minimum Deposit
There is no minimum deposit for City Index CFD accounts. There are six main ways to fund a trading account in Australia:
Credit Cards (Visa and MasterCard)
Debit Cards
Electronic Funds (EFT)
BPay
PayID
PayPal
Up to three debit or credit cards can be used for an account across Visa and MasterCard. When transferring funds from an Australian bank, no deposit fees are charged, and further no charges for funding through a bank transfer when the account is based in Australia. However, an overseas bank account will require an international bank transfer which may take longer with an extended transfer period.
The account opening procedures are straightforward. City Index offers a multi-currency deposit solution and can accommodate 9 base currencies (EUR, GBP, USD, CHF, HUF, AUD, CHF, JPY, PLN).
City Index Regulation and Support
Regulation
Another point that's important in this comprehensive City Index review is the fact that it is fully regulated under the authority of the Australian Securities Investment Commission. Thanks to regulation by this body, traders choosing City Index can be sure that they are doing business with a reputable brokerage that must conform to all Australian investment laws.
Additionally, as a global spread betting broker, City Index is authorized and regulated by tier-one regional entities from across 3 continents (Europe, Asia and Australia). City Index has to comply with the rules and standards imposed by the following global regulatory authorities:
Australian Securities and Investments Commission (ASIC)
Financial Conduct Authority (FCA) in the United Kingdom (license number 113942) trading as forex.com
Monetary Authority of Singapore (MAS) trading as forex.com
Central Bank of the United Arab Emirates (UAE) trading as forex.com
All Citi Index client funds are held in segregated accounts. Additionally, in an event of insolvency, there is a deposit compensation scheme. Following the money rules imposed by the Financial Services Compensation Scheme (FSCS), investors are entitled to compensation of up to £85,000. However, the compensation scheme only protects forex traders from the United Kingdom and Dubai. It seems that the city of London provides extra security measures due to the FCA rules.
Support and Service
Traders using City Index have multiple ways to reach out to the company's support staff when they need to, including:
Live chat assistance
Email support
Direct phone support based in Australia
In addition to these methods of contracting support, traders can also try to find the answers to their questions in the FAQ section of the brokerage's website. This set of common questions will provide answers and solutions for most issues. When more rigorous support is needed, however, City Index's staff is there to help. The Customer Support is available 24/5 ready to answer all your inquiries.
City Index Trading Platforms
City Index offers two trading platforms that will be determined by the type of trading account chosen.
AT Pro Trading Platform
The more sophisticated CFDs account requires the use of AT Pro desktop platform or their web-based options.AT Pro has built-in strategies and even allows traders to create their own strategies using .NET, Visual Basic or C# coding language.
There are also advanced charting options with over 100 technical indicators.AT Pro also allows for automated trading signals to show exit and entry points through charts. Back-testing facilities also help view the performance of past trading signals.
AT Pro has in-depth market analysis including an economic calendar as well as custom indicators for advanced trading. Advantage web trader is the lighter AT Pro option for mobile trading. This doesn't require any downloads using reliable and fast HTML 5 technology. Mobile trading is also available through iOS and Android trading apps.
MetaTrader 4
The basic trading software on City Index is MetaTrader 4, which is the dominant standard trading software in the Forex market. On City Index, the standard MT4 platform is upgraded with variable Forex pricing and access to all of City Index's market analytics. These upgrades, on top of an already well-proven system, give this version of the MT4 platform versatile function while keeping it relatively user-friendly. The MT4 web platform and mobile apps are also ideally suited for mobile trading with stop-loss orders, watchlists functionality and Reuters news integration.
City Index Leverage Structure
A key component of a City Index review for beginner and experienced traders trying to decide whether this platform is right for them is the leverage structure. As stated in the overview, City Index only offers leverage ratios of up to 200:1. Since many Forex brokers now offer leverages of 400:1, 500:1 or in some cases, even more, this puts City Index behind the curve in the leverage department.
Effectively, 200:1 leverage will limit the volume of currency a trader can work with on any given position relative to his or her personal investment. A trader opens a position with $100 leveraged at 200:1 will be able to trade with $20,000. A more standard leverage ratio of 400:1, by comparison, would let the trader work with double that amount of money. This lower leverage results in:
Lower potential gains from successful trades
Lower risks in unsuccessful trades
ability to open fewer large volume positions simultaneously
Though City Index has some noticeable weaknesses in the area of leverage, it also has some strengths. The fact that the leverage ratio on any given trade can be set anywhere between 20:1 and the maximum of 200:1 can be very helpful for more conservative traders trying to reduce their exposure to risk. For traders who need higher leverage for opening large numbers of positions or as part of their overall trading strategy, however, the 200:1 ratio can be a handicap.
Risk Management For Leverage
Due to the increased risk leverage brings to CFDs trading our City Index review noted that they offered guaranteed stop-loss orders. While placing such an order has increased costs, it means you can't lose more than the amount set for trade. This means a compensation scheme exists that will refund any losses exceeding the amount set. A traditional stop loss is not a fool-proof risk management strategy as in extreme volatility slippage may occur. This means losses may exceed an amount set as the forex broker couldn't achieve the price set. Another risk management feature offered it trailing stop-loss orders.
City Index Inactivity Fee
Clients should be aware that there is a fee incurred for inactivity for longer than 24 months or more. the inactivity fee charged by City Index AU is $15 equivalent in the local currency. For +3 years of account inactivity, your trading account will be reactivated only after clients go through the account reactivation form one more time.
Fast Order Execution
City Index's price improvement technology is equipped to provide forex traders with better prices. With over 35 years of experience in CFD trading, forex and spread betting, City Index's cutting-edge technology has three main advantages:
Flexible order types to buy and sell any instrument
Option to go long and short at the same time
Potential price improvements
City Index can offer reliable execution due to its large base of over 50 liquidity providers through GAIN Capital's proprietary ECN, GTX. Below, our team of industry experts will examine the full range of advantages that comes with City Index's trade execution process:
Trade using unrealized profits: this innovative feature allows forex traders to maximize their trading opportunities. With City Index, you can use your floating profits as a margin to explore new trade ideas.
Rollover Discounts: Available for futures trading, this feature allows saving up to 50% on the swap rate.
Hedging Capabilities: This function allows you to go long and short at the same time and on the same CFD instrument.
Scale in and Out: This feature allows you to add or to cut from your position. You simply have to select between the FIFO model (first in, first out) and non-FIFO model.
Automatic stop out level: This is a risk metric that will issue a margin call stop out when your funds will fall below the 50% of the required margin.
Additionally, Citi Index allows customizing your trade settings by offering three very powerful features:
One-click trading mode
Preselect your position size
Feature to fine-tune the amount of slippage you're willing to tolerate
Order Types
Compared to other online CFD providers, City Index supports multiple order types and the ability to program your entry and exit points. Like most CFD providers, City Index acts as a Market Maker and is the sole counterpart of your trades. The most advanced order types offered by City Index include:
One cancels other (OCO) – a complex order that combines stop order and a limit order at the same time
Guaranteed stop-loss orders – A very powerful risk metric that guarantees no slippage, but comes with an extra cost
The standard stop-loss orders, limit orders, trailing stops, can be  found on the broker's platform

Guaranteed Stop Loss Orders (GSLO)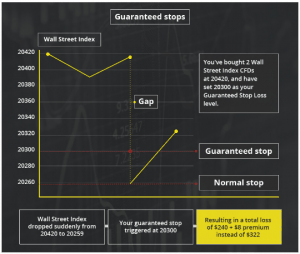 Our team of experts felt the obligation to provide our readers with additional information on the guaranteed stop-loss order. While the GSLO order comes as a handy solution to minimize losses, forex traders need to be aware that it can only be used under certain parameters. The GSLO order can be used as follows:
Only available for 12,000 instruments and doesn't include the full range of assets offered by City Index
There is a minimum price distance within which the GSLO order can be placed
There is a fee charged only when the GSLO order is triggered
The only positive feedback we can provide is that you can make additional changes to the GSLO order without paying extra fees.
The GSLO can be viewed as a negative account balance protection
Note* You can reach the Customer support at any type if you have other inquiries about the guaranteed SL.
Trading Tools
Forex traders have the option to explore the market using more sophisticated trading tools and advanced charting package. Forex traders are depending on these technical tools to make sound trading decisions. The core technical tools can be summarized below:
A technical research portal – can be used as a scanning tool, in-depth market analysis, market research, SL and TP levels determine by an in-house algorithm, price alerts
Fundamental analysis tool – stock valuation, best stocks, company metrics, global data, stock filter
Auto-trading strategies – including over 100 built-in strategies
Real-time news from Reuters
Powerful Chart
The charting solution offered by City Index is excellent. The charting software comes with a lot of built-in features that are designed to help forex traders to spot new opportunities in the financial markets. It's essential for forex charting software to come with particular features. City Index charts have a plethora of advantages including:
16 years of price history
Visual orders displayed directly on the charts
Over 65 customizable indicators
Chart overlay feature to compare the price of two or more assets
Extensive drawing tools
City Index Trading Academy
When you open an account with City Index you also gain access to an impressive educational trading academy. City index offers retail investors and professional traders hundreds of lessons available at their fingertips. The educational material encompasses a broad range of topics from lessons on how CFDs work and a trading strategy course that is valued at over $5,000.
You can learn to trade with City Index Training Academy and have access to the following types of educational material:
Understand how CFDs work course
Technical analysis and fundamental analysis guides
Trading strategy guides
City Index research tool guide
Expert news and analysis
Free webinars
Earnings Report
Economic calendar
The global research team at City Index has been awarded multiple times by their level of professionalism. The market analyses that can be found on the city index section are constantly featured on the mainstream media (MSM) publications such as The Guardian, The Telegraph, BBC or Sky News.
The weekly forex outlooks and forecasts published every Monday morning at 10.00 am is another insightful tool that will prepare forex traders for the week ahead.
Trader Development Program
City clients can also join the exclusive trader development program if they want to learn from an ex-Goldman Sachs professional trader. The program is run by Tony Sycamore from TECHFX TRADERS, which has over 20 years of trading experience. The trading strategy course is divided into three main sections that are intended to take a complete novice trader and turn him into a professional trader:
The first part (Demystifying Forex) is dedicated to learning the key concepts of forex trading
The second part (Learn to trade course) is dedicated to the basics of fundamental and technical analysis
The last segment (Trade like a Pro) is dedicated to advanced concepts and trading strategies
Note, to have access to the trader development program one would only need to open an account with City Index and make a minimum deposit.
City Index Review: Final Impressions
Overall City Index is a strong brokerage that beginning and intermediate Forex trading Australia enthusiasts should consider when looking for a new place to trade online. Although limits exist in regards to its trading platforms and leverage restrictions – these may be issues for some traders, not enough to offset the advantages this brokerage offers.