There are seven rules to successfully spread bet including what markets to focus on, adopting the right strategies and making sure the right spread betting platform is chosen. By adopting these rules a systematic trading plan for spread betting can be executed.
1. Bet on Tighter Spread Markets
Tighter-spread markets are more cost-effective and cheaper to trade than markets with a wider spread. If the spread is wide, not only does it cost more to enter the market, but the market would have to move further in your favour for you to break even or turn a profit.
If you spread bet on EURUSD and the spread was one pip, you'd only have to see the market move two pips to profit. However, if the spread were ten pips, the market would have to go in your favour by 11 pips for you to profit.
Additionally, markets with tighter spreads have more liquidity and trading activity, making them an ideal asset if you are a short-term trader.
2. Build A Robust Trading Strategy
A decent trading strategy allows you to follow rules to find new trading opportunities that you know can generate results, adding confidence to execute the ideas. With a trading strategy prepared, you can repeat the exact steps each time you find a potential idea and know how to execute and manage the trade. This makes betting easier, as the hard work is already done. You just have to follow the strategy each time to find successful trades.
Additionally, if you lose a trade, you can revert to the strategy and see where you may have gone wrong. This brings accountability to your trading, a trait you must have if you want to be successful. With that said, sometimes trades can be lost when they are out of your control, like a major event that can affect the whole market.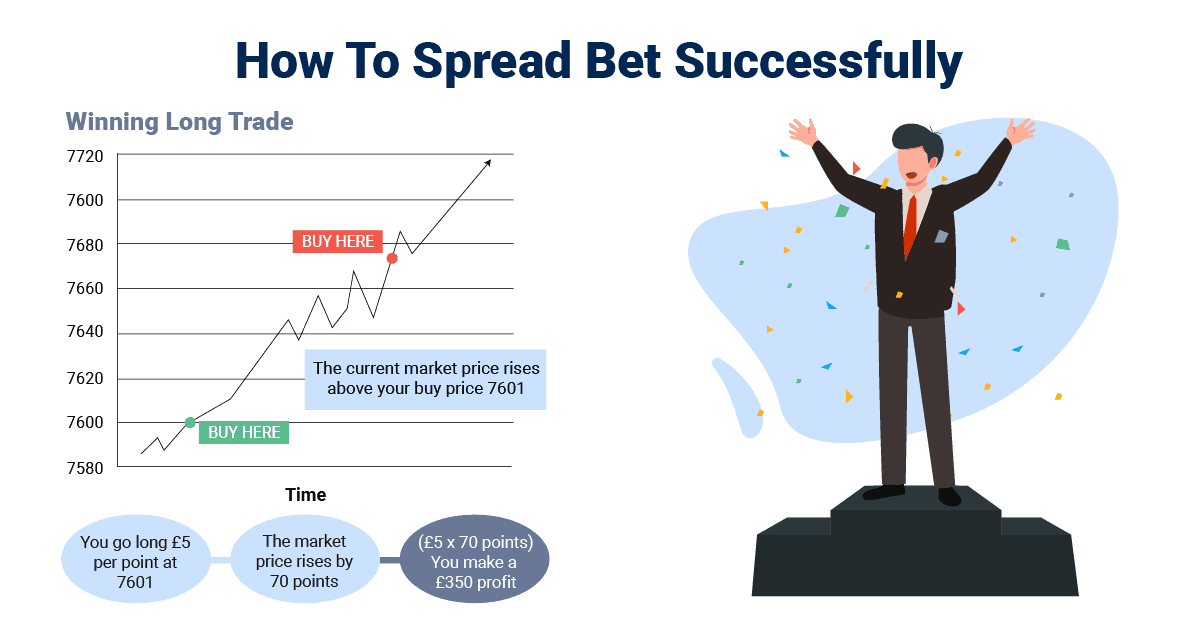 3. Choosing The Ideal Market and Instrument
Spread betting brokers offer an excellent range of markets, and you may feel tempted to experiment with many. For example, today, you trade the FTSE, tomorrow US stocks, then commodities, followed by currency pairs, etc.
Realise that many excellent traders specialise in just a handful of markets if not a single one. These specialist traders often remark that each market has a personality, and you must know and understand it to be profitable.
And the only way to learn a market's personality is to concentrate on it rather than juggling ten or twenty different one.
4. Developing A Solid Risk Management Strategy
Knowing how to manage your risk and having a trading strategy to help analyse the markets is just as important. Most successful traders know their risk and how they will exit before entering the markets, so it's a good idea you do, too. The strategy will be your personal preference and risk tolerance, so everyone's risk management will differ.
5. Trade Small Positions When Starting Out
You'd be surprised how much money people new to spread betting needlessly lose because they don't understand what they're doing.
The main problem is they initially bet far too much per trade.
So be smart and keep your trading size small at a maximum of £1 a point for at least the first few months. Do that, and you'll be ahead of most new traders who are busy diving in at the deep end without first checking the depth of the water.
6. Choose A Decent Broker
Your broker provides access to the markets and the trading platforms you need to analyse the markets, so choosing a good one is paramount. Below, I'll highlight what you should look out for in a broker:
Tight spreads (the lower, the better) lower your trading costs, allowing you to turn a profit quickly.
Fast execution speeds so that your broker will enter your position quickly, allowing you to get the exact price you want and not miss out on a move.
Choose a broker that offers the trading platform you want to use. Most brokers offer MetaTrader 4 or TradingView, excellent technical analysis platforms.
It has a good range of markets that you want to bet on.
Provides excellent customer service that is responsive through different channels like phone, email, and live chat.
Being good at finding betting ideas will only be worthwhile if you have a broker that offers poor services and expensive spreads; that is why it is essential to use a reliable broker.
7. Continually Develop Your Skills Over Time
It's not enough just to have a trading strategy and follow the rules step by step. You must continually review your bets and discover what is not working. It's a surefire way to optimise your strategy while learning new market scenarios that may occur.
For example, you may discover that if a recent chart pattern like a double top has formed, your strategy may fail most of the time. So you can take this experience and avoid any future betting opportunities.
There are plenty of ways you can continually develop your skills; these are:
By practising on a demo account, try new ideas and develop your spread betting strategies without risking your money.
Keep a trading journal to reflect on your trades and the rationale for entering them. A journal can highlight what you are doing right or wrong, allowing you to avoid future mistakes leading to more successful opportunities.
Network with other traders through social platforms like TradingView or even Facebook, Reddit, and X communities to discuss current market trends and themes and how to take advantage of them.
How To Calculate Spread Betting Success?
A spread betting calculator is the best way to measure if a spread bet was a success or failure. Below is a screengrab of our calculator that factors in the opening price, closing price and size of the best that determined the resulting profit or loss. The calculator can also determine what the spread is set by the broker which is their way of making a commission. Other variables include the margin rate offered which is normally up to 30:1 within the UK.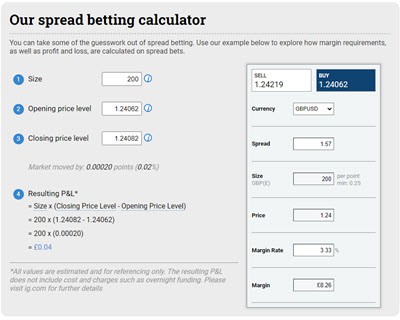 What Betting Mistakes Will Negatively Impact Success?
To improve your chance of success, it is best that you avoid these common mistakes:
1. Emotional trading
The fear of losing money and greed can play pivotal roles in spread betting, as they can influence one's decisions. To avoid these emotions, it is best to be "emotionless" and stick with one's trading strategy.
2. Over-leveraging your bets
Spread betting allows you to leverage your trades to profit from smaller market movements and is an excellent tool if you can manage your risk. However, if you are trying to recover any losses, some traders will increase their stakes and double down in the hope they can make their losses back. As you can imagine, this is a destructive behaviour that can lead to your account going to zero.
It's not just those who are losing that over-leverage; so do traders who are winning. If you are on a winning streak, some traders will increase their stakes significantly to take advantage of their current conditions. Unfortunately, a bad analysis and swing of luck against them can cause them to wipe their profits (and even their account).
3. Chasing your losses
This is a common mistake (especially if you are a beginner) where you try to force trading ideas to work and recover your losses. This could lead to a lack of discipline by betting on ideas that don't fully meet your criteria or widening your stop loss to avoid another loss.
When I take a loss (everybody loses a trade occasionally), it's best to forget it and find another high-probability trading idea based on my strategy. After all, I know my strategy worked, so one loss isn't a big deal. However, if suffering from one loss upsets you and makes you anxious about losing more, you shouldn't be risking your money.
4. Ignoring market conditions
Markets move constantly, and you must stay abreast of the news, especially if you anticipate a major announcement. Lack of awareness of events or the market's overall trend can lead to poor trading decisions. Find strength by trading with the trends and avoiding short-term volatility by knowing when market data is released.
5. Relying on Tips
Making decisions based on others can be risky, and you should always conduct your market analysis because if you follow tips, you may not know when to exit the position. Even worse, you do not have a reason to enter the markets, so you don't understand why you are in the trade other than it was a tip-off.
6. Shiny object syndrome
If your trading strategy is successful and your analysis profitable, you should stick with what you know. You don't want to switch your performance (and profits) to some new strategy you watched on YouTube, which may never be profitable.
An Overview of Spread Betting
Spread betting is a type of derivative that allows you to speculate on the price movement of a wide range of financial markets without owning the underlying asset. You can spread bet on most financial products, including forex, indices, commodities, stocks, and bonds, with leverage that allows you to exploit smaller price movements to earn larger profits (or losses).
One of the many advantages of spread betting is the tax benefits it brings. The HMRC deems spread betting a gambling activity; therefore, the winnings (profits) are exempt from capital gains tax. Furthermore, because it is a derivative, you will not have to pay stamp duty tax, saving you more in trading fees than with traditional investment methods.
Understand The Markets And How Spread Betting Works
Spread betting allows you to profit in rising and falling markets, providing unique trading opportunities compared to traditional investing. To profit with a spread bet, you stake how much you wish to risk per point, multiplied by the number of points the market moves in your direction (or against you).
For example, imagine you bought Tesco shares because you predicted they would rise with the increase in inflation. You buy a spread bet on Tesco at 245p and stake £5 per point so that you will make £5 every time the Tesco share price rises by a penny.
If the price of Tesco rises 10 points to 255p, you will have made £50 profit (£5 staked per point x 10 points increase). If the price of Tesco falls 10 points to 235p, you will have lost £50 (£5 stake x 10 points decrease).
What Are The Best Spread Betting Platforms?
Many spread betting brokers are available in the UK, but not all offer excellent services. Our team has reviewed more than 10 brokers to find the best; I've included them below with a brief commentary on each.
Pepperstone
In all of our tests, Pepperstone is our best overall spread betting broker with a combination of low spreads, a decent range of markets, fast execution speeds and a solid choice of trading platforms. Pepperstone has 1000+ stocks, 62 currency pairs, 28 indices, and 25 commodities to spread on, and all have low spreads from 0.7 pips on EUR/USD.
Pepperstone allows spread betting on all its platforms, including MetaTrader 4. You can also use custom indicators and automate your bets. Other platforms include MetaTrader 5, cTrader, and TradingView.
City Index
City Index is our top pick if you want a broker that offers extra risk management features, including guaranteed stop-loss orders and performance analytics tools. Although you can only use the WebTrader platform to spread bet, it has all the features you come to expect with top-performing platforms like TradingView and MetaTrader 4.
These include a user-friendly interface and a solid range of technical indicators and drawings. They can be used on both desktop and mobile devices. The broker offers 4,500+ stocks, 30 commodities, 84 forex pairs, and a selection of bonds to bet on, giving you various products to speculate on.
IG Group
If you want to bet on multiple markets, both popular and niche products, then we recommend you choose IG Group. The broker has the most extensive range of markets to spread bet on, with over 17,000+ markets available with low spreads from 0.7 pips on EURUSD. They offer currencies, stocks, bonds, ETFs, and commodities, as well as the ability to spread bet on options and futures, an option missing from most brokers.
IG Group offers four trading platforms: the IG Platform, MetaTrader 4, MT5, and ProRealTime. These platforms include a range of features to help you analyse the markets and execute your trading strategies.
FxPro
If you prefer to spread bet from a mobile device, FxPro is our recommendation for the best spread bet trading app. What stood out is that the FxPro app offers 110+ indicators and drawing tools, helping you analyse the markets your way on a mobile device, where most apps have limited tools.
As for the service FxPro provides, you'll find competitive spreads from one pip and various markets to bet on (69 forex pairs, 17 commodities, 2000+ shares, and 14 indices). The broker offers alternative platforms that include MT4, MT5, and cTrader.
Spreadex
If you like to spread bet on sports and financial markets, our top pick is Spread, which allows you to do both under one broker. Spreadex offers its platform to spread bet on sports and financial markets, which comes with impressive features rivalling MetaTrader 4 and TradingView, such as advanced charting and automated pattern recognition tools.
The broker offers a decent selection of markets ranging from sports, live events, and politics for sports spread betting. For its financial spread betting markets, the broker offers 57 fx pairs, 16 indices, 10+ commodities, 1000+ shares and competitive spreads from 0.6 pips on EUR/USD.
FAQs
Are Spread Betting And CFD Trading The Same?
Spread betting and CFD trading are similar as they are both derivatives, allowing you to bet on bullish and bearish markets with leverage. However, the critical difference is that spread betting is tax-free, while CFD trading must pay capital gains tax on its profits.
Can You Make An Income From Spread Betting
With a consistently profitable trading strategy, you can earn a living with spread betting. However, if you decide to do it for a living and become a professional spread bettor, you should note that your winnings may be taxable as income. Consult a professional accountant if you are considering this.
Is Spread Betting Risky?
Like all methods of speculation, spread betting has similar risks. The markets can turn against you, meaning you can lose your money. Furthermore, spread betting uses leverage, which amplifies your profits and losses. You should always use risk management when spread betting.
Which Markets Can You Spread Bet On?
You can bet on virtually any market your spread betting broker makes available. The most common markets include forex trading, indices (such as the FTSE 100), commodities, stocks, and bonds.
Key Takeaways On Success In Spread Betting
Spread betting is a derivative that allows speculation on financial markets without owning the asset. It offers tax benefits as it's considered gambling by the HMRC, which exempts profits from capital gains tax.
You can profit in rising and falling markets by staking an amount per point multiplied by the points the market moves, providing opportunities for significant gains or losses.
Successful spread betting involves strategies like choosing tighter spread markets for cost-effectiveness, developing a robust trading plan, selecting specific markets to specialise in, and implementing strong risk management.
Avoiding common mistakes such as emotional trading, over-leveraging, and chasing losses while continually developing skills and choosing a reliable broker is crucial for long-term success in spread betting.