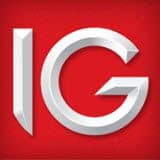 For Australian CFDs traders, IG is considered one of the top brokerage options. The broker has been operating in Australia for over 15 years. The following IG markets CFD trading review focuses on the key features offered by IG, costs and customer service.
What CFDs Are Available?
One of the things that set IG apart is the impressive diversity of different underlying assets it offers traders the opportunity to trade as CFDs. In addition to the usual lineup of shares, indices, Forex and commodities, IG CFD trading let traders open positions on cryptocurrencies, bonds and even ETFs. Below is a basic overview of some of the products in major categories. Because of IG's large asset list, however, these examples are far from comprehensive.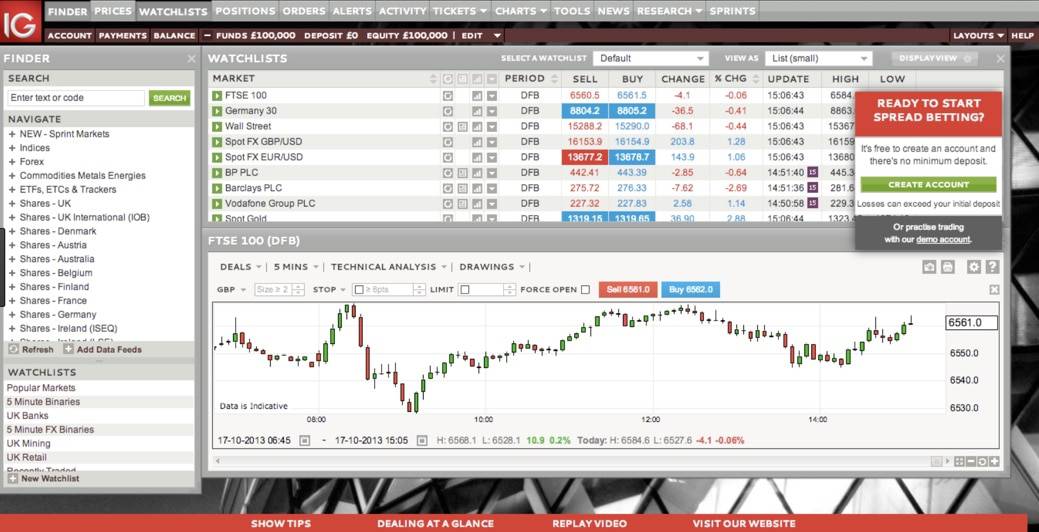 1) Shares
One of the main categories in IG CFD trading is shares. CFDs based on individual stocks are often the first category that new traders will enter into if they have previous experience in the traditional markets. Share-based CFDs are, however, great for any trader. A few of the stocks that IG bases CFD products on include:
Google
Apple
Tesla
BHP Billiton
Royal Dutch Shell
These are just a tiny sample of the share CFDs that traders can access through IG. In total, the brokerage offers more than 8,000 worldwide shares as CFD products.
2) Indices
Complementing share CFDs are those based on broader stock indices. Though indices and individual shares within them will often move in the same way, an index represents a broader share of the market, giving it somewhat more stability and predictability than an individual stock. Major indices that can be traded with IG CFD trading include:
US 500
US Tech 100
Australia 200
Germany 30
Japan 225
Commodities
Moving away from the stock markets, IG also offers derivatives based on commodities. Though they require a somewhat more specialized knowledge base to trade, there is excellent money to be made in commodities trading for those willing to learn how to do it correctly. Often, commodities remain strong and steady in periods of higher stock volatility. Commodities that traders will find on IG include:
Gold
Silver
Platinum
Palladium
Crude oil
Natural gas
Corn
Soybeans
Though most CFD brokers do offer at least some commodities, IG offers a more diverse list than most. Agricultural commodities, for example, are less often included than precious metals. For traders who plan to work heavily with commodities, therefore, IG is a leading option.
3) Forex
Like almost all brokers including Saxo Capital Markets, IG provides considerable offerings in the Forex, or foreign exchange, category. Traders working in this market trade on the comparative value of pairs of international currencies. Since fluctuations are always occurring between the currencies of the world, there is always money to be made in Forex. Some of the currency pairs available on IG are:
AUD/USD
EUR/GBP
AUD/GBP
EUR/JPY
NZD/USD
AUD/CAD
Keep in mind when selecting currency pairs to trade that not all of them work in the same ways. More stable world reserve currencies, like the USD and the GBP, tend to be less volatile, leading to less risk in trades but also lower potential rewards. Highly volatile currencies, like the JPY, offer larger profits, but can also be quite risky under certain conditions. The best pairs for you when CFD trading in Australia will depend on your risk tolerance level and personal trading style.
3) Bonds
IG CFD trading is somewhat unusual in that it offers traders access to bond market CFDs. In the traditional markets, bonds are prized for their reliability and relatively low volatility, a trait that carries over into trading them as CFDs. Though the selection of bonds isn't huge, it does offer another facet of trading that few other major brokers and best CFD brokers do. Bonds that can be traded through IG include:
German bund
Japanese government bond
Long-term Italian government bond
US treasury bonds
ETFs
Rounding out the list are ETF CFDs. ETFs, or exchange-traded funds, are large trading funds, often built on indices, that are themselves traded on the open market. In more traditional investment, ETFs are usually used as tools for retirement and savings investment. As discussed in our what is CFDs page, they offer more short-term potential as CFDs. Though ETFs will likely not be a major component of your trading, having them available is useful as a means of diversification.
Segregated Bank Account
IG Markets Limited is ASIC regulated holding the Australian Financial Services License 220440. A requirement of this regulation is to for IG markets CFD trading client funds to be segregated in a separate bank account. This ensures that IG doesn't use your account for hedging purposes. While the bank used isn't specified by IG, all bank accounts are AA-rates. Another added benefit related to unrealised profits. These are also segregated in a separate providing added security for clients.
IG CFD Trading Leverage Ratios
In any CFD trading context, leverage is an important component. Few investors have the capital resources necessary to profit from CFDs without leveraging their trades, meaning that the leverage ratios offered by a brokerage will have a direct impact on the risk and reward levels that traders will see. Leverage on IG as discussed in our detailed comparison with easyMarkets varies by an asset but runs around 20:1 on shares, 200:1 on Forex and indices and 50:1 on commodities. Unfortunately, leverage does put IG at a disadvantage to other brokers, which will often offer ratios as high as 500:1 on Forex and indices.
Funding
When you open an account with IG you must select your base currency. Most Australian traders will choose the default which is the AUD. The minimum deposit is AUD 450 and an inactivity fee is charged if no activity occurs over two years. There are four main funding methods for an account.
Debit Card – There is no charge on debit card deposits which are instant when processed through the CFD trading platform.
Credit Card – There is a 0.5% MasterCard charge and 1% for Visa which like a debit card is processed instantly.
Paypal – There is a 1% charge on PayPal instant transactions with currencies supports including the Euro, AUD and USD.
bPay – While free of transaction charges, bPay can take up to two business days for a deposit to be processed and has extra requirements.
Our IG Markets CFD trading review recommends choosing debit cards to minimise brokerage fees while minimising processing times. If you prefer using a Credit Card of PayPal then other online brokers may be recommended.
Conclusion
IG CFD trading offers traders access to one of the broadest lists of assets available on any brokerage. Despite its somewhat low leverage ratios, traders shouldn't write IG off their lists. IG has had years of experience in providing traders with excellent service. This has made them one of the most reliable and customer-oriented digital brokerages available in the Australian market.
Due to the lower leverage ratios, our IG review also found them a good fit for less risk-tolerant traders, who may not be comfortable with higher leverage in the first place. Like any other decision in the trading world, whether IG CFD trading is right for you will depend heavily on your personal investment preferences.