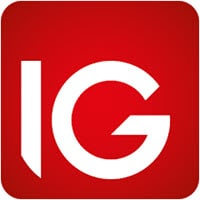 Our IG Share trading review focused on their share CFDs offering as they don't offer conventional stock market buying and selling.
CFDs are the same as normal stock trading except it involves leverage and is more short term. IG was key strengths in this area including:
– Low Commissions on Australian shares ($8 or 0.1%)
– Access to 8,000+ markets allowing trading on major stocks
– The ability to trade AUD-denominated CFDs
– A range of leading share trading platforms including L2 trader
Share Trading Commissions Charged By IG Markets
IG share trading popularity is due to their low commissions which for Australian share CFDs are 0.10% with a minimum amount of $8. There is also charges for holding share CFDs position(s) overnight which should be considered if you plan to be in the market over several days. This overnight fee is based on the interbank rate and a small admin fee.
The margin rate differs by shares between 5% to 25%. In simple terms:
– 25% margin means you can trade four times the traders deposit. So for example, a deposit of $1,000 can lead to $4,000 been traded on the market.
– 5% margin means you can borrow twenty times the deposit placed. So in the same example, a $1,000 deposit can lead to 20,000 in share value traded on the ASX or other approved markets.
It's critical that margin involves risk which can lead to losses exceeding deposits in turbulent markets so it's important to understand the risks and gain experience prior to trading with the full leverage available. We recommend signing up for  demo account until you have built up strong trading skills.
Some shares have the option of a limited risk premium (which differs by share) and the ability to go short.
IG Share Trading Market Range
IG trading on shares within the ASX/S&P 300 index and 250 additional stocks. Other regions share traders can trade include:
1) UK & Europe
IG share trading is available on all FTSE 350 index shares and most £10 million UK market capitalisation stocks. Options on most of the FTSE 100 shares are also available.
All of the other European principle index's are also offered with contracts denominated in euros. Except for Swedish, Swiss, Norwegian and Danish shares, euro interest rates also apply.
2) USA & Canada
IG offers shares within both the NASDAQ 100 and S&P 500 index as well as $500 million plus market capitalisation shares. Like for European shares, these two index shares are denominated in the local currency (USD) with local interest rates applying.
Canadian shares of the top 60 companies (TXS60) are also offered denominated in Canadian dollars.
3) Asia & Africa
Key shares in Asia can be traded with IG including the JSE Top 40,  Straits Times in Singapore, leading Japanese and Hong Kong shares. All contracts for each share is denominated in their local currencies although USD is applicable for some Singapore stocks.
AUD denominated Share Trading
Most Australian traders don't trade shares overseas due to the perceived complexity involved especially when it comes to the need to change currencies and fees involved. Our IG trading review compared to Saxo Capital Markets found they have an excellent product which denominates all indices in AUD.
By trading overseas markets in Australian dollars investors are not exposed to currency fluctuations or conversion fees. The stocks you can trade in AUD denominations include:
China A50
China H-Shares
FTSE® 100
Germany 30
Hong Kong HS42
India 50
Japan 225
US SPX500
US Tech 100
Wall Street
Spreads vary by indices as do margins that start from 0.5% also known as 200:1. This effectively means, you can trade 200x your initial deposit leading to large profits or losses from relatively small market movements. As such, the full leverage should only be considered by experienced traders who have a high risk appetite.
There are other AUD IG trading options including metals and energies. These includes US Light Crude, Spot Gold, Spot Silver and Natural Gas.
IG Share Trading Platform Review
There are two platforms recommended for IG share trading, their core platform and the advanced L2 Dealer.
1) Core Platform
IG's own platform is browser-based which means users don't need to download software to trade CFDs shares. While no downloading is required there is the ability to customise and edit watch-lists and layouts to suit your trading style.
You can place stops and limits on trades to close of a position when your profit or loss limit is reaches. You can also utilise the 'tear off' prices allowing you to close the browser yet still watch any key CFDs. You can even create trading alerts which will SMS or e-mail you when a price is reached meaning you don't need to watch the markets closely, even when your trading within it.
You can also trade other financial products such as IG index trading and currency trading. This has led to IG Australia's popularity as an all-in-one share, CFDs and forex broker.
2)L2 Platform
This platform allows forex trading and share trading with direct market access through a dedicated L2 dealer. It was designed for traders who want to participate directly with the share market and associated liquidity.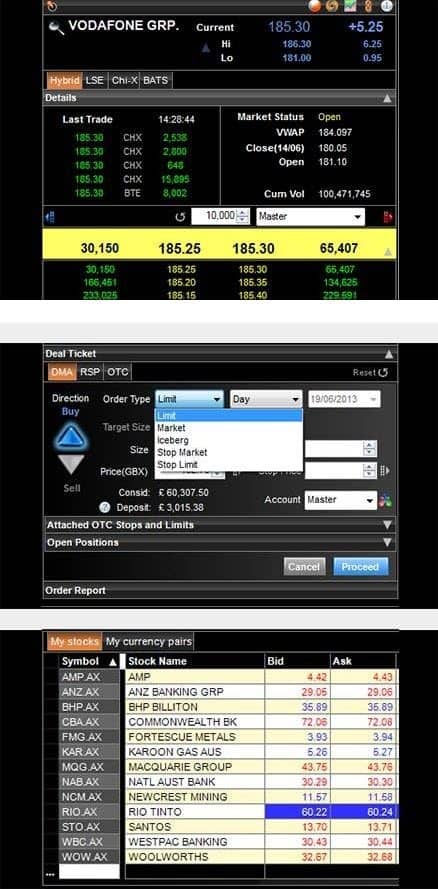 Some of the key features of L2 are:
i) Improved liquidity and pricing
A range of exchanges can be accessed maximising share market depth for in Australia and overseas
The ability to not only access primary exchanges but also market makes, brokers and dark pools
An aggregated window or individual exchange can be displayed on the order book can be displayed with buy/sell prices
The ability to access smart order routing, automatically sourcing the best price from a variety of trading venues
ii) Professional order control
Traders can 'drag & drop' share trades into their order books and then link them to charts/new fees within the main window
A plethora of order types including fill or kill, pegged, eliminate and execute as well as good for auction
The ability to break larger share orders into tranches utilising an 'iceberg' facility'
iii) Optimised, efficient share trading
Dealer-referred tickets with no re-quoting
The ability to make basket IG share trading with excel compatible 'watch-list pro'
The ability to also utilise excel to make automatic trades utilising algorithms that traders create or share
The ability to place limits on orders using 'ladder trading'
A customisable direct market access interface
The ability to quickly 'one-click' trade with tools and market alerts
New feeds direct from the market with live charts that highlight key events to alert traders or opportunities
L2 Dealer is free to download and use if your an active IG trader (they will rebate you for any fees associated with L2 Dealer). If you don't actively trade though there will be data usage fees that you will need to pay periodically. Our IG review found that beginner traders should consider the core platform while advanced share traders may prefer L2. This is also based on IG reviews from existing traders.
iv) Deposits and Withdrawals
IG offer 4 different methods to deposit funds into your account. These are Credit Card and Debit Cards, via Paypal and through use of BPAY.  To add funds you need to login to your IG account and select 'add funds' and select the account that will receive the deposit. Deposits are limited to $50,000 per day if using a bank card. If you wish to make a larger deposit then this can be done with a bank transfer. When registering your card for deposits, you cannot use a third party account. This means you cannot use a business or corporate card or a card that is not in your name.
Regardless of the method used to enact transfer, execution time is instant when done via 'My Account' within the IG Markets platform however charges will vary. For example, a Debit card for Visa and Mastercard and BPAY incurs no charge but there will be a 1% charge when using visa and 0.5% charge for MasterCard for credit cards provided you are making AUD transactions.
When it comes to withdrawals, methods of withdrawal are limited to internet bank transfer or credit cards and $35,000 per 24 hours. To make a withdrawal, you need to select 'live accounts' tab once logged into 'My IG' account.  Bank Withdrawals should usually be same day but if using your card, it can take 5 days before your funds show in your bank account.
Overall
IG Group is Australia's most popular share and CFDs trading broker in 2017 based on the ability to trade overseas markets with two leading platforms and their corresponding low spreads. The AUD denominated IG share trading was also a key positive with is unique to the broker. Overall, these strengths combined with their strong IG trading forex product as discussed in our comparison with easyMarkets make the broker suitable for beginner to advanced CFDs traders looking to trade both domestically and abroad.