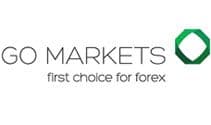 Our GO Markets review found the forex broker key strengths are:
The MetaTrader 4 forex trading platform offered
The plethora of products offered from Forex, Crypto to Binary Options
The low spreads from their Go Markets Pro and new Plus+ trading account
The low minimum deposit requirements
The positive GO markets reviews on sites like Trust Pilot
The strong Melbourne based customer service offered
Skip ahead
GO Markets MetaTrader Platform Review
The GO Markets MetaTrader 4 Forex Trading Platform is the most popular in the world. GO Markets were one of the first Australian forex brokers to bring MT4 to the country in 2006 focusing on their key advantages which are:
A mobile, tablet and desktop version (as well as a Mac version)
Charting options to meet forex trading requirements
The ability to trade more than just forex as discussed later in this GO Markets review
Expert Advisors allowing for automated trading
Fast execution speeds from the lite platform
GO Markets webtrader that requires no downloads for shared computers
More About GO Markets MT4 Genesis
What sets Go Markets MetaTrader forex trading platform apart from other forex brokers is their MT4 Add-on. The Go Markets MT4 Genesis offers an improved order management system, alert system and expert advisors enhancement.

The key features of the GO Markets MT4 Genesis are:
A mini terminal to organise forex charts and make trades from the charts
A sentiment indicator to provide insights into forex sentiment
Correlation traders and matrix that helps identify new forex opportunities
Interactive session map to help record the start of trading sessions
Alarm manager to alert forex traders and make automatic trades
Products Offered
The products are authorised and regulated by the Australia Securities and Investment Commission (ASIC).
1) GO Markets Forex
GO Markets offers commission free trading across over 50 forex pairings. They offer a 500:1 leverage level combined with smart trading tools to assist with forex trading. There is also an education piece for those new to currency trading.
2) GO Markets CFDs
Both Commodities and Indices trading are available with their contact for difference (CFDs) trading. Commodities that can be traded range from gold, silver to oil and have a 300:1 leverage level.
Indices trading ranged from cash to futures trading across a range of markets including FTSE 100, S&P/ASX and the US Dollar Index. Trader can go both long and short on these indices. Leverage ranges from 50:1 to 200:1 depending on the indices trading.
3) GO Markets Cryptocurrencies
Increasing in popularity, Cryptocurrencies offer high volatility for traders with high risk appetites. GO Markets Bitcoin and Ethereum both have leverage of 5:1 which means any movement (which can often exceed 10% a day) is multiplied by fie times. It's worth noting the minimum stop distance when calculating factors like slippage.
4) GO Markets Binary Options
The GO Markets binary options offering is one of the strongest in the market with attractive returned of up to 80% and equally high risk. Traders can choose the time-frame for trading (up to 60 minutes) with commitments from just $5 USD.
Other advantage of GO Markets Binary Trading include the ability to define the maximum risk value, flexibility when trading with $500 trades on currency pairings for longer expiry times and the ability to trade through GO Markets MetaTrader 4.
Overall
Overall, only a handful of forex brokers offers so many products which is why our GO Markets review gave near top marks when it comes to a diversity of products offered.
GO Markets spreads
In 2020 GO Markets account information has changed with three account types offering different spreads. These accounts are:
1) GO Markets Standard Account
This account is similar to other forex brokers offering the standard model of wide spreads and a low deposit for those new to forex trading. Without commissions, this can be easy to track for those new to currency markets.
2) GO Markets Pro Account
This used to be GO Markets premium ECN forex broker account where forex traders can trade directly with liquidity providers. Spreads are market-based and only a standard commission of $3.50 AUD per side is charged. Most experienced traders would opt for this account prior to the Plus+ account been introduced.
3) GO Markets Plus+ Account
This trading account was introduced in 2018 and is targeted toward forex traders with larger deposits. Currently there is a promotion which sees a minimum deposit of $500 but long-term this will be $10,000. The plus side is lower raw spreads and commissions. There is also a dedicated account manager for these account holders.
The GO Markets spread comparison to other forex brokers was based on the Plus+ account. Previously it was based on the GO Markets Pro account. It found the new account has some of the lowest spreads and commissions of the Australian forex brokers.

Funding Information
a) GO Markets Minimum Deposit
The GO Markets minimum deposit depends on the account opened.
Standard Account
Pro Account
Plus+ Account
It should be noted as outlined above that currently there is an offer of a $500 GO markets minimum deposit for Plus+ accounts opened. This an all the other amounts shown below are in Australian dollars.
b) GO Markets Fund Account
There are a number of GO markets fund account options available. The free funding options is the BPay from a deposit account. The next lowest funding option is using a AUD credit card or debit card which incurs a 1.8% service charge. Just note that if you choose a credit card you may also get charged a 'cash advance' fee by the provider.  A slightly higher fee of 2% fee comes from BPay from a Visa or Mastercard. The largest fee is from a non-AUD credit card or debit card which attracts a 3% interest rate.
c) GO Markets Withdrawal
A Go Markets withdraw requires a nominated bank account using the online form within the website. This allows regular withdrawals or a one-time withdrawal can be completed. GO Markets don't charge fees on withdrawing money to Australian bank accounts. International bank accounts attract an intermediary fee and some charge a receiving fee.
GO Markets Reviews
GO Markets reviews have historically been strong and this is highlighted on TrustPilot which rates the broker 9.0/10 from 17 reviews.
Google Maps also found the forex broker to have a solid ranking of 6.2/10 from 9 reviews.
Insights Into GO Markets
The full trading name is GO Markets PTY LTD. The forex broker was founded in 2004 and is Melbourne, Australia based.
The company is privately held and has over 50 employees.
GO Markets Contact Information
To contact the GO Markets Melbourne office (their head office in Australia) you can either visit their office on Collins street, call their nationwide number (1800 88 55 71).
Their GO Markets contact centre is open 24 hours, 5 days a week to match forex trading hours. The highest forex trading account Plus+ is the only account that receives a dedicated service manager. If you require one but are not willing to make the significant balance you may want to consider another forex broker as shown on the forex comparison table. You can also check out this comparison between GO Markets and Pepperstone to learn more about their advantages.
About This GO Markets Review
Compare forex brokers completed this review in 2020. The information came from GO Markets, review sites and other online resources. The authors do the best to update information when forex broker details change but some changes can occur without notice the information should be cross-checked with the provider's website. The site doesn't recommend forex trading or provide advice and any currency trading should be done with the risks understood. If you see any element that should be changed or updated please feel to use the contact form on this page. You can also view another perspective on our Go Markets review section.