'Top 5' FXTM Strengths
After conducting our FXTM review in 2020, we found that the broker has some of the best education content where clients can learn to trade forex. Here are the top 5 strengths:
Summary of our FXTM Broker Review
After conducting an updated 2020 review of FXTM, we have found them to be the best-rated forex broker for forex education and analysis. Whether you're a new trader looking for tutorials and webinars on the basics, or you're an experienced trader looking for world-class market analysis. It's worth checking out FXTM.
The only downside to FXTM is their lack of a cTrader option for those who trade strategies requiring market depth, but their low ECN spreads available on MT4 and MT5 are more than enough for most. The sheer number of CFDs to trade on some of the highest leverage available makes FXTM a clear choice.
After going through our top 5 strengths, our full FXTM review is continued below.
Open a demo account >>Visit FXTM>>
Learn to Trade Forex with the Best Education at FXTM
Rated as the broker offering the best forex education opportunities, the learning material available to FXTM account holders is second to none.
New traders or those simply looking to learn new methodologies are well catered for, with a multitude of tutorials and articles throughout the website. Experienced traders, on the other hand, have access to some of the brightest economic minds in the game.
Forex Education
FXTM allows traders to expand their forex trading knowledge thanks to a plethora of education content. The market analysis and education sections of their website are some of the most in-depth that we've come across.
Ways to learn forex with FXTM:
Forex eBooks
Webinars on both education and analysis
Forex trading guides
How to trade new trading strategies
Education and news videos
Whether you're the type of trader that learns through visual or text-based mediums, FXTM has an option that caters to you.
New traders are often overwhelmed with the sheer amount of information required to succeed in the markets. But FXTM's forex education breaks down the fundamental concepts in an easy to consume manner.
Forex Webinars
If you're someone who learns by visual means, then free forex webinars for FXTM traders will be of interest to you.
Headed by FXTM's head of education, Andreas Thalassinos, the broker's webinars cover a wide range of education and analysis topics to help traders make money in the markets.
Topics FXTM forex webinars cover:
Economic data releases such as US Non-Farm Payrolls
Weekly market previews
Learn new trading strategies
Question and answer sessions with pros
Market Analysis
If you're a more experienced trader who's looking to take their trading to the next level, then FXTM's market analysis is worth checking out.
The market analyst team at FXTM consists of:
Jameel Ahmad – Global Head of Currency Strategy and Market Research
Hussein Sayed – Chief Market Strategist (Gulf & MENA)
Lukman Otunuga – Research Analyst
Han Tan – Market Analyst
Andreas Thalassinos (BSc, MSc, MSTA, CFTe, MFTA) – Head of Education at FXTM
Choice of Trading Platforms Including MT4 and MT5
FXTM is known as a specialist MetaTrader broker, focusing its trading platform offering exclusively on the MT4 and MT5 platforms. Unfortunately, this means that if you're looking to use cTrader, then you are unable to with this broker.
The sheer popularity of the MT4 platform has meant that FXTM will never close MT4 accounts and force clients to change to MT5. If you want to stick to MT4 and the massive back-library of custom indicators and EAs that have been developed for it, then you won't have to worry about being forced to change by FXTM.
Take a look at the two platforms below.
MetaTrader 4
MetaTrader 4 (MT4) is the tried and true trading platform that has catapulted forex trading into the mainstream. Whether you have a PC, Mac, mobile, tablet, then FXTM has an MT4 option for you.
The biggest reason to choose MT4 is to gain access to the endless library of custom indicators and expert advisors that have been developed specifically for the platform. With an inability to seamlessly transfer indicators from MT4 to MT5, many traders prefer to stick to MT4 to continue trading their proven strategy.
FXTM's MT4 platform also allows traders to access the multi-terminal feature that is unavailable on MT5.
MetaTrader 5
MetaTrader 5 (MT4) is the next generation trading platform from MetaQuotes. Just like on MT4, you can access the MT5 platform on PC, Mac, mobile trading (IOS and Android), tablet and through any browser thanks to the WebTrader option.
While many features are exclusively available on MT5, the fact that you can't transfer custom indicators and EAs without having the code re-written remains the platform's biggest drawback.
You can, however, trade all of the major markets offered by FXTM directly from your charts in the MT5 platform and access several exclusive features that we go over below.
Comparing MT4 and MT5
FXTM encourages traders to download both the MT4 and MT5 platforms, then use them in parallel before making your final decision. However, while the broker ensures that they won't be deactivating MT4 soon, it will happen eventually.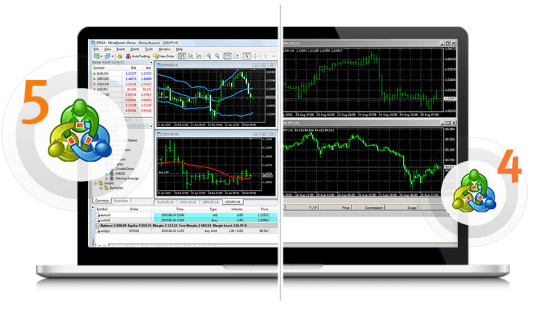 There are many reasons to start using FXTM's MT5 platform or make the switch from your current MT4 broker.
Key reasons to use MT5:
Order execution types and conditions – More in MT5
Partial order filling – MT5 only
Market depth – MT5 only
Indicators, objects, and timeframes – More in MT5
Economic calendar – MT5 only
Netting – MT5 only
Hedging – Now available in MT4 and MT5
If you're a new client to FXTM, it might be worth considering choosing the MetaTrader 5 (MT5) platform from the start.
Tight spreads across multiple STP and ECN trading account types
FXTM offers six account types, split into two main categories. Each account type allows clients to focus on different asset classes, as well as offering different spread and commission price models.
This section of our FXTM broker review goes over the different account types.
Standard Accounts
These accounts feature the spread only. There are no commissions on any of the FXTM standard account types. Standard account types are best for new traders who may be trading on smaller accounts.
Standard Account
The FXTM Standard Account is a no-frills option for new traders who want to start trading forex without worrying about extra commissions or fees. The account is not 'standard' as such, with the name coming from the fact that traders can trade standard lots.
Standard Accounts at a glance:
MT4 and MT5
$100 minimum deposit
Maximum leverage up to 1:1000
Spreads from 1.3 pips
No Commissions
Cent Account
The Cent Account is designed to give new traders a taste of the psychology required to succeed. Used primarily for testing purposes under live conditions, they have an amazingly low minimum deposit level. As the name suggests, your account balance is always displayed in cents. This means that a $10 deposit will be displayed as 1000 cents.
Many traders use Cent Accounts alongside a Standard Account to test new EAs under live trading conditions.
Cent Accounts at a glance:
MT4 only
$10 minimum deposit (displayed as 1000 cents)
Maximum leverage up to 1:1000
Spreads from 1.5 pips
No Commissions
Shares Account
For traders looking to expand their trading portfolio, the FXTM Shares Account gives you access to over 180 individual share CFDs. The accounts feature fixed leverage of 1:10, no commissions and real-time price data sourced from the NYSE and NASDAQ.
Shares Accounts at a glance:
MT4 only
$100 minimum deposit
Leverage fixed at 1:10
Spreads from 0.1 pips
No Commissions
ECN Accounts
These accounts feature much tighter spreads than standard accounts, but a small commission charge is applied to your trades. For this reason, ECN accounts are more suited to experienced traders who may be trading on a larger account.
ECN Account
ECN Accounts allow your orders to be matched with the best bid and ask prices, offered by a list of top-tier liquidity providers. Short for an Electronic Communication Network, they are an automated connection to liquidity providers that cuts out the dealing desk middle man at your broker.
Trading on an ECN account ensures that you get the absolute best price in the market at any given time, being charged a small commission fee by FXTM for the privilege.
ECN Accounts at a glance:
MT4 and MT5
$500 minimum deposit
Leverage up to 1:1000
Spreads from 0.0 pips
Commissions $2 per lot
ECN Zero Account
An FXTM ECN Zero Account has all of the features of the ECN account above but without the commission charges. To compensate for no commissions, you'll notice that your spreads are slightly wider, but still under the level of Standard Accounts.
ECN Zero Accounts at a glance:
MT4 and MT5
$200 minimum deposit
Leverage up to 1:1000
Spreads from 1.5 pips
No Commissions
FXTM Pro Account
The FXTM Pro Account is designed for professional traders only. If you trade an institutional account, manage a hedge fund or simply manage your fund of $25,000 or more, this account is for you.
When trading on an FXTM Pro Account you can be assured that you'll never be re-quoted or charged a commission. Just direct access to deep pools of liquidity with absolutely minimal interference from FXTM.
FXTM Pro Accounts at a glance:
MT4 and MT5
$25,000 minimum deposit
Leverage 1:200
Spreads from 0.0 pips
No Commissions
Compare the spreads and features to Pepperstone to see FXTM to a leading spread broker.
Wide Range of Trading Instruments Including CFDs
FXTM offer clients the opportunity to trade over 250 markets all from MT4/MT5.
One of the most exciting aspects of FXTM's range of CFDs to trade is the fact that traders no longer have to change platforms to trade stocks CFDs. Simply trade all asset classes under a single account, on the one trading platform!
The range of CFDs that you're able to trade with FXTM is outlined below.
Forex
FXTM allows you to trade the most popular major, minor and exotic forex currency pairs, on MT4 and MT5. The $5 trillion a day forex market is moving 24 hours a day, 5 days a week and FXTM is your gateway to all of the major currency pairs such as EUR/USD and GBP/USD.
Commodities
Whether you trade spot metals, energy, or soft commodities, FXTM has a CFD market for you. Whether it's the main part of your trading strategy or simply used for diversification, take advantage of the volatility in commodities markets with FXTM.
Indices
If you're looking to take advantage of movements in an entire country's stock market, you're still able to trade index CFDs on MT4 with FXTM. FXTM's Indices markets have some of the lowest spreads, making them a popular choice.
Cryptocurrencies CFDs
FXTM allows clients to trade all of the major cryptocurrencies, in the form of CFDs. All cryptocurrency CFDs are traded in currency pairs just like forex markets, against the US Dollar. So for example, if you want to trade a Bitcoin CFD, then you'd trade a BTC/USD CFD.
Share CFDs
As highlighted above, the ability to trade individual share CFDs on MT4 is one of the most exciting aspects of opening an account with FXTM. With real-time prices sourced directly from the NYSE and the NASDAQ, trade price movements of some of the largest global companies.
Regulated by Multiple Financial Authorities Including CySEC
FXTM have multiple business entities, regulated by multiple financial authorities.
Your level of regulatory protection depends on your country of residence when you open an account.
ForexTime Limited (www.forextime.com/eu) – CySEC or Cyprus Securities and Exchange Commission (CIF license number185/12) + Financial Sector Conduct Authority (FSCA) of South Africa (FSP No. 46614) + Financial Conduct Authority of the UK (license number 600475)
ForexTime UK Limited (www.forextime.com/uk) – Financial Conduct Authority (FCA) in the UK (license number 777911)
Exinity Limited (www.forextime.com) – Mauritius Financial Services Commission (license number C113012295)
More details about FXTM
Alongside FXTM's top 5 strengths we've reviewed above, we're going to finish this FXTM review with some final points about the broker and then a frequently-asked-questions.
Customer Support
As you can see by the multiple business divisions, FXTM is a truly global forex broker. As a result, their customer support is diverse and wide-reaching to match each client's needs depending on the region.
This means that they have a massive customer support team that is ready to answer your questions, in whatever language you ask it in. Their client focus ensures that they are there to make your trading experience as seamless as possible.
FXTM support methods:
Web. The support section of the FXTM website featuring frequently asked questions is your ideal place to start.
Live Chat. If you're looking for instant answers to all of your questions whether you're a client or not, this is your best bet.
Email. For those in-depth questions that require a solid record of communication, the FXTM support email address is also available to all.
Phone. Call any of the regional office phone numbers and speak to someone in your language.
Copy Trading
While we've rated FXTM as the best broker for education and analysis, if you have concluded that learning to trade just isn't for you and you're simply after trading signals, then FXTM's copy trading solution may be the answer.
FXTM Invest is a copy trading service similar to the setup at eToro. You follow the FXTM traders, known as strategy managers in this case, with the risk management principles and system that align with your expectations.
If you're a risk-tolerant trader, then choose a high-risk system. If you want short term results, then choose a scalping system. The choice is entirely up to you.
Steps toward copy trading with FXTM Invest:
Choose a Strategy Manager
Make a deposit
Automatically copy the strategy
Cash in when they profit
Share a percentage with the Strategy Manager.
FXTM FAQs
Open a demo account >>Visit FXTM>>
Final Thoughts About FXTM
Our 2020 FXTM review has rated them the best forex education broker. The resources that FXTM has put into both education and analysis exceeds anyone else in the entire industry.
If you're a new trader who's looking to learn how to trade, FXTM is worth a look. Why pay for expensive supplementary trading courses from a third party you don't even know if you can trust, when FXTM's articles, courses, and webinars are all accessible for free.