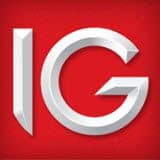 There Are Four IG Platforms
Core Platform – Demo Account Available
MetaTrader 4 – Demo Available
L2 Dealer – No Demo Account Available
ProRealTime – No Demo Account Available
View how to compare which demo account platform is right for you with our full review below.
We also explore if IG is the best forex trading broker including their:
Limitations
Spreads and Fees
Leverage
Customer Service
The Core Platform IG Markets Demo Account
The core platform forex demo account provides forex trading with $20,000 of virtual funds in a 'risk-free' virtual bank account.
The IG trading demo account isn't the same as the live core platform account with some limitations that include:
Slippage, dividend adjustments and interest may not be accounted for as well as after-hours price adjustments
Unlike a live account, no trades will be rejected
No charges exist when chart package addons are requested
It's important to read the IG markets limited customer agreement and other information on the IG Markets first before moving from a demo account to a live account, this will also provide trading ideas and insights. Please ensure you fully understand the risks involved with live CFD trading as well as the differences between CFD's and share trading as it can result in losses that exceed deposits. Our full IG Markets comparison with Saxo Capital Markets is available on the website as well.
MetaTrader 4 (MT4) Forex Trading Demo Account
Since 2013, IG Markets offer the standard MT4 demo account offered by the manufacturer metaquotes with the ability to download the desktop, iPhone or Android app.
Once you download the app or desktop program you need to sync to the IG-live to reach the IG trading demo account server. The desktop version needs a minimum of Windows 2000 and a minimum processor of 1.5 GHZ or higher, 1GB of RAM and a screen resolution of at least 1024 x 768 with an adequate internet speed connection.
Comparing The Two Platforms
1) Spreads
The core platform is aimed at beginner to intermediate forex traders with straightforward spreads and no commissions. Below shows how the typical spread for AUD to USD is 1.5 which increases to 2.0 if you choose for a limited risk premium also known as a 'guaranteed stop' which may be recommended for risk-averse clients.
MetaTrader 4 has the same margin requirements (leverage) but higher spreads as you can see below. For example, as of the 12/04/2016, the typical spread of AUD/USD is 1.9 which is 25% higher than the core platform. The EUR/USD is 1.2 which is also quite a bit higher than the core platform (50%) higher.
There is little doubt overall therefore that using MetaTrader 4 means paying higher trading fees when using IG markets. Those looking for a simple, cheap option should consider the core platform.
2) Execution Spreads
IG markets have an advantage over my forex trading firms with the ability to source funds from the largest banks & currency exchanges.
The core platform as a web-based browser is not regarded by currency traders as the fastest compare to more software-based platforms. This is offset though by the fact that forex direct can be selected once you have signed up for a new account. This means that you trade directly with liquidity providers with pricing based on commissions (not spreads).
MetaTrader 4 is the considered the fastest global platform (hence it's popularity) and making trades can be done with 'one-click' technology. One-click trading, in theory, can help ensure you do not result in losses due to trade execution speeds however prices can still fall as well as rise during the execution and Forex Direct is not offered meaning ECN forex trading options exist. Having to trade them with IG or indirectly with currency markets will slow down execution speeds offsetting the software improvements with an IG trading demo account.  This, therefore, could place your capital at risk.
3) Features
The core platform biggest feature is that it's browser based. Unlike all other platforms, you don't need to download any software which is great if you use multiple devices. The design provides flexibility when forex trading with the windows been movable and the ability to edit columns and then save your preferred layout. Advanced forex traders, once they upgrade to the full account (unlike the IG trading demo account), can also view DMA prices and advanced charting options.
Three other key features are:
i) Stops & limits
You can set limits and stops to close positions when a set price is reached. This can help close out a position when currency markets don't go your way helping to manage risk exposure.
ii) 'Tear-Off' Prices
This allows you to still view prices, charts and even tickets when you close the main platform.
iii) Currency Alerts
You can set SMS or e-mail alerts when prices are built with the ability to integrate alerts into the free integrated forex charts.

Three tools can be added after using the IG trading account and upgrading to the full platform which are:
i) Reuters
The ability to have fully integrated live news on forex and other financial markets including live new-flashes with no time-lag.
ii) Auto-chartist
A tool to help monitor currency markets for you with alters been sent when trading opportunities and chart patterns provide key events to trade forex markets.
iii) Trading Central
The most advanced tool offered by IG with technical analysis, charting and updates providing by expert independent experts including daily e-mails.
MetaTrader 4 also has quite several features the support the easy to use interface enhanced service including:
i) Virtual Private Server
This allows EAs to occur even when your off-line which can be accessed from mobile or desktop devices. This feature is free as long as the balance is over $10k.
ii) Auto-chartist
This can be integrated into MT4 allowing individuals to monitor forex markets remotely and be informed when opportunities present themselves.
iii) Trading Central
This allows MT4 traders to get regular technical analysis from daily e-mails and alerts by global leaders in forex trading.
Our IG Trading review when compared with easyMarkets and goes overall features and spreads of the four platforms offered used when forex trading.
IG Demo Account Conclusion
Of the four IG Markets platforms, only two have demo options. Our analysis shows that the core platform is by far the best for beginner to intermediate traders based on the fees and features of the platform. MetaTrader 4 is an excellent platform but there are better forex brokers offering improved spreads and features with this popular platform. That said, for most forex traders they should try the core platform which is simple to use and free to try. You can view a list of global demo accounts or Australian demo accounts if your not sure if IG is right for you.