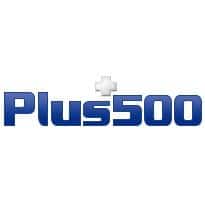 The Plus500 Demo Account Review
In our Plus500 review written and published by our staff not too long ago, we didn't delve into the Plus500 Demo Account. Most traders aren't interested in demo accounts. They are more concerned about live trading. However, many traders have come to realise that demo accounts are a nifty tool and can certainly aid traders with a little less experience. Below we discuss the advantages of Plus500's demo account for forex trading in 2020.
Below we go into further detail discussing the main benefits of demo accounts:
Zero risk
No time limit on the Plus500 demo account
The ability to easily backtest trading strategies
Practice makes perfect
Become familiar with the vagaries of the Forex market
Open a demo account >>Visit Plus500 >>
'Your Capital is at risk'
1) Zero Risk Using Plus500 Demo Account
One of the first pieces of advice expert traders tend to tell those learning about CFD trading is to start training with a demo account. Traders should do their best with demo accounts, learning to use them properly and testing strategies they've learnt as well as some of their own creations. It allows investors' to develop strategies for financial products prior to trading with leveraged products that carry high risk.
Many beginner traders don't see the point of using virtual money accounts such as the Plus500 demo account. Why should they waste time training with a demo when a live account would throw them straight into the deep end.
While the question is valid, those starting out shouldn't expect to be a trading sensation overnight. Remember that CFDs come with high risk, and it takes currency traders years to learn the ropes, develop strategies and finally feel comfortable and confident trading forex. This is the real benefit of a demo account.
Virtual money accounts afford newbies all the time in the world to learn the forex trading ropes without risking capital losses. Without the risk of losing real money, traders can patiently build confidence to go on to master forex and CFD trading. Don't turn down this opportunity, as many other industries do not provide participants with this chance. Trading CFDs on the live market carries high levels of risk. Make sure you can afford to take the high risk of losing your money before commencing live trading.
2) Unlimited Demo Account
With the Plus500 demo account, traders can patiently learn how to trade without rushing things, going at their own speed and growing more and more comfortable with forex trading and strategy development.  However, this is not entirely accurate.
Unfortunately, not all Australian Forex brokers such as Pepperstone, IG Markets and IC markets offer their customers unlimited and unfettered access to their demo accounts. Remember, the main objective of Australian forex brokers is to make money. They're also impatient and want to make their money as quickly as possible. It is for this reason that many brokers limit the amount of time a user can access their demo account for; usually 30, 60 or 90 days.
Fortunately for Plus500 customers and a few other companies, as featured in the table below, the Plus500 demo account is unlimited and traders can practice at their own pace in peace and quiet. However, it must be said that after signing up for a demo account, Plus500 overload the user with emails to sign up for a full account. They often highlight during trading that the user is missing out on the "real deal" and capital gains.

3) Effective Backtesting of Trading Strategies
Similar to writing an assignment or essay, successful Forex trading requires lots of planning and testing. It can often take months to devise a sound trading strategy.
Furthermore, it would be foolish to launch a strategy on the open market without ensuring it is as fail-safe as possible. A trader, no matter how senior, will not be able to predict to absolute perfection how the market may perform. Currency markets are inherently volatile and as a result, tactics need to be dependable and backtested against historical data.
The Plus500 demo account is the perfect environment for back-testing trading strategies ensuring they are as tried and true as possible before live trading commences. Not confident your strategy will hold up? Not a problem!
With Plus500 you can spend as long as you like testing and critiquing trading strategies, giving yourself every opportunity of being successful when you eventually commence trading with real money.
4) Practice Using Plus500 Software
The Plus500 demo platform is identical to their live Australian forex broker trading accounts, the sole difference being the trading of virtual money. Not only do budding traders need to ensure their strategies are tried and tested, but they also need to be as familiar with the trading tools they plan on using. If traders' are planning on utilising Expert Advisor (EA) tools for algorithmic trading, platform languages need to be learnt and understood.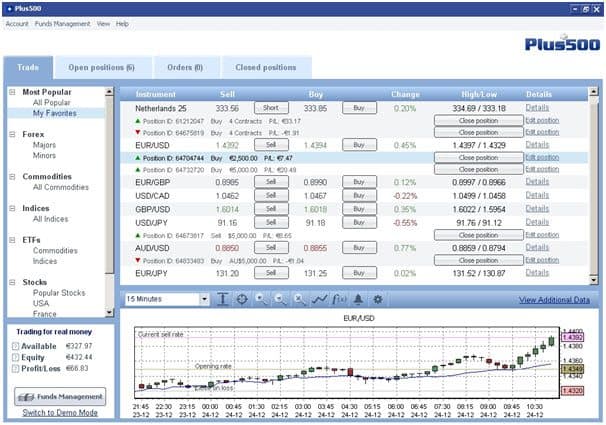 Every company's trading platform is slightly different and a split second hesitation due to not knowing where to access a certain graph or chart or forgetting how to execute a trade at the wrong moment could mean losing out on a fortune.
Again, Plus500 customers are lucky that they can take advantage of an unlimited demo account. As such there should be no excuse and no questions about how to use Plus500's software when it comes to forex trading with real financial instruments.
5) Prepare For The Vagaries of The Forex Market
A demo Australian forex broker account, particularly the one offered by Plus500 give clients maximum exposure to the way currency markets operate.
When trading live currencies, a piece of news that flashes across your TV screen or news ticker could have the potential to impact your open orders or your pending sales. It is intriguing to understand how interconnected global financial markets are. It is one thing to learn about the interconnectivity of money and capital markets from textbooks or tertiary courses, but it is a completely different ball game when you're trading within global financial markets.
Sudden changes in economic data triggered by a global disaster such as that experienced on September 11 can never be planned for when trading live. Yet, when using a demo account, trading during turbulent or catastrophic events can be programmed into your software to see how you would have fared.
You will learn quickly that it is never advised to trade during a catastrophe. Witnessing a landmark event during a demo trading session will show you why and allow you to account for unforeseen events.
Open a demo account >>Visit Plus500 >>
More About Plus500
Plus500 is an established, global brokerage business authorised and regulated by CySEC (Cyprus Securities and Exchange Commission) and listed on the London Stock Exchange. They are based in Haifa, Israel and have operations that span countries such as South Africa, Australia, Cyprus, Bulgaria & Singapore. Although Plus500 is based in Israel, the forex brokers subsidiaries are regulated by local authorities around the world. For instance, Plus500's Australian subsidiary, (Plus500au Pty Ltd ACN 153 301 681) is regulated by ASIC, protecting domestic traders under Australian regulation. Additionally, Plus500 subsidiaries are overseen by MAS (Singapore), the FCA (UK), and FMA (New Zealand) amongst others.
Plus500 is well known for its competitive bid/ask spreads, minimal fees on deposits and withdrawals, and intuitive proprietary trading accounts.
Plus500 Demo, A Summary
Many of the most experienced forex traders around the globe started with a demo account. They took demo trading seriously and treated their practice accounts like it were their live trading accounts. To them, there was no such thing as training money. They practised and practised using a demo until they felt they were prepared for anything. Australian Forex broker demo accounts are incredibly handy tools and an unlimited account such as that offered by Plus500 and EasyMarkets should be used allowing you to become a savvy CFD trader. A demo account should always be a cornerstone of your forex trading education as it enhances the chances of being a profitable forex and CFD trader.
Looking For More Demo Accounts
Most forex brokers offer demo accounts with different forex trading platforms, funds and expiry details. You can view the best Australian forex demo accounts or the best global forex demo accounts. You can also review the complete reviews of each forex broker on the top navigation section of Compare Forex Brokers.