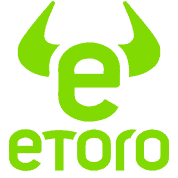 Strengths of eToro
Cryptocurrency and other tradable markets.

Weaknesses of eToro

Poor Customer Support
High-Risk Environment
Exchange commission and Spreads
Strength 1 – eToro Exclusively Offers Social Trading
What makes eToro unique when trading CFDs is the ability to find and copy trading. With more than 140 countries having access to the social trading platform and millions of users there are a plethora of options. These can be filtered to finding the most popular investors using the 'editor's choice' or by filtering via the search tool. Filters include location, risk score and other factors shown in the image below. CopyTrader and CopyPortfolio allow the selected trader's strategies to be reproduced. Just note that past performance is not an indication of future results when choosing a trader to copy.
To incentives, the top traders to share their data eToro provides payouts on how many copiers an individual has. This means that experienced traders can make money based on their trades and additional profits as high as 2% of assets under management as rewards for having copiers of the strategy.
Social News Feeds
A further enhancement is the eToro social trading feeds. These news feeds help traders interact with the brokers' community to share information and discussions and can also assist following financial instruments. The social trading platform also allows traders to post updates, share posts and comment on other's posts to build a community online. The feed can be tailored towards the interests of the trader filtering out unnecessary noise.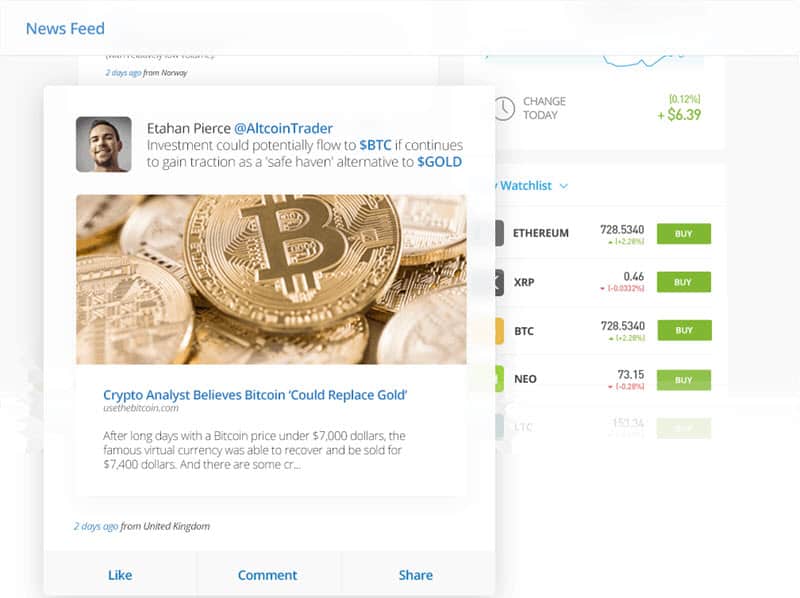 The social trading platform notifies the trader when important updates occur or increased volatility across the CFD assets watched. Notifications can also be given when a user a trader has copied creates a new post. The notifications can be pushed to a mobile device of a desktop trading platform.
Social Media Sharing
eToro allows traders to share their actions across platforms such as twitter and actions.  Charts are also created through the social trading platform which can then be shared on visual social platforms such as Instagram. The main social media platform eToro connects to is Facebook where traders can view recent news, product and community information. There are also live broadcasts through Facebook periodically. Twitter also offers news and Twittersphere conversations with real-time updates on the main feature. Instagram allows for graphs to be shared which as mentioned above are created through the eToro social trading platform. Finally, YouTube and Telegram have informative videos, interviews and tutorials.
Conclusion Of eToro Social Trading
There is no doubting that social trading is unique to eToro. Copy-trading only exists in the form of automated trading by other brokers. eToro social trading platform, on the other hand, is unique so if copying other traders and becoming part of a community appeals to you, eToro may be the right broker for you.
Strength 2 – eToro Trading Platform
There is the choice of a Webtrader or desktop trading platform available across all major languages. These are exclusive to the eToro platform with unique clean design and advanced functionality. That said, only the watchlist if customisable with all other panels fixed. Both indicative prices and current market prices are displayed on the platform. There is advanced search functionality with predictive text and a range of placing orders:
Leverage can also be set for any position that is opened. You can also view a Fee report to see the total fees you have paid overtime or on a particular trade. Finally you can set alerts on your desktop such as an icon update for market sensitive events or movements.
There is the option of a demo account or you can trade with real money on a live account through the eToro platform.
Mobile Trading Platform
The eToro mobile app is available on Apple and Android devices for those looking to trade on-the-go. The mobile trading platform allows trading CFD stocks, indices, EFTs, forex (currencies) as well as commodities. The social trading such as the ability to copy leading investors is also available using the mobile app. A bit advantage of the mobile trading platform is that you can get notifications of movements across relevant markets.
eToro Platform Charts
There is the choice of standard charts or ProCharts. The below screenshot shows an eToro ProChart giving insights into their functionality including changeable
Time-frames from 1 minute to 1-week intervals
Time-zones based on your Australian location
Layouts from 2×2 to 3×3
Multi-asset platform comparison such as forex pairings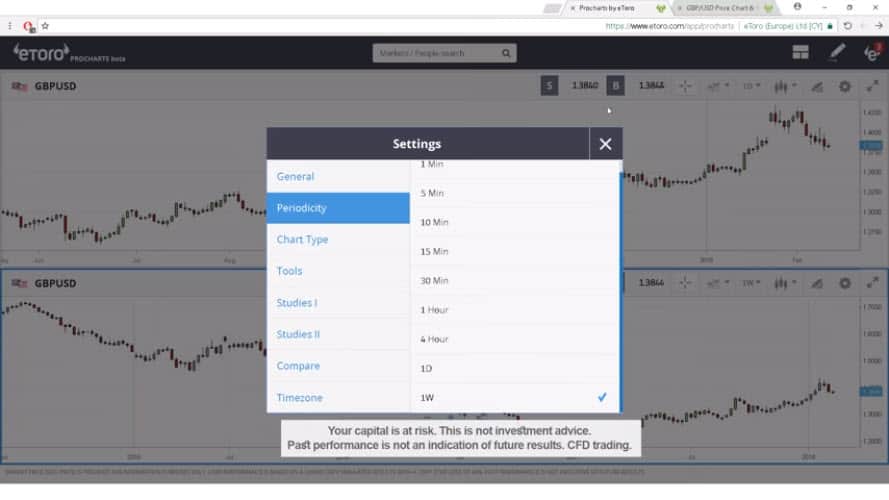 This eToro review focused more on the Trader Chart feature which like social trading is unique to the trading platform. Traders can visualise the performance of individual traders and understand profit-loss amounts over set periods. For example, you can calculate "what profit or loss will be made if I copied trader XYZ 2 months ago with a starting capital of $5,000?". This traders performance chart can then be compared to other indices or traders or even individual share performances. Below compares three traders performance over a set period.
Conclusion Of The eToro Trading Platform
eToro offers an easy to use trading platform on mobile and desktop devices. The key issue though is that this platform is unique to eToro making it hard to switch online brokers and learn a new interface. The other key issue is the lack of functionality of features such as guaranteed stops and customisable charting. Generally, if social trading if your core interest the eToro trading platform will meet your needs. If your looking for an online broker with more advanced platforms across CFDs and forex trading then Pepperstone may be more suitable for you.
Strength 3 – Tradable Markets Including Cryptocurrencies
There are seven key markets that can be traded on eToro with leverage varying by asset class.
Forex (Currency)
Currency markets are the most traded in the world with over $5 trillion USD dollars traded every working day. Markets are open 24 hours, 5 days a week with small movements regularly occurring. Larger movements can also occur when market sensitive announcements are made such as jobs data or interest rate decisions of a reserve bank. eToro offers the major currency pairs from EUR/USD, GBP/JPY through to exotic pairings such as NZD/CHY
Cryptocurrencies
Cryptocurrencies from Bitcoin, Bitcoin Cash, Litecoin to Ethereum have increased in trader volume with high volatility on a daily basis. When a trader trades on crypto-assets such as Bitcoin in Australia (under ASIC) they are NOT purchasing an underlying asset. Rather than purchasing crypto, a Contract For Difference (CFDs) is exchanged so, no actual cryptocurrency is purchased by eToro on a traders behalf.
eToro offers cryptocurrency trading on 17 digital currencies (Bitcoin BTC, Ripple XRP, Dash, Neo, etc.) with low trading fees and 0% commissions.
Share CFDs
CFDs work by not actually purchasing a share but speculating if it will increase or decrease using leverage. With over 1,000 shares to choose from on exchanges worldwide, there are a plethora of opportunities for traders. Clients of eToro Australia Capital Ltd (ASIC regulated) can access leverage of between 10:1 to 20:1 amplifying opportunity and risks which is how CFDs work. Understand that CFDs are complex instruments and it's recommended to use a trial account if your new to leveraged products.
Commodities
Another way to trade with leverage is through commodity trading across valuables from oil, gold to platinum. Traded as CFDs, traders can short a commodity if they predict prices to fall or trade long if prices are predicted to rise. The key commodities traded through eToro are:
Gold
Oil
Natural Gas
Platinum
Silver
Exchange-Traded Funds and major Indices can also be traded as CFDs with leverage.

Conclusion Of eToro Tradable Markets
eToro offers all the tradable markets in the form of CFDs from cryptocurrency, shares to forex. The only negative is eToro doesn't offer stockbroker services which allow an individual to buy shares (not CFDs shares). Only large retail online brokers like CMC Markets or IG offer these services but they don't offer the social trading experience of eToro. Overall, an individual can easily use one broker for aa stockbroker and another for tradable markets in which case, eToro has the investment product to suit your needs.
Weakness 1 – Poor eToro Reviews Based On Customer Support
eToro reviews are one of the poorest on Trust Pilot of any online trading broker. Below shows the score of etoro.com is below 4/10 with 42% of traders leading reviews that are 'poor'. 
The poor eToro reviews were based on three core areas:
1) Poor Customer Support
While eToro state that they offer 24-hour customer service, 5 days a week, no contact number is listed. Rather as shown below users are promoted to visit the help centre (with FAQs) or to open a ticket. The other details given is the official address: eToro Sydney office, Level 33, Australia Square, 264 George Street, Sydney NSW 2000 and e-mail address but these are for corporate enquiries.
Some live chat is available within the eToro platform but many reviews stated: "The support is really bad, live chat usually not working".
2) Losses With the Broker
eToro.com stat that 66% of retail investor accounts lose money when trading CFDs with this provider. Many of the negative reviews are based on these customers with many complaints related to losses attributed toward fees discussed later in this eToro review.
3) Issues With Copy Trading
The final issue brokers had was in regards to copy trading based on perceived errors, and issues with deposits and withdrawals. While it's hard to verify each review in these areas with each quite different, there are clearly issues in the social trading element for some traders.
Conclusion Of eToro Reviews
While it's logical that most reviews will be from upset customers, the sheer weight of negative eToro reviews is a concern. The key issue is the customer support which unlike other online brokers lacks a contact number and a dedicated account manager. If you're self-sufficient when it comes to navigating the broker features, this won't be a factor but if you want the support when you need it then eToro may not be the right broker for you.

eToro Trading Is High Risk With Few Safeguards
In Australia most eToro investment products are CFDs. These CFDs are included leverage which means you can trade a multiple of your deposit. Leverage means you are more exposed to the market which can lead to greater profits from movements but also losses. As stated above, 66% of retail investor accounts lose money with eToro so it's important to have safeguards in this high-risk environment. Below goes through some of these.
Stop-Loss Orders – Yes
eToro has stop-loss order functionality. This means a trader can set the maximum amount they are willing to lose on a trader and when that price-point is achieved the software exits the trader from the market. The same applies once a profit target is reached. Below shows an example stop-loss order on a copy trader.
Guaranteed Stop Loss Orders – No
While a stop-loss order is useful to determine the maximum amount a trader wants to lose on a trade, the figure isn't actually guaranteed. This is due to 'slippage' which is when volatility is high and the software program is unable to exit the trader at the price requested. This can lead to losses substantially exceeding amounts set. The only way to stop this is by placing a guaranteed stop-loss order. This is not available with eToro and if this feature is important to you, another broker may be more appropriate.
Negative Balance Protection – Yes
Like a stop-loss trigger. eToro has a margin call trigger which exits a trader when they reach zero balance. This is standard across online but in extreme situations losses may exceed the online trading deposit. While some brokers will request a repayment of a negative balance eToro offer negative balance protection. This means that they will pay the difference when losses exceed a traders deposit.
Conclusion On eToro Safeguards
eToro having negative balance protection is a real positive with the ability of online trading knowing that losses won't exceed the deposit. There is also stop-loss functionality to help determine preferred profit/loss levels but these are not guaranteed which need to be understood. Overall, while not perfect, the safeguards help manage the high-risk environment of CFDs trading. If you are new to leverage then an eToro demo account is recommended.
eToro Has High Spreads And Fees
eToro has no commissions. This may seem like a positive but there are other fees which make the brokerage of eToro higher than low fee forex brokers as shown below.
Spreads
eToro has spread on all their CFDs products. This is the difference between the 'buy' and the 'sell' price stated on currency pairs, cryptocurrencies and EFTs. The spreads are generally higher than other ECN Forex Brokers such as Pepperstone and IC Markets. Below shows for example of two key eToro spreads.
For EUR/USD is 3 pips compared to Pepperstone which is 1.16 and 1.1 for IC Markets. Another is the GBP/USD which is 4 pips compared to Pepperstone which is 1.49 and for IC Markets is 1.4,
Withdrawal Fees
eToro, unlike most online brokers, charges a flat USD withdrawal fee of $25 USD per transaction. The minimum withdrawal amount is also set at $50USD. While this amount may seem low, most brokers don't have such a fee and this fee can add up over time.
Inactive and Overnight Fees
In addition to the $25 withdrawal fee and spreads, eToro charges also include an inactivity fee. This is charged when an account is not logged into for a 12 month period with a charge of $10 USD. Fees are also charged when holding a position for a sustained period (overnight) which varies by the investment product and is shown within the site.
Conclusion On eToro Exchange Commissions And Fees
While no commissions may seem like eToro has low brokerage the high spreads and other charges mean fees will be higher for most trading activity. While eToro may suit your trading strategies you will need to take account the higher brokerage charged by the online broker.
Final Thoughts On eToro
eToro is unique thanks to its unique trading platform, social trading functionality and range of markets including crypto. Traders will need to balance these features with the high brokerage, poor customer service and lack of risk management tools which partially lead to 66% of traders losing their money with eToro. If you're looking for alternatives then view the best forex broker table. Otherwise, you can open a demo account and try the unique features and markets eToro offers.
Open a demo account >>Visit eToro >>
Other eToro Information
eToro Accounts
There are two trading accounts offered by eToro which are regulated by ASIC, CySEC and the FCA in the UK.
The first is the Retail Clients Account (also known as a retail investor account) designed for non-professional traders. This account provides both Copy Trade functionality and manual trading. There are strict margin closeout restrictions for retail investor accounts while negative balance protection ensures losses don't exceed a traders deposit. Leverage is restricted as shown:
30:1 for major currency pairs
20:1 for exotic currency pairs, gold and major indices
10:1 for other commodities
5:1 for CFD stocks
2:1 for cryptocurrency CFD
The second is the Professional Clients Account which is designed for those savvy to trading financial markets and requires the experienced traders to pass a test. Leverage can be up to 400:1 for professional clients while still having negative balance protection similar to the retail clients' account.
eToro Regulation
eToro is a supervised trading firm that follows the regulatory framework of the world's most powerful regulatory bodies, as follows:
In Australia, eToro is regulated by the Australian Securities and Investments Commission (ASIC) trading under Etoro Aus Capital Pty Ltd. The company's Australian Financial Services Licence (AFSL) number is 491139.
In European markets, they are regulated by Cyprus Securities Exchange Commission (CySEC) trading as eToro (Europe) Ltd.
In the United Kingdom, they are regulated by the Financial Conduct Authority (FCA) trading as eToro (UK) Ltd. To avoid Scams it's important to make sure an online broker is regulated in your local market.
Note* Starting from November 2019, eToro is also available in the USA but, only in a limited number of states.
Minimum Deposit and Withdrawal
The minimum deposit for Australian residents is $50 with other markets such as China requiring an initial deposit of $500. There is a withdrawal fee of $25 per transaction with conversion fees also applying when non-USD currencies are requested such as the AUD. The minimum withdrawal amount is $50. Additional fees may be charged by the withdrawal provider with deposit/withdrawal methods including:
Wire Transfer
Credit Card
Debit Cards
Neteller
Paypal
Yandex
Skrill
Webmoney
Withdrawals may take a business day but note that paperwork is required before processing your first withdrawal. It's recommended to use the same withdrawal method as the deposit method to avoid delays in payment methods.
Training
eToro has live webinars that include investment advice, eCourses and trading videos to help those new to Forex trading. The demo account can also be used for educational purposes before trading with real money. It's these online training facilities that can introduce and refine trading strategies across markets.
Risk Disclaimer
Please take note that 75% of retail investors lose money with eToro. Before you start trading with eToro make sure you understand how CFDs work. CFD trading is not suitable for everyone so before you start trading make sure you can afford to take the high risk of losing money rapidly due to leverage.