Best Forex Trading Platform Australia Comparison
Our best forex trading platform Australia comparison found the following component key to currency trading:
Fast platform execution speeds
Expert Advisor (EAs) integration
Low spreads
High leverage
Below examines the two best trading platforms for Australian traders and the three criteria above to find the best currency trading conditions.
What Are the Two Best Forex Trading Platforms For Australian Brokers?
1) MetaTrader 4
As of 2016, MT4 is the best forex trading platform Australia based on popularity and abroad with 10,000+ traders catered by the platform. Most Australian forex brokers that don't offer their own propriety software offer MT4 due to it's ease of use, low cost and the fact it can work on an ECN network.
As highlighted in the diagram below, MT4 allows currency trading on multiple devices although some features are more limited on mobile devices.
Below shows four of the most popular features of MetaTrader including:
Automated Trades including the use of expert advisors (EAs) allowing for fast automatic trades to be made in reaction to trading conditions.
All Day Trading allowing you to trade on all markets (some Australian forex brokers may limit currency pairings) at the times that international markets are open.
Share Strategies with other traders including exploring new systems and the option to purchase new EAs for automated trading on currency markets.
Back Test strategies, EAs and other systems on real data which you can select to see how successful you would of been.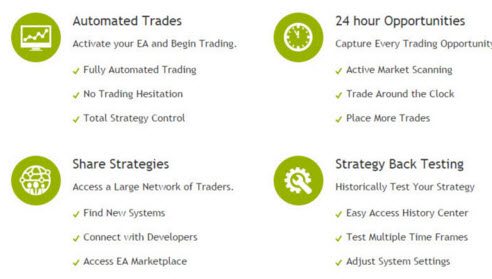 2) cTrader
cTrader is the second best forex trading platform Australia option based on popularity. It has a different layout to MetaTrader 4 but it's strong points are similar to platform which are listed below
Fast Execution Speeds are a key favourite of the platform with orders filled quickly and the ability to make multiple orders simultaneously without the need to queue.
Level II Pricing is available with a full depth of liquidity providers with orders filled against VWAP (Volume Weighted Average Price.
Charting is a key strength with a variety of presentation modes, templates and layouts and an extensive library of indicators and the ability to build your own in C#.
Trading On Charts build off the strong charting with the ability to 'click-and-drag' to make (or close) orders and other functionalities from modifying stop-losses to limiting order entries.P&Ls of individual traders in pips can also be viewed within the  charts.
Proxy Connection is available from all locations allowing forex traders to bypass firewalls to ensure seamless trading.
Why Are Execution Speeds Critical For Forex Trading?
Forex trading success often comes down to acting fast on currency markets and getting the price you want. While small delays in trading speed may not impact you most of the day, during key events such as reserve bank announcements and economic news there can be huge fluctuations. The graph below shows such an occasion during which you may not be able to get the price you want (especially if you have a slow trading platforms Australia). This is termed as 'slippage' and can lead to large losses for Australian forex traders.
Fast execution speeds comes down to the forex broker you use. These are a set of brokers that use a dealing desk which means you don't trade directly with liquidity provides which can delay execution speeds. Then there are ECN providers such as Pepperstone and IC Markets where you trade directly with other providers and offer the fastest speeds.
Other factors that impact execution speeds are is the forex brokers server location and connection type over long distances. Many providers use the equinix servers in New York that are close to to forex markets usch as Wall Street and have state of the art infrastructure. Brokers like Pepperstone also use Fibre Optic connections from Australia to USA to speed up the latency times impacted by the large distances between Australia and the most popular currency markets.
How Do Spreads Impact Forex Trading?
Australian forex brokers offer more service than traditional financial traders. The biggest difference is they offer leverage (discussed later) which is almost like providing a short term loan. Then there are the operating costs and support required as currency trading occurs 24/7. Spreads are the key way that a forex broker will make money off traders.
The way spreads work can be seen when you visit a bank or airport and see the boards with 'buy' and 'sell' prices of any currency pairing. If these two prices were exactly the same there would be a spread of '0' pips and the broker would make no money. Naturally though this doesn't occur and the more wider the buy/sell price become, the larger the forex broker take will be.
An ECN broker will often have accounts with minimal spreads but commissions. The aim of these accounts is to show that the broker isn't trying to make money from spreads but rather from a transparent flat fee based on volume. Some market maker forex brokers on the other hand will offer fixed spreads which like commissions, make the fees the broker gets more transparent to currency traders.
Overall, while spreads may seem small, the sheer size of trades thanks to leverage combined with the frequency of trades make these fees add up. Finding a broker that offers low spreads and commissions is critical for any forex trader to maximise profitability in the long run.
Why Leverage Impacts Currency Trading Strategies?
Leverage is the cornerstone of any forex trader as currency fluctuations are small when compared to other financial products such as shares. It allows you to borrow a multiple of your deposit amplifying any upside or downside when a fluctuation does exist.
500:1 is also known as a margin of 0.2% and effectively means the forex broker will give you a short term loan of 500 times the amount you are willing to trade on the market. At this maximum leverage a deposit of $300 could lead to 15,000 to be traded. This would mean that just a small change could lead you to either double your money or lose it all. Leverage Products therefore increases a traders risk profile so it's critical to understand your risks and consider lower leverage levels when first trading as explained by the government's Financial System Inquiry. Another safeguard can be guaranteed stop loss orders (only provided by some fx forex brokers such as EasyMarkets and CMC Markets) or no minimum balance protection that Pepperstone offers.
Changes in currency pairs tend to make only minor changes from day to day. Higher leverage can therefore be very useful as it can 'turbo'charge earnings on your investment however by the same token losses can be significant if price movement do not change in your favour. Trading with high leverage is a sound trading strategy but it is only recommended for experience traders who understand how to use the leverage to their benefit. Unfortunately, many traders do not how use leverage correctly, making leverage a very profitable means for the broker. In the past leverage as high as 1000:1 was available by some brokers. Most if not all markets restrict leverage to 500:1 now which is more manageable and europe are taking it a step further restricting leverage to 50:1 and america restricting to 50:1 for major currencies and 20:1 for exotic currencies.  At this point in time, the Australian Securities Investment Commission who regulate the financial services industry continues to allow leverage of 500:1.
Best F0rex Trading Platform Australia Summary
Picking the top forex brokers is critical to be successful on currency markets. When selecting the one suitable australian forex broker for you consider the best forex trading platform Australia they offer, fees (spreads), leverage and execution speeds. You will also want to make sure the broker is ASIC regulated. You can view our best forex trading platform comparison chart to easily compare these features quickly to help assist in this critical decision when choosing an online broker for online trading.