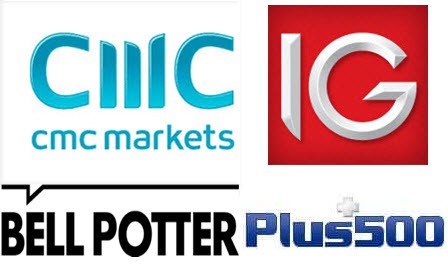 Before choosing a share trading platform, it's important to know what your stockbroking requirements are.
1) Casual Investors
Most Australia's are casual investors trading less than 10 times a year with each trade averaging $10,000. Brokerage needs to be a core focus because at smaller volumes, these can have a big impact on the profitability of share trading. In addition to low costs, these traders should make the there is solid local support and online education to help making investing straight-forward.
2) Active Investors
These investors have an average trade value of $20,000 roughly per year. They are more likely to look for details company and sector information and may also trade in managed funds. They should look for a share trading platform that has dynamic functionality.
3) Day Traders
Day traders will exceed 30 trades per month with amounts fluctuating per trader from $5,000 to $50,000. They will trade more then just conventional shares including options, derivatives, CFDs and indices. The share trading platform requirements will focus on information availability, charting, markets availability and trading execution speeds.
What Fees Do Share Trading Brokers Charge?
The main fee charged by share trading platforms is brokerage. This is the fee charged by online share firms when buying or selling shares. Conditional orders can also be charged to manage or monitor trades.
Brokerage costs have dropped considerably. Our IG share review showed that the traditional forex broker which now offers share trading offers brokerage from just $8 per trade or 0.1% when higher. CMC Markets has $9.90 brokerage fees or 0.1% as well.
Some other fees share trading platform fees can include an:
Information service fee for stock-market quotes and other information
Fail fee when traders fail to make payment by a settlement date or deliver the shares whens selling
Currency conversion fee when trading international fees (for IG this rate is 0.3%)
What Broker Is Recommended For Each Type Of Trader?
1) IG Markets – Best Share Trader Broker For Casual Investors
Since entering share trading, IG has has set a new benchmark for low brokerage for casual investors. Their rate is from $8 per trade or 0.1% if that is higher for Australian shares. As an international broker, there is also the option to purchase shares overseas which attract the following brokerage:
US trading from US$10 per trade
UK trading from £10 per trade
Germany trading from €10 per trade
Ireland trading from €10 per trade
Like for Australia, larger trades in these markets will attract a 0.10% brokerage rather than the flat-fees shown. Overseas markets will also attract conversion costs which are the current available bid/off rate plus a spread of 0.3%.
IG has several online share trading platforms with the main one there propriety platform offering a range of trading options. This just requires a single banking account to hold funds which can then be used to buy shares, trade CFDs or even cryptocurrency. With the most financial products available of any broker, IG is an all-in-one online broker ideal for casual investors.

2) Bell Direct – Best Active Investor Broker

Bell Direct is a multi-award winning share trading broker both from the financial review and investment trends. They are ideal for active investors based on their low fees which are:
From 0.1% of each trade for the first 10 trades of a month (or $15 for smaller trades)
From 0.08%trader for the 11th to 3oth trades per month (or $13 for smaller trades)
From 0.08% for the 31st trades onwards each month (or $10 for smaller trades)
As the above highlights, while smaller trades below 30 trades brokerage is higher than IG, larger trades commission rates of 0.08% is 20% lower than IG's rate. There are also a number of free services also included such as email alerts, real broker research, conditional orders, comprehensive tax-time reports and a one second guarantee. This last point refunds brokerage if an eligible 'market to limit' order fails to be placed onto the ASX within 60 seconds.
3) Day Traders – Plus500
Plus 500 allows Australians to trade CFD shares in Australia, USA, Germany, UK and more with leverage. Their sophisticated share trading platforms help identify market trends and control profits and losses.
Types of shares available.
The CFDSs available focus on the largest companies from Telstra, Apple to Rio Tinto. A CFD differs from shares with it been easy to short of long the share.
Leverage available when trading.
Plus500 offers a maximum of 1:300 leverage when CFDs share trading. It's important to understand the risks before leverage trading. You can view their trading accounts on there website and share market offering.
Profit And Loss Controls
All trades can have pre-defined limits set to exist the market once a profit or loss is achieved on a trade. Slippage in extreme markets can also be avoided through Guaranteed Stops which has additional fees associated to it.
Plus500 has in-depth research tools and market data to help make smarter trading decisions. This is ideal for day traders and those that trade with leverage on a regular basis.
*Your capital is at risk
What Is Share Trading Online?
Share trading is one of the oldest forms of investing with the buying and selling of shares. Over the past two decades this has been available online pushing down trading costs and increasing accessibility. In recent years, this has transferred to mobile devices with many share trading platforms not requiring downloads or been app based.
Buying local or international shares makes an investor have small ownership of an organisation. When the company makes profits a dividend may be payable. Voting rights area also available either through 'postal votes' or at company meetings.
There are risks involved with shares as poor performance may lead to no dividends been payable or the market may value the share lower leading to losses. Its important to fact your objectives financial situation prior to trading shares, forex or anything tradable.
605,000 Australian investors according to investment trends placed at least one online share trade over a year up to November 2016. As the graph below highlights, this has been relatively steady since 2010.
Why trade shares?
There are some unique advantages of trading shares which has led to its popularity in Australia including these possible benefits:
1) Strong long-term performance
ASX reports in 2015 show that over the past few decades that shares have performed similar to the Australian residential property market. A Vanguard 2016 index chart showed that since 1987, shares have returned on average 10.5% compared to 10.9% for Australian residential property and 7.0% for cash. Of course, different property markets and different shares have performed better and worse so just investing doesn't guarantee success.
2) It's Easy To Diversify
Shares don't require an investment of a few thousand dollars. This means that it's relatively easy to own a number of different shares to avoid placing all the funds in one company. This can help diversify risk as can a balanced investment strategy which may also include property and cash.
3) Dividends Can Complement Share Increases
While capital gains can be made from improvements in share prices, dividends which can be payable when a company make a profit can also provide a steady income stream. These often exceed interest rates which remain in 2017 at historic levels.
Company dividends are full franked, which means the company has already paid tax prior to them paying the investor. The only extra tax is based on the individuals tax rate differential if they exceed this 30% rate.
4) It Can Help The Economy
Online share trading is another way of investing in Australian businesses. It helps companies raise capital when needed and when they and the economy do well, can reward investors through capital gains and dividends.