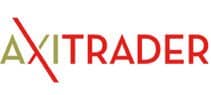 AxiTrader is one of Australia's premium forex brokers offering forex trading exclusively through the MetaTrader 4 (MT4). The forex broker is majority Australia owned and offers ECN forex trading with no dealing desk and access to global liquidity pools. This is different to a market maker which has a dealing desk.
The key features of AxiTrader include:
Tight spreads through their Pro Account
Medium-High leverage of 400:1
Enhanced MT4 trading experience
Award-winning customer service
Multiple zero fee funding methods
Spreads And Fees Available From AxiTrader
The AxiTrader Pro Forex Account was compared to the leading forex broker accounts with the finding that their spreads and commissions to stack up favourably.
Below shows the average and lowest spreads across three of the most popular currency pairings when forex trading. The pro account acts as an ECN forex broker account. This means that there is a commission of $7 USD round trip when trading but on the plus-side, spreads are set by the market.
To better understand the AxiTrader Pro Forex Trading Account, traders can tap into liquidity providers such as financial institutions and other forex brokers. This lowest spreads and provides consistency to currency traders compared to forex brokers that either control the spreads and only accesses other limited fx brokers.
Technology also helps improve forex spreads. A combination of worldwide servers and a cutting edge pricing engine aggregates pricing in real-time. This helps identify when forex trading the best bid and offer price for any currency pairing. The result is institutional-grade pricing when forex trading.
AxiTrader Leverage Levels
AxiTrader offers the second highest level of 400:1 from the main forex brokers. Internationally this level is viewed as a very high leverage facility among all brokers dealing in forex markets.
Leverage allows forex trading at multiple levels of the deposit made. For example, at a leverage level of 100:1 a deposit of $200 (AxiTrader require a minimum deposit of $200 on their standard account) can allow $20,000 to be traded on the market. As currency changes historically are factions of a percent, this makes it possible to make a meaningful profit and/or loss on currency markets.
AxiTrader default leverage level is 100:1 (not 400:1). A request needs to be made for special consideration to this higher level. You should consider your risk appetite and level of experience prior to making this request for the maximum leverage available. There is the possibility also of going into negative balance as explained later in this AxiTrader forex trading review which should also be factored when trading.
Forex Trading Platform Offered By AxiTrader
AxiTrader offers the worlds most popular platform MetaTrader 4 combined NexGen which offers enhanced features as mentioned below. Compare Forex Brokers views AxiTrader as having a perfect score (similar to IC Markets) if your happy with MetaTrader but in this comparison gave it a lower score as other forex trading platforms such as cTrader are not also offered.
How NexGen Enhanced MetaTrader 4
1) Forex trading news & Calendar (Connect Terminal)
This feature is a drag-and-drop feature. Traders can grab the new feeds available or configure an RSS feed. A filter can also configured so that only particular news (based on keywords) can be viewed. Other customisation include time-limits and set dates.
This connect terminal can also send alerts through a calendar. These can include jobs data and reserve bank decisions that can have a strong impact on currency parings. The calendar also adjusts times to local time to ensure no critical information is missed.
2) Mini Manager
Many forex traders prefer to trade directly from charts and this is what Mini Manager offers. Charts can be undocked from MetaTrader 4 and moved to another section of the screen. Order templates can also be crated based on risk modelling to help facilitate currency trading decisions.
Other features of the mini manager is the ability to set stop-loss orders when a trade is made. This includes the ability to set a profit target. Order template is another feature which allows order types from fixed cash risk, & lot size to percentage of balance and equity.
It's important with Mini Manager to keep MetaTrader 4 active when using trailing stop active.
3) Session Map
This mapping tool visually shows different trading sessions across several days. This is excellent in tracking your settings of the present trading day. Future periods can have attached news events to track future announcements which may impact currency markets.
The map has colour settings. Green means positive trading compared to red which is negative while grey is when no position exists in the market. All times shown are those of the forex trader.
4) Automated Trade Journal

Trade Journal (also known as trade analysis) helps a forex trader know what's working with their currency strategy and what areas needs to be improved. Without this historical insights it can be near impossible to improve forex trading strategies to becoming a better trader.
The trade journal provide key stats over a designated time period such as return, profit, trade frequency and length. Knowing these elements allows measuring elements such as profitability and how many pips occur in aggregate or average. The kind of insights these journals can show is which currency pairings a trader is the most profitable on and the best hour of the day and day of the week.
5) New Terminal Window
The Terminal Window allows a trader to see the current trades they have active in the market known as tickets.
The key tools that exist impact trades. Automatic close for example closes an order based on predefined parameters set by the trader which can be templated for future use. An OCA group can be created for pending orders so that if an order is executed others can be cancelled. This is ideal for traders who want to limit open trades to manage their risk or trade on correlations.
The tool provides trade insights and positions can be closed, stop-loss order can be made or take profits.
6) Alarm Manager
This feature allows traders to get notified about market events and events to a trading account. Automatic actions can then occur based on these events leading to e-mail, SMS or twitter updates.
This alarm can also provide warnings based on margin thresholds, close a position when a draw-down exists, place or close positions at set time(s) and alert to open positions with no stop-loss order(s).
The tool also has sentiment and news alarms with action options to make trades based on these movements.
7) Correlation Forex Trader
This tool provides insights into a wide range of currency pairings and is aligned to correlation matrix. Any two currencies can be combined and this tool allows trading on the pairing. Correlations can be seen between the currency pairings and a rating is provided (positive or negative).
Negative correlation indicates that a currency pairing is moving down while a positive correlation means it's going up. A zero rating means no correlation exists between the currency pairings.
The types of orders that can be placed include take-profit, stop-loss and the regular buy/sell order types.
8) Sentiment Trader
This tool shows short, long, historic and current sentiment of currency markets. This means you can see the aggregate of buy, sell and open positions.
An example is the EUR to USD is 35% short and 65% long.
Sentiment is not volume based but account based. This means that large (or institutional) investors don't skew the indicator. Orders can be made within this sentiment trader facility as well as closing off a trader.
AxiTrader Risk Management Tools
AxiTrader is regulated by both the Australian Securities & Investment Commission and the Financial Conduct Authority of the United Kingdom. This regulations includes certain check and balances but beyond these there are limited risk control options.
The forex trading platform (MT4) has a stop-loss and take-profit option. The distance is 2 pips which MetaTrader 4 states as '20' pips due to the 5 decimal pricing it uses. Pro accounts which allows ECN forex trading has no distance requirements when it comes to stop-loss orders or take profit.
There are no guaranteed stop-loss options (see easyMarkets for guaranteed stop loss options) with the standard options allow slippages when high volatility exist on currency markets. This should be factored when trading at high volatile periods. While AxiTrader has an automatic margin call system which tried to exit a forex trader prior to going into negative balance, this ins't guaranteed. This means there is a chance that when forex trading an AxiTrader trader can lose more than their deposit which should be factored in when trading currency markets.
Service Levels Offered By AxiTrader
AxiTrader has award winning customer service with a dedicated account manager been set for all forex traders who open a live account.
The call centre customer support at AxiTrader is open 24 hours / 5 days a week and offers a call free number, live chat and e-mail support. Support comes from both their Sydney and London office with multiple languages supported.
In addition to customer service, Axitrader provide other tools which can greatly assist with you AxiTrader experience. These include online training tools which include video tutorials, free e-books and access to a demo account. When you open an account,  your demo account will be free to use for 30 days and includes $50,000 in virtual funds.
Overall AxiTrader Review Verdict
AxiTrader is a smart choice for savvy forex traders looking for a MetaTrader 4 forex broker with enhanced features, strong customer service matched with relatively high leverage. The only factors that work against the forex broker is the fact they only offer the MT4 forex trading platform (unlike Pepperstone) and have limited risk management tools such as guaranteed stops. Experienced traders though who like MT4 though won't find this a major issue and should consider AxiTrader within their forex broker mix.