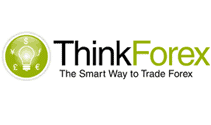 ThinkForex Becomes ThinkMarkets
Following the global trend of Forex Brokers pivoting to offer their clients additional tools and instruments for trading, in mid 2016 ThinkForex changed their name to ThinkMarkets. This more aptly reflects the multitude of markets they now provide traders with access to. As a result, we've updated this ThinkMarkets review to factor in the additional services and platforms offered by the broker including their proprietary ThinkTrader. Another well known broker, Easy Forex rebranded to EasyMarkets at a similar time to ThinkMarkets which highlights the fierce competition between brokers as they battle for increased market share in the lucrative retail derivatives trading space.
Introducing ThinkTrader
ThinkTrader is a multi asset trading tool which was created in house at ThinkMarkets. As one of the largest Forex, CFDs and spread betting brokers in the world, ThinkMarkets felt it important to provide clients with a sophisticated yet easy to use trading platform. ThinkTrader is indeed a robust platform but one that is easy to use. It is also backed by in depth analysis and an insightful trader education centre.
Seamless User Experience
ThinkTrader is truly built for traders of all levels of experience and has all the functionality you'd come to expect from intuitive mobile and HTML 5 software.
For Use On All Platforms
ThinkTrader is available for access on desktop, web browser and mobile on both iPhone & Android.
Broad Range of Markets
With ThinkTrader traders have the ability to trade indices, energies, precious metals and CFDs with ThinkTrader CFD.
Super Fast Execution
Thanks to being hosted right near the financial exchanges in hubs such as New York ThinkTrader lacks latency and provides zippy execution speeds.
24/6 Trader Support
Think's customer service and trader support is second to none. They are one of the only companies that boasts 24/6 support with most brokerage houses limiting their support to 5 days a week. Their dedicated client service team are free to field inquiries via phone, email & live chat.
Open a demo account >>Visit Think Forex >>
What Other Platform Options Does Think Forex Offer?
Our Think Forex review found the forex broker offers two platforms. The first one is Metatrader 4 which is  widely considered an excellent tool for beginners and intermediate brokers with the ability to trade a number of ways and with various forex strategy options. MetraTrader 4 (MT4) is also well known for its ability to execute automated forex trading strategies with a sandbox option to test them first. The Think Forex API goes directly to the Metatrader 4 server to provide high speed trades at scale.
The other option for traders is the cTrader which offers traders more control (for those that don't like automation). Forex traders who prefer cTraders over MT4 find the graphing and order functionality to be improved with this software.  There is also an option to use cAlgo with cTraders which allowed traders to setup and run their own trading robots and indicators for those who require added sophistication.
As the forex platform comparison table below highlights, MetaTrader 4 offers more features then cTrader but as explained above, the functionality of cTrader makes it many traders first choice. That said, MT4 has a dominance in the market.
The platforms offered are available on mobile devices including apps for android, windows, iPhone, iPad and even blackberry devices allowing traders to execute orders while on the go.
Spreads Available On Major Currencies
ThinkForex offer tight spreads which the minimum spreads shown below (originally published on their website). It should be noted these are the minimum spreads (not maximum) which may change due to market forces.  In our 2019 Think Forex review we found these spreads over February were competitor against the main players although at times some currency pairings were higher then other brokers. Based on this, the spreads were overall viewed as acceptable but not the lowest in the Australian forex brokers market.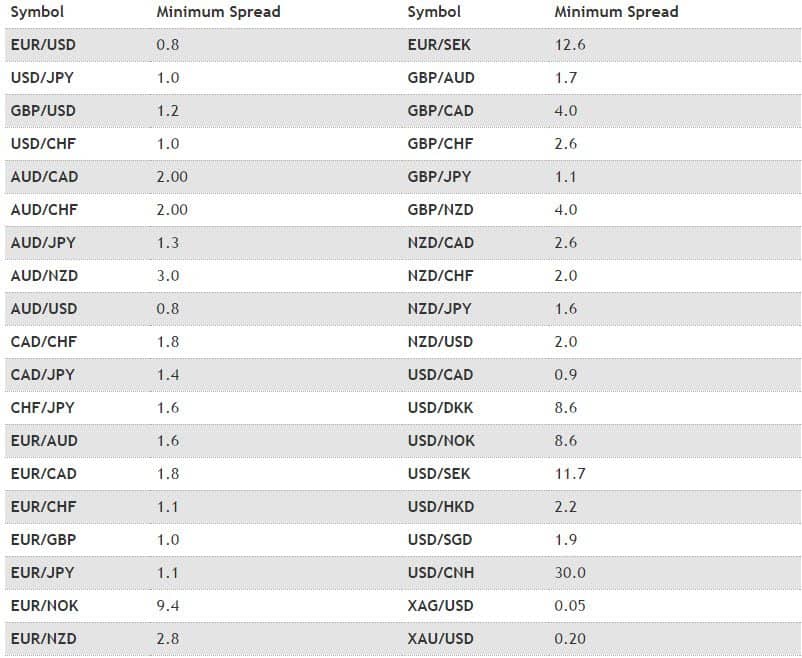 Deposit Options With Think Forex Australia
One of the key advantages found during our Think Forex Review was the way you can fund your account from the standard bank transfers, Bpay and credit cards through to skrill (formally Moneybookers), Neteller and Web money. As explained early, as an AFSL Forex Broker the deposits will remain in Australia (a domestic trust account). The minimum deposit size is $250 in Australia.
What Leverage Is Available?
As the forex comparison table below highlights, Think Forex has the highest leverage available in Australia. While there are some other brokers that also offer levels of 500:1, no broker exceeds this number which internationally is viewed at extremely generous. If leverage is critical for your trading strategy, then this ThinkForex review should help ensure the company is heavily considered as your fx broker.
It's critical to highlight that while leverage may increase the opportunities to make money on the currency markets, it also increases your risks. If currency markets move in the opposite direction of what you predict you may lose your whole deposit. It's therefore critical to only use leverage once you are confident on the fx markets and using stop-gap strategies should be considered to minimise the risk of volatile markets.
Open a demo account >>Visit Think Forex >>
Regulation of Think Forex
Our Think Forex review found that the company is licensed as TF Global Markets (Aust) Pty Ltd in Australia under the financial services licence 424700.
As Think Forex is Australian regulated it meets the requirements of Australian forex brokers such as the need to hold deposits within a local trust account and ensuring an adequate dispute resolution process exists.
ThinkMarkets Key Strengths
For the purposes of this ThinkMarkets review, a list of the main strengths and advantages of this brokerage has been assembled. The main strengths of ThinkMarkets are:
Tight spreads
Selected market news feed
Strong learning tools for new traders
24/6 support in multiple languages
Leverage ratios up to 400:1
Open a demo account >>Visit Think Forex >>
Asset Classes
Traders using ThinkMarkets as their brokerage can trade in four asset classes: Forex currency pairs, non-metal commodities, indices and precious metals. As the company's original name suggests, ThinkMarkets originally specialised in Forex trading. Forex is popular among traders because of its proven ability to produce gains in any market conditions. Since there are always fluctuations between currencies, there will always be potential profits in trading them against one another.
The non-metal commodities that traders can open positions on using ThinkMarkets are oil and natural gas. Though less inclusive than the raw commodities lists on other leading brokerages, these two still offer excellent profit potential. However, a comprehensive ThinkMarkets review should note that the lack of agricultural commodities does limit the choices traders have somewhat.
Next, ThinkMarkets lets its traders access and trade on the value of global indices, including the US30 and UK100. These indices offer good earnings potential and a degree of predictability thanks to their broad base of included stocks. Indices trades on ThinkMarkets are also relatively inexpensive, with spreads as low as 0.25.
Finally, traders can open positions on precious and semi-precious metals, including gold, silver and copper. These commodities are good for trading anytime, but can offer a safe alternative to indices or Forex during times of economic upheaval. When markets become too unpredictable, traditional investors will often put their money into metals, especially gold. This makes trades based on these metals safer options during more volatile periods.
ThinkMarkets Account Types
Like most digital brokerages, ThinkMarkets offers multiple account levels. Since the account type a trader has will have a substantial impact on the features he or she can access, no ThinkMarkets review would truly be complete without an overview of these account levels.
The basic account type, or Standard account, can be opened with as little as $250. This account offers basic trading functionality through either ThinkMarkets' proprietary Trade Interceptor platform or the well-liked MetaTrader 4. Users can access learning materials, news feeds and will be given access to the standard low spreads. For most newer traders, the Standard account will be the basic starting point.
The next level up is the Pro account, which can be opened with any amount in excess of $2,000. This account offers several upgrades over the Standard account, including a dedicated account manager, access to an automatic technical analysis software called Autochartist and a free virtual private server. Pro level traders also get even tighter spreads than Standard account holders.
Finally, traders can open a VIP account with $25,000 or more. This account gives traders the option of direct interface access to the ThinkMarkets MetaTrader server, as well as the ability to negotiate a higher commission rate per lot. Though it has its advantages, it does not offer as many benefits over the next lowest account as the Pro does to the Standard. For most traders, therefore, the Pro account will be the best balance of accessibility and features.
Trading Platforms
As mentioned above, ThinkMarkets uses both its own Trade Interceptor platform and MT4, both of which can be used on a variety of computers and mobile devices. Trade Interceptor offers impressive graphic representations with a four-way split capability. This feature allows traders to watch up to four individual assets simultaneously, which is especially convenient for more advanced traders who may have several open positions at any one time.
Also available is MetaTrader 4, which is the industry standard software in digital trading. MT4 helps to make ThinkMarkets very accessible to traders who are migrating from other brokerages, since almost every trading site uses it in one way or another. MT4 is the platform used by both the Pro and VIP account levels.
ThinkMarkets Leverage
For the vast majority of traders, the maximum allowable leverage on ThinkMarkets will be 400:1, a respectable level that is fairly standard for digital brokerages. Some accounts, however, will be subject to lower leverage ratios because of their volume and the possibility for loss. Leverage ratios for larger accounts are structured as follows:
200:1 for $50,000-$200,000
100:1 for $200,000-$1,000,000
50:1 for $1,000,000 and above
Customer Support
The core of the ThinkMarkets support process is a comprehensive and highly informative FAQ section that offers most of the information traders will need for common issues. Beyond that, trained support staff may be contacted by phone, live chat or email 24 hours a day, six days a week. Whether you need the answer to a simple question or require step-by-step guidance in navigating the system, the ThinkMarkets team will be able to help.
ThinkMarkets Educational Materials
One of the elements of a brokerage that is most important for beginning traders is the range of educational materials it has available. As such, a thorough ThinkMarkets review is impossible without a look at how the brokerage prepares newer traders. The range of materials available on the ThinkMarkets site range from basic text introductions to video explanations and even full webinars. Lessons are broken up into beginner, intermediate and advanced levels, allowing traders to learn based on their existing degrees of experience.
Deposits and Withdrawals
Transactions with ThinkMarkets can be conducted in a variety of ways, including bank transfer, major credit card or transfer through Skrill or Neteller. The minimum limit to withdraw funds from your account is $30 USD. Using Skrill or Neteller, a maximum limit of 10,000 units of currency is placed on a withdrawal. For bank transfer withdrawals, however, there is no maximum limit.
Conclusion
On the whole, ThinkMarkets or formally Think Forex deserves its reputation as one of Australia's best Forex brokers. Though it could benefit from a somewhat more diverse list of assets or more advanced trading tools, ThinkMarkets delivers an extremely high quality experience on its core services. With reasonably high leverage, excellent learning materials for beginner and intermediate traders and great customer service, ThinkMarkets sets itself above the pack. If you are interested in opening a new Australian trading account, this brokerage should definitely be on your list for consideration.
Open a demo account >>Visit Think Forex >>
About Compare Forex Brokers
The authors of compare forex brokers have independently reviewed Australian forex brokers based on price signals (eg fees and pips) and features such as leverage. When the wording 'Australian forex brokers' is mentioned it means that they are regulatory approved to operate in Australia. These companies may be a subsidiary of an international currency trading company as is the case with Think Forex. You can see the full Australian forex brokers comparison table. There are other forex broker comparison tables throughout the site focusing more on other areas such as leverage. All forex broker comparisons were created manually and are in the process of being updated for 2019.
Since its foundation in 2010 under the name ThinkForex, the trading platform now known as ThinkMarkets has been a leader in the digital trading space. The company expanded from its home base of New Zealand into the Australian market in 2012, positioning it among the top brokers serving Australian traders. As such, it is fully regulated by the Australian Securities and Investment Commission under an Australian Financial Services Licence. Today, the ThinkMarkets trading platform allows traders of all experience levels to open positions on a wide variety of assets and profit from their trades. The following ThinkMarkets review is one of the earliest forex brokers reviewed on Compare Forex Brokers and is intended to help new traders decide if this is the right brokerage for them.