There are two sets of forex platforms. Those that are exclusive to a particular forex broker and those that a plethora of brokers offer. These platforms are designed and developed by software manufacturers and are then sold as 'white label' platforms to brokers. Brokers claim these platforms as their own even though many companies support the same platform. Below we assess the best forex broker platform elements from a range of fx providers. We analyse them specifically for Australian forex trading conditions to see how they stack up
Non-Exclusive Mainstream Forex Trading Platforms
Non-exclusive forex trading software (also known as 'third-party') works with any brokers who have an API (Application Program Interface). They include:
1) MetaTrader

MetaTrader is a windows based forex platform which is the most popular worldwide and is offered by IC Markets.
The platform's popularity is due to the 'ease of use' with many traders used to the platform which is one of the oldest. The platform is also feature rich and includes an automated trading ability.
The most popular version is MetaTrader 4 (MT4) with the newer MetaTrader 5 (MT5) version offered by some 'niche' forex brokers only. The key differences of MT5 are the ability to aggregate open positions, incorporate buy/sell stop limit pending order types, view level II prices and the ability to trade stocks & futures.
There is a Windows & Mac version of MetaTrader and mobile/tablet apps for all mainstream devices.

2) cTrader
cTrader was designed by forex traders offering a sophisticated interface with a variety of customisation options including detachable charts.
Both advanced charting combined with an advanced ordering system attracts many forex traders bringing a more efficient trading experience. Other key features include the ability to view level II pricing (something MT4 doesn't offer), trading automation with backtesting facilities.
In 2013 the platform won the FX Week award for 'Best Retail Platform'
The platform has a webtrader option (which doesn't need to be downloaded), an iPhone/Android app and cAlgo which allows traders to create 'robot' programs developed in C# which can be customised to set algorithms.
Exclusive Forex Trading Platforms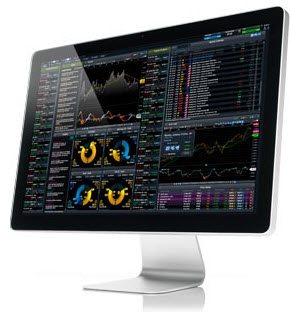 Other brokers have their own proprietary software to provide them with a competitive advantage of attracting forex traders.
1) The Next Generation CFD trading platform
The Next Generation platform was created by CMC Markets to help differentiate them in the market.
The platform offers a range of features including:
– Automated execution
– A layout which can be customised (similar to cTraders)
– Mobile trading applications
The key strength of this platform is it's charting tools which have won awards with 80+ technical indicators, comparison charts and more.
2) Forex Trader Pro
Forex Trader Pro is offered by Forex.com by interestingly the forex broker also offers MT4 as an alternative.
The platform has excellent customisation options and not only have iPhone, Android and iPad apps but also a web only version.
With advanced trading features, integrated research, charting tools and analysis, the platform is popular for intermediate forex traders.
Other features include:
– Instant or Market execution (you decide)
– User defined price tolerance
– Five digit pricing
3) Web PROfit
Forex Capital Trading offer Web PROfit alongside MT4 similar to Forex.com offering both non-exclusive and exclusive platforms.
The platform is fast, sick and professional to give forex traders full control when currency trading.
There is the following versions:
– Web PROfit
– Android app PROfit
– Apple app PROfit
4) easyMarkets
easyMarkets offer their own propriety platform that contains a number of unique features not found on other platforms. easyMarkets are a Market Maker so are able to offer risk management tools which can help protect you against losses due to slippage that other brokers are not able to offer. These features are:
– dealCancellation
– Freeze Rate
– Inside Viewer
– Trade Forward Deals
– Guaranteed Pending Orders
Overall easyMarkets platform is an easy to use platform that does not require a download and has a  outstanding features for those looking to take advantage of a wide range risk management tools
5) L2 Dealer
L2 Dealer platform is built for Contract for Difference (CFD) and Forex traders who wish to trade using Direct Market Access. This platform builds on IG Markets own propriety standard web trading platform but functions completely separately and will require software to be downloaded. One-Click trading makes placement of orders very efficient and you can use ladder trading.
L2 Dealer is best excels when it comes to share trading and is best for advanced traders due to it complicated interface
6) ProRealTime 
ProRealTime is a trading platform available with IG Markets. IG gives you access to their premium version free for first month and therafter provided you make at least 4 transactions a month. Otherwise the cost will be USD$40 a month. Prmium access allows you
– access to four times more historical data than available via IG own trading account
– the same fees and trading conditions as IG offer on their own trading account
– Platform support directly with ProRealTime
– Ability to display 100s of charts and dozens of instruments lists and currency pairs simultaneously
– Free programming assistance for trading systems
This trading platform is excellent for traders who make multiple trades per month and need access to a wide volume of data at one time.
8) Trade Interceptor
This platform is offered by ThinkMarkets. Its has a number of interesting features these include
– Compatible with all phones, tablets and PCs and can be accessed with one password for all.
– Multiple demo accounts that do not expire
– leader in Technical Analysis
There are many other brokers that have their own platform such as Plus500 but these are just to simplify forex trading rather than focus on tools and features that exceed MetaTrader and cTrader.
So What's Important When Looking For The Best Forex Broker Platform?
A trading platform is one of the most important features an fx broker offers as this is the conduit between yourself and that broker (or in the case of ECN brokers, the market itself). The best forex broker platform for you will be based on their charting options, quote, interface and ability to execute orders quickly and accurately.
When considering a forex platform consider:
What is the price (if any) of using this platform
The charting options including technical indicators available
The software base and compatibility with your computer or device
If you can trade from charts shown?
What types of orders can be made and the order interface
How much historical data is available?
Can back-testing be conducted for strategies and 'robots'
Does the platform have an API for your own programming or software needs?
The level of customer service on offer by the broker providing the platform
Almost all Australian forex brokers offer a free demo account to test the platform. Most of these demo accounts are limited by units or duration but at least it's an excellent opportunity to test it out to ensure its the best forex broker platform for you.
The screenshot below shows a list of the best forex brokers for high leverage brokers. Click on it to view the platforms they use and browse other brokers to find the right match for your needs.

Key Considerations When Choosing A Trading Platform
There are six key factors when choosing a forex broker:
1) Responsiveness
Ability to execute transactions fast and efficiently is perhaps one of the most important features of a good trading platform. The reason for this because of 'slippage'. Forex prices tend to be highly variable, this means they are constantly changing. There will always be some lag between the time a trader places their order and time the order is executed, this delay can mean the actual price on the market has changed.
A good platform will allow traders to execute their order in a short time. Thus reducing the chances of slippage. MetaTrader for examples offers one-click trading when buying and selling forex.
2) User Interface
A good interface should be easy for traders to access and view the information they need with ease. They should not be overburdened with data that is cluttering their screens. Ideally, trading platforms will allow traders to add and remove data or customise their screens to suit their needs requirements. If you are spending long hours looking at the platform screen, you do't not want to be straining or losing time constantly searching for information that is buried deep with the mountain of available data on the screen.
3) Analysis Tools
Trading Platforms should provide you with access to the essential analysis tools needed to make sound trading decisions. This not only can help you make better trading decisions before you trade but provide the tools to allow you to learn from past trading experiences.
Platforms should also allow you to integrate add-ons so you can add extra analysis tools to suit your personal requirements.
4) Automated Trading
If you are trading a high volume of forex or on behalf of many clients then automated trading can be of great benefit. Not all platforms allow for automated or algorithmic trading so you will want to make sure it is available. If you have a particular automated software tool you wish to use, you will want to make sure it is compatible with the platform.
5) Reliability
A good platform will be reliable to use. This means it does not contain bugs or defects and does not crash or freeze. This is especially important for active traders and those using automation tools like experienced traders as they have a high dependency on being able to execute trades at all times.
6) Security
Security of data is more important than many traders realise. You will want to make sure your personal data is never at risk, therefore you will want to check the platform offers high levels of security. This might be in the form of data encryption, firewalls, ability to backup data or sync data between two servers as a second level of security.
More About How We Found The Best Forex Broker Platform
Compare Forex Brokers has a best trading forex platform section that compares the leading regulated players and broker reviews. The information came from the largest broker websites and other third party sources including demo account information. Use our free tools to find the right broker to suit your needs from high leverage to low ecn spreads.