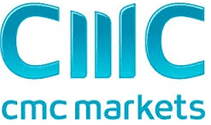 Our March 2019 CMC Markets demo account analysis found key strengths including:
No expiration date on the demo account
The use of CMC education facilities
The ability to trade currency and CFDs
Easy transition to a live account with low spreads
What Is A CMC Markets Demo Account?
A demo account offered by CMC allows users to demo their trading platform called Next Generation. This platform is unique only to CMC Markets, so many forex traders may take time to get used to the layout and functionality of this tool.
CMC Markets was awarded Best Online Trading Platform in 2017, acknowledging the company's intuitive, feature-rich Next Generation platform, which is continually updated to offer clients up to 10,000 instruments on which to spread bet or trade CFDs, and a wide range of innovative trading tools including advanced charting and client sentiment.
Our CMC Markets review of their forex platform found key advantages including:
Ability to customise layouts and trading tools
No re-quotes occurring with full automation
80+ chart types and indicators for forex traders
Mobile apps including Android, iPad and iPhone applications
Disadvantages of the platform on the other hand were:
Execution times of trades which can lead to slippage in volatile markets
A unique design, making it difficult to switch to a standard software package like MetaTrader 4
The inability to use third party software and bots for day-traders
A CMC Markets demo account is unlimited. This means you can trade as much as you want and for as long as you want. This is quite unique to CMC with almost all other forex brokers having a strict volume and timeline deadline.
One feature that you can test on a CMC Markets demo account is their Guaranteed Stop Loss feature. This is a rare feature to be offered by the best forex brokers as the below diagram highlights with most currency brokers only offering standard stop-loss options.
A Guaranteed Stop Loss has a premium trading price, but protects the user by ensuring that the pre-defined maximum loss of a trade will always occur, no matter how volatile the markets are. This is a strong feature to test in a CMC Markets demo account. Comparing to their standard stop loss feature, the user can see which strategy best suits their needs.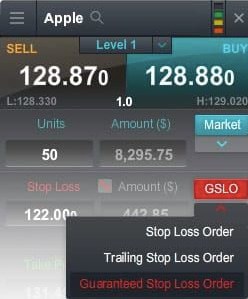 Introduction of MetaTrader 4
In 2018 CMC markets introduced MetaTrader 4 as a platform time. MT4 also has an associated demo account which supports practice online CFD trading and spread betting. Given MT4 is one of the most popular platforms among traders, it is likely to endear CMC with a greater number of traders. MetaTrader supports mobile trading and can be downloaded on the app store for both Apple and Android.
What Are The Key Reasons I Would Open A Live Account?
Within the Australian market CMC markets are best known for their features including the leverage they offer. At 500:1, its the largest of any mainstream Australian forex broker.
At this level you can trade 500 times the amount you deposit so $1,000 would turn into $50,000 in currency traded on the market. Such high leverage greatly increases your risks so it's critical to understand forex trading and the risks involved.
On the plus side, leverage can increase profits when markets move the predicted way. Without leverage currency trading would for most individuals be unprofitable due to the small movements made each day combined with fees charged for holding positions overnight. Therefore, leverage is always needed when currency trading, its just a matter of how much.
Another key strength of CMC Markets is their customer service and training which is one of the best as shown below.
When you open a live forex account you will be provided a knowledgeable account manager who will not only assist you with trading with CMC Markets, but also trading in general. This is the case for both CFD and forex broker traders.  It's critical to note that these account manager can't provide investment advice or tips to traders. There is also a client manager team for general enquiries both through e-mail, live chat or over the phone. As well as all this, the website has a Chatbot service where browsers can ask any questions they like.
A separate education team also provide support in the form of seminars and webinars. There are free online modules for first time traders to those with a plethora of currency trading knowledge. This is especially true if your a currency trader but interested in CFDs or visa-versa.
Spreads are also competitive although as our best forex broker comparison table highlights, there are brokers who offer lower rates.
Our CMC review found that if low spreads are critical, then a ECN broker that cuts out dealing desks is more suitable. These brokers help Australian forex traders directly access liquidity markets allowing them to 'buy direct'. The downside though is features such as 'guaranteed stops' are not offered by these type brokers. They also only offer limited forex training accounts both in quantity and time-frame.
How To Transition To A CMC Live Account
Once your ready to trade on live currency markets you can do through your computer, iPad or iPhone.
What you will be required is to have suitable identity with you. In most cases you can then electronically identify yourself with no need to visit a physical location. Once completed you can fund the account and trade straight away. In many cases this takes just 60 seconds.
In some cases though you may need to verify yourself manually in which case CMC will notify you of the alternative process.
You can fund your account through an debit card, EFT or credit card including Visa and Mastercard. Just click on the 'payments' option within the CMC Markets platform. You can call the 24/5 hotline on 1300 303 888 if you have issues.
A key benefit you will receive when you open an account is access to additional training once you have deposited funds.
Conclusion On CMC Markets Demo Account
CMC Markets has an excellent forex demo account that never expires, allows you to virtually trade unlimited volumes and access to training and support. The demo account also lets you experience two of forex broker's strengths including high leverage (500:1) and the ability to execute guaranteed stops. The two negatives of the broker is that the spreads are lower than some ECN brokers (although they are quite competitive) and their platform is unique, making it difficult to switch brokers down the track. Overall, if you like the platform and want advanced features CMC Markets is the best forex broker for you. You can view more Australian demo accounts here.