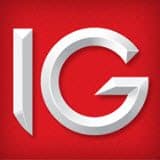 IG Accounts For Standard Traders
There are three options for standard traders which mainly impact the spreads and fees charged and the forex trading platform used.
1) DMA Account
The Direct Market Access (DMA) IG account is within the industry called ECN trading. This type of trading is recommended for experienced forex traders and offers:
Low latency pricing through Equinix servers
Strong liquidity from twelve of the largest global banks
The ability to automated trades using FIX API
In our IG review, by trading directly to liquidity pools there are no spreads created by IG. Instead, IG charges a set commission based on the size of the trade. If your account is denominated as AUD, the commissions shown below will be adjusted to AUD (at current exchange rates).
The buy/sell prices and spreads are set by the currency providers and banks which attracts traders to this option.

IG pricing focusing on getting the best prices not only through a DMA but also the standard OTC account (discussed below). A DMA won't necessarily provide lower overall trading costs but can provide improved flexibility and visibility to the market. Some risks though can be increased with DMA as IG takes parallel positions to the trader. Positions therefore can't be reversed of changed.
2) OTC Account
The 'over the counter' (OTC) account is often referred as the standard IG account which most beginner traders select. The OTC account is normally paired with the 'core' IG forex trading platform with key advantages including:
No commissions on trades
Relatively stable, competitive spreads as shown below
There is an additional charge when forex trading overnight. A credit adjustment is made at 2.5% annualised above the relevant inter-bank bank.
3) MT4 Account
The most popular and often regarded as the best forex trading platform is MetaTrader 4 (MT4). IG now offers this forex trading platform which has it's own spreads which are shown below. The key benefits of MT4 are:
Reliable execution and low latency with no 'third-party' technology interference
The ability to automate forex trading with the assistance of tools such as Auto-Chartist
The use of Expert Advisors enhanced by IG's free VPS.
The MT4 is just one of the forex trading platforms recommended for Australian forex traders as you can see on this sites comparison tables.
Corporate IG Accounts
A specific IG account is dedicated towards corporate and institutional clients including:
Money & Investment Managers
Hedge Funds & Trading Houses
Trading Arcades
The main corporate forex trading platform solution provided is FIX trading. This can be FIX direct market access (similar to an ECN forex broker) or FIX OTC. The FIX approach is an API solution allowing streaming pricing and CFD trading securely through SSL. Orders are made through IG's Smart Order Router connecting forex traders to multiple liquidity pools maximising execution speeds.
Premium Service (High Value Traders Only)
IG markets Australia offers a premium service for traders who reach one (or more) of the thresholds shown below:
Forex monthly DMA volume = $250m notional
Forex monthly standard volume = 2,5000 lots
Equity monthly volume traded = $5m
Future Monthly volume = 250 contracts
When a trader is accepted to the premium IG account offering they not only receive a dedicated client manager but also an expert market analyst. The team of three have a combined 60 years in financial trading support and execution. The research team offer traders insights into their views on future outlook, market and chart pattern insights and how to evaluate opportunities.
Other benefits include client entertainment from social to sporting events. Improved margin rates, margin deadlines and margin call leniency are other potential benefits of premium services.
Rebates For High Volume Traders
High volume traders that exceed 500 standard forex contracts monthly may be able to receive a rebate. There are four tiers of monthly rebates:
Tier 1 (0 – 499 forex contracts) = $0 rebate
Tier 2 (500 – 2,499 forex contracts) = $0.50 rebate per contract
Tier 3 (2,500 – 4,999 forex contracts) = $0.75 rebate per contract
Tier 4 (5,000+ forex contracts) = $1.00 rebate per contract
An example is a trader who trades 3,500 standard lots over a calendar month. The rebate would be 75c per contract traded resulting in a $2,625 rebate been awarded. The total rebates are confirmed each month by the traders account manager and refunded on the 10th of the next month.

Overall Review
A complete IG Markets Review versus Saxo Capital Markets was made focusing on the core feature of IG including their price improvement technology, execution speeds and the way they source better prices. The forex broker is the largest retail currency broker in Australia. They have local and global customer service and positive IG reviews on mainstream review websites. They also allow more than just currency trading to occur from spread betting, share trading, indices trading, and options trading to bitcoin. Another broker that you can compare to IG Markets is easyMarkets.