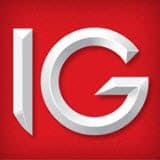 Our IG indices review found the broker was the best in Australia in this niche area of CFD trading based on:
– The range of markets offered
– The choice of using the best forex trading platforms available (MT4) for Indices
– The low costs associated with trading
– The option of trading in AUD denominated CFDs
The ability to trade on Sundays
What Indices Markets Are Available With IG?
IG offer retail investors with the widest range of markets when it comes to indices trading. Some of the main indices traded with IG are:
1) Australia 200
Within Australia, the ASX is the most popular indices simply due to the familiarity of Australian shares and the hours the ASX is open. The Australia 200 is know by most Australians as the S&P ASX 200 and focuses on the nations highest capitalisation companies traded
2) Wall Street
The Dow Jones is the most popular share market in Australia and the Wall street indices captures this market movement with a large assortment of shares available on Wall Street unlike the US 500 below.
3) US 500
The US 500 only focuses on the large caps within Wall Street. As such the value of one pip is 25 times larger that the wall street indices while the minimum guaranteed stop distance is lower at 6 based on the relative volatility.
4) FTSE 100
The popular UK indices allows traders to focus just on the top 100 companies based on market capitalisation. The minimum stop distance is the lower of any of the major indices.
5) Japan 225
The Japan indices lower leverage available for indices trading while the guaranteed stop distance is higher. On the plus side, the value of one pip is the lowest of the major indices at USD $5.
Below shows these indices and other indices word-wide as well as their associated standard in-house spreads.
What Indices Trading Platforms Does IG offer?
There are three main trading platforms that our IG indices review found were suitable for Australian traders:
1) Web-Based Trading Platform
The main platform IG offers is web-based with apps created for windows, iPhone and android apps. Tablets also have apps for traders making it perfect for those on-the-go. The trading platform offers full market depth (with the option of DM access). It also has live Reuters streaming news and the ability to launch ProRealTime charting packages of any market.
2) L2 Dealer Platform
L2 (level 2) dealer was designed for more advanced traders who are happy to download the platform. It offers a direct access model to liquidity markets ideal for for both CFD and forex trading. This tool isn't for beginner traders and has advanced functionality and charting options.
3) MetaTrader 4 Platform
MT4 is the worlds most popular platform and considered by many traders at the best forex trading platform. It's popularity is based on it's ease of use (after you become familiar with the interface) and dashboard which can be customised. Finally, the platform is fast and reliable which is another reason some traders insist on the forex trading platform.
Our IG Indices Review Of Fees When Trading
There are two sets of spreads charged depending if you trade through the web-based IG trading platform or MT4. While MT4 may be regarded as the best forex trading platform, IG also charges the highest indices spreads when using it. Below compares the spreads of the standard web-based platform (or L2) compared to MT4.
The higher spreads related to MT4 highlight how IG need to pay third part-licence fees leading the broker to pass on the higher costs. That said, many other brokers primarily, or only use MT4 and offer low spreads on this platform. The table below shows a few forex brokers that offer MetaTrader 4. These should be considered if your really focused on using what many consider the best forex trading platform.
It should be noted, that the L2 is also an advanced platform while the standard web-based platform is perfect for beginner traders. If you're happy with these platforms, then our IG indices review found the spreads were some of the lowest within the Australia indices market and you should consider the broker over easyMarkets.
IG Allows AUD Denominated CFDs When Trading Indices
A really excellent feature found on our IG indices review compared to Saxo Capital Markets was their option of trading AUD denominated CFDs. The way this works is you can trade overseas indices without having exposure to currency changes. So for example, you could trade Wall Street in Australian Dollars, so if the AUD/USD move, you won't be impacted. Not only does this avoid currency exposure, it also helps reduce conversion fees/spreads which can be a major problem when trading exotic currencies.
The markets offered when trading AUD denominated CFDs are:
Wall Street Cash
US SPX500 Cash
US Tech 100 Cash
Germany 30 Cash
Japan 225 Cash
China H-Shares Cash
China A50 Cash
Hong Kong Cash HS42
FTSE® 100 Cash
India 50 Cash
An option also exists to trade commodities in AUD denominated CFDs. The commodities include include US light crude, gold, silver and natural gas.
Sunday Indices Trading
Indices traders can trade on Wall Street, Germany and on the FTSE on Sundays. This trading doesn't impact existing positions over the weekend. The trading opens at 5:00pm every Sunday and finishes at 7:40am on Monday. When a position is still open at 7:40am it will roll automatically into a weekday at no extra charge.
Sunday training are often used by trader to offset weekday positions. This may be critical if unexpected news is released over the weekend. It can also provide opportunity based on market events that may occur over Saturday or Sunday. Based on our IG review, IG offer support over this Sunday trading period, providing peace of mind if you require assistance when trading.
Our IG Indices Review Conclusion
IG is Australia's largest CFD provider so it only makes sense that they excel in the area of indices. Our IG indices review recommended the broker based on the wide range of markets available, the low fees/spreads and the fact you can trade them through the MT4 forex trading platform. Combined with advanced features such as Sunday trading and AUD denominated CFDs the broker is worth considering if you're looking to trade indices, discover  spread betting, share trading, or options trading.