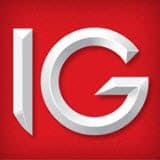 Our IG share trading review found the broker was a great option for Australian investors with:
The ability to trade on the ASX and overseas markets such as the NASDAQ & FTSE
Low domestic and overseas stock broker fees
One of the best forex trading platforms that integrates for share trading
24 hours support
What Markets Does IG Share Trading Offer?
IG offers share trading within the Australian Stock Exchange including the ASX 300 as well as some smaller cap shares. What sets the broker apart is that you can trade on overseas markets as shown below.
Markets include the largest companies in USA including the NASDAQ, S&P and DOW JONES. Within the UK share traders can trade on the FTSE 250 and some smaller capped shares while in Germany you can trade on the DAX. 
What Rates And Fees Apply To IG Share Trading?
Our IG share trading review compared to Saxo Capital Markets viewed the broker favourably when it came to fees. When trading on the Australian Stock Exchange, commissions start at $8 per trade. In the USA, the trading fee is $10USD, £10 in UK and €10 for European shares. For larger volumes the fee turns to a commission of 0.1% or 2 cents per share in the USA.
If trading over the phone rather than online, the trading fees increase significantly. In Australia the minimum charge is $50, £40 in the UK and $50USD in the USA. There are also other fees for same-day bank transfers (as shown below). The additional services at the bottom are optional  and include re-certification, getting hard copied company reports and arranging AGM attendance.
Australian investors may also have additional fees from taxes which vary by country. Below shows some of these taxes and levies that may apply when trading on overseas markets.
Finally, a spread of 0.3% is offered when converting currencies to the overseas markets traded.
What Trading Platform Does IG Offer?
There are four trading platforms offered by IG Markets:
MetaTrader 4
MT4 is considered the world's best forex trading platform. This is based on functionality, easy of use and execution speeds. The key is that while this is the best forex trading platform, it doesn't have share functionality. Only currency therefore can be traded (not shares). Those looking to trade currencies and shares should consider another forex trading platform with stock broker functionality.
Web-Based Platform
The best forex trading platform for beginner traders is the web-based platform. This platform offers the full share trading functionality with the advantage that no download is required. The platform is supported by apps for mobile and tablet devices. This includes Windows, Apple and Android devices.
A key feature is the IG traders can stream Reuters news fore free through the platform. There is also the option of 'tear off' prices so you can watch prices while your focus is on another online activity. You can even have an SMS or e-mail alert sent once a price point is reached.
Web-Based Platform + ProRealTime
This combination brings the best of the web-based trading platform with advanced charting functionality. These features range from trend lines that update regularly to the ability to trade directly from these charts.
The most popular feature of ProRealTime is the ability to automate trading. You can code strategies from scratch or use the assistance tools for automation. You can even test out your strategy based on 30+ years worth of data to see how successful it would have been.
L2 Dealer
The Level Two (L2) dealer is the most advanced trading platform offered by IG. Our IG share trading review found this platform is suited for expert traders only due to the complex user interface. This includes the order types such as kill or fill, pegged, good for action, execute and eliminate.
The best thing about L2 is how it was actually designed with share trading in mind. There are no dealer-referred tickets or re-quotes. Algorithms can be created like ProRealTime but also in excel with one-click trading to make trading fast.
Support IG Share Trading Review
A key strength found in the IG share trading review compared to easyMarkets was the level of support they offer. There support team are available 24/7 over the phone, e-mail or via live chat. They are also available over the weekend between 9:00am and 5:00pm London time. This is matched by training options such as webinars for beginner to advanced share and forex traders.
IG Share Trading Review Conclusion
The new IG share trading offering will be attractive to existing IG customers who don't want to trade with multiple brokers. It is also aimed at attracting new traders looking to trade shares overseas with low fees. Their collateral service, choice of three trading platforms and 24 hours services also make the share trading offer highly competitive in Australia. We recommend they be considered for those looking to trade domestic and international stock markets.
About This Compare Forex Brokers Review
This review of IG's equities brokerage services is just one of the hundreds of broker reviews published on this website. Our aim is to take the hassle out of selecting a broker so that traders can spend more time trading and honing their skills. You can view more on our IG accounts page. This website is updated frequently with new comparison tables, reviews and blog articles. However, from time to time you may come across a mistake or two. It is for this reason we suggest you cross-reference any information you see here on broker websites. If you do happen to notice any errors please let us know.