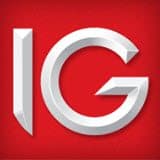 Our IG spread betting review rated IG as one of the best forex brokers based on their:
Choice of platforms including the best forex trading platform (MT4)
Execution speeds achieved through the trading platforms offered
Spreads both through dealing desks and direct to market (DMA)
Conservative approach to risk (Australian certification and leverage)
Strong reputation and customer service offering
What Is The Best Forex Trading Platform Offered By IG?
There are three main forex trading platforms available for IG traders. Below lists then in order of world-wide popularity, ease of use and features.
1) MetaTrader 4 – Considered The Best Forex Trading Platform
– The fastest execution speeds due to no third-party bridges
– Easiest to use interface for intermediate users
– The ability to integrate expert advisors to automate trades
– Options such as the use of VPNs and integrating charting packages
b) L2 Trader – Advanced Forex Trading Platform Features
– Contract for Difference (CFDs) can be traded directly to the market
– DMA integration allowing forex traders to deal directly with liquidity markets
– Order routing intelligence to get traders the best price available on the market
– Algorithmic trading that can be based off Microsoft excel rules
c) IG's Proprietary Platform – Beginner Focuses Forex Trading Platform
– Ready to go web based platform without the needs for downloads for desktop users
– Apple, Windows and Android apps for quick access to markets when on-the-go
– News integration at no additional charge including Reuters
– Quick 'one click' trading and the ability to trade directly from CFD and forex charts

The choice of the best forex platforms provided IG with a strong overall score, that was only slightly marked down since cTrader was not offered.
IG clients across all three forex trading platforms have access to mobile apps. These mobile apps work across both mobile and tablet devices and can be downloaded through the App Store or Google Play. These mobile apps have a native design and regularly update to ensure they have the latest features. They all have 256-bit encryption and market data and analysis including live prices without the need to log in.
IG Spread Betting Execution Speeds
Our main IG review found that slippage was one of the leading concerns for Australian forex traders. This anomaly occurs in turbulent when the forex broker's trading platform doesn't execute a trade quickly leading to a lower price achieve. IG has a 'three tier' approach to reducing this concern when forex trading as explained below.

1) Speeding Up The Execution Of Trades
As the largest retail CFDs broker based on our IG review, IG has the resources to invest in leading edge infrastructure. Their servers process 99% of trades received in less than 0.10 seconds with 25+ million orders occurring in the first four months of 2016. With over 100,000 users a month across platform, IG backs it technology by guaranteeing you will get a price at least that shown on streaming quotes.
2) Improving Prices In Turbulent Markets
An issue with many Australian forex brokers is they complete a trade in turbulent markets even when the price achieved is worse that the price displayed. To avoid this, IG will request the trader to resubmit their order if the market moves outside of a tolerance zone. If on the other hand, the market moves in a traders favour, an improved price may be achieved to the forex trader.
3) Tapping Into Multiple Price Pools
IG spread betting large scale allows them to tap into multiple liquidity pools from banks to global hedge funds. With so many currency venues on offer, IG can quote the best prices available on the market during trading hours.
It's the three factors above and the ability to utilise DMA pricing (direct to market) that make IG strong in the area of slippage reduction.
Spreads Offered By IG
Spreads differ based on the forex trading platform selected and if you choose to allow IG to be the market maker or prefer direct access to liquidity markets (DMA) which leads to a set commission charged.
1) MT4 Trading Platform Spreads
Those who choose for the best forex trading platform by popularity (MetaTrader 4), the spreads below apply.
The average spreads was based on a 4 week period finishing on the 8/6/2016. It should be noted that forex direct (which leads to lower spreads but a fixed commission) is not available when trading on MetaTrader 4.
2) L2 Trading Platform
Unlike MetaTrader 4, The L2 platform can only be traded through forex direct, the direct market feature of IG spread betting.
Commission
As the table on the right shows, forex direct has commissions based on the size of the trade in USD. The fact these commissions are on a sliding scale highlights that small size traders will end up paying higher fees as a proportion of their trade. Such forex traders may therefore want to consider another platform that has only spreads and no commissions such as MetaTrader 4 discussed above.
Spreads
The advantage of fixed commissions is that forex traders can trade directly with liquidity pools. This means that you buy and sell based on currency providers as well as the major worldwide banks. The average forex direct spreads shown to the right was based on October 2015 (the last time IG reported their FX direct spreads).
3) IG Web Based Platform
The IG web based platform (which as discussed above has apps for iPhone, iPad, Android and Windows phone users) has both the option of using forex directs or a spreads only model. The table below shows the spreads if you use IG's propriety forex trading platform which you will note are lower that the MT4 rates.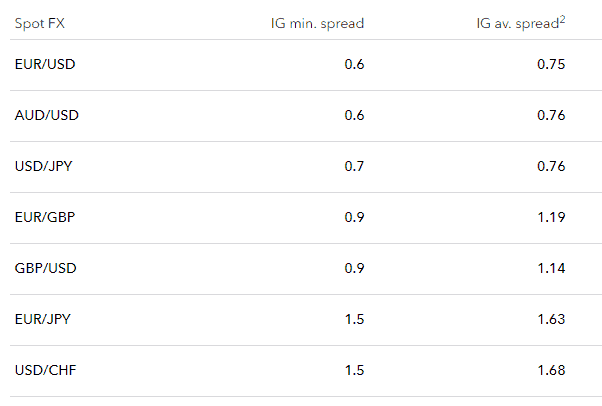 Overall, IG spreads are one of the best within the Australian forex broker market. These do though vary quite a bit by the forex trading platform chosen with MT4 rates poorer compared to those such as Pepperstone. That said, their Forex Direct commissions are low if your a medium to large forex traders and their spreads are low. What this means is that their spreads are good depending on what type of trader you are any which platform you choose. Do to this scenario, the maximum score was not given to IG spread betting.
Leverage Offered
IG is one of the more prominent risk adverse forex brokers in Australia. Unlike other Australian regulated forex brokers that offer leverage up to 500:1, IG has chosen to provide only up to a 200:1 level.
It could be argued that IG offers this lower leverage level to protect its forex traders. 200:1 is considered high globally and it's only in Australia where 500:1 is commonly offered. To further protect traders IG Markets Ltd has chosen not just to segregate clients funds (which is an Aussie requirement) but also net realised profits. They also don't speculate themselves on currency markets and are not exposed to corporate debt.
The end result is that traders can feel secure when trading with IG although some Australian's may need to utilise another forex broker with higher leverage to suit their trading requirements.
Other IG Spread Betting Information
1) IG Is The Largest In Australia And Worldwide
IG has 135k+ clients across the world and are the FTSE 250 company. They have 1,000+ staff across 17 countries and are Australia's largest CFD provider. This has been verified by Investment Trends in 2019.
2) IG Is Open On The Weekend
Most forex brokers are open 24 hours Monday to Friday when the markets are open. IG though goes beyond this having their call centre open between 9am to 5pm UK time on Saturday and Sunday. This call centre can be contacted over the phone, e-mail and even live chat.
3) IG Offer More Than Just Forex
IG offers a comprehensive range of financial products for traders. This include index trading, bitcoin, commodity trading and share CFD trading. Some of these financial products have higher inherent risks so it's important to understand the market before making trades. It's also recommended to talk to IG about measure such as guaranteed stops which can help manage risk when trading.
4) Free Training Is Offered
Like all forex brokers, IG offers online training with a great range of guides including videos. They also have though free seminars located throughout Australia to help those new to currency trading, those looking to improve their trading skills or those looking for advanced techniques across the best forex trading platforms. This training is one of the favourite aspects of existing traders.
IG Spread Betting Conclusion
As Australia's largest CFD broker, IG is a great choice for Australian forex traders compared to easyMarkets or Saxo Capital Markets. They have a great range or platforms, good risk management options, support and training. IG also features share trading, options trading, and indices trading. The key issues found was their low leverage levels and poor spreads if you want to use the MT4 trading platform. If your not looking to use the MT4 platform and don't mind trading with low leverage, then IG could be the ideal forex broker for you.
Disclaimer
CFDs are complex instruments and tailored towards sophisticated traders. There is a high risk of losing your money due to leverage which increases exposure to markets. While stop losses may limit exposure they don't avoid losing money rapidly due to the change of slippage. Based on this it's critical to understand the risks of spread betting and consider a demo account first.