OANDA Is Recommended For Intermediate Forex Trading
In February 2018 we completed our analysis into the top Forex providers for intermediate traders with low risk appetites. We found OANDA led the pack when it came to providing trading solutions to low risk takers with middle of the road experience.
The following features of OANDA's service were what appealed to us:
Low fee forex trading including spreads from just 1.5 pips
100:1 Leverage – The lowest available, perfect for the risk averse
A Minimum Deposit of Just $1
The MetaTrader 4 Platform
OANDA Offers Low Fee Forex Trading Australia
With no dealing desk OANDA offers direct trading with constant liquidity meaning low spreads and no price re-quotes. There are now commissions or account fees and as of the 07/02/2017 you can see what the spreads were for the most traded pairs.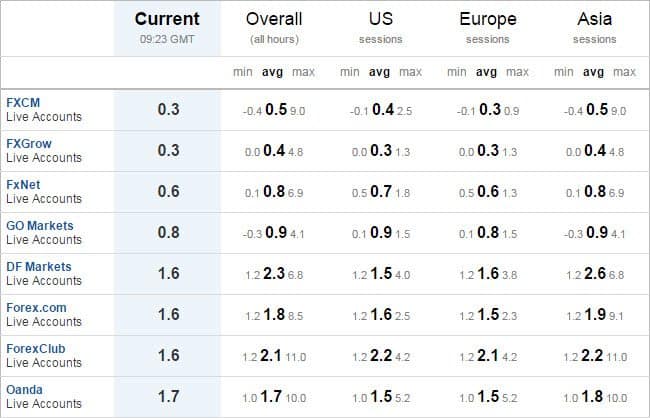 While spreads are critical for forex trading profits, slow execution speeds can also cost traders. It's critical that forex trading Australia have fast execution speeds to ensure traders receive the prices the are quoted. OANDA fxTrade automation and their market-maker role ensures efficiency when trading and near immediate settlement. Their risk management technology helps net their clients position anonymously and automatically, hedging the aggregate of positions with liquidity partners including major banks.
OANDA Offers Low Leverage Forex Trading Australia
As we just mentioned, OANDA offers traders maximum leverage of 100:1. With currency trading transactions being so tiny, leverage is required to amplify the profits made from mere 'pip' movements in prices; after all Forex trading would be a pointless exercise if the capital backing a trade was too small. It is for this reason alone that Forex trading Australia brokers offer customers the ability to back their trades with significant amounts of leverage. A common misconception about margin trading is that the more leverage the better. However, the team at Compare Forex Brokers recommend that you only take on as much leverage as you can afford to lose. Traders with intermediate experience and an aversion to risk would do well to choose OANDA. Their 100:1 leverage is the lowest on the market and still gives risk intolerant traders exposure to FX trading.
OANDA Offers Flexibility
The OANDA platform has been built around forex trading flexibility including:
– The ability to trade 90+ currency pairing including emerging markets such as the Indian rupee and Chinese yan.
– No lots with trades from just $1 to $10,000,000. You determine the amount you trade, not the forex broker.
– The ability to trade every hour of the working week when currency markets are open.
– The ability to trade on the device you want from your computer, iPad, iPhone, Android and even BlackBerry
– Easy to set risk management tools including stop/loss and trailing stops
Minimum Deposits of Just $1
Continuing on about the size of Forex trading Australia transactions and their requirement to be substantial enough to earn a significant return, OANDA offers customers the ability to open an account with just $1. A dollar is nowhere near enough to trade currencies, even with 100:1 leverage. However, what we like about this feature of OANDA's is the fact that is one of  lowest minimum deposit funds required on the market and appeals to low risk traders. Low risk tolerant traders can feel comfortable in the knowledge that if they trade with OANDA they don't require a large upfront cash injection. They also don't face the risk of significant loss as their capital contribution is next to nothing.
The Benefit of MetaTrader 4
We've spent a lot of time discussing why OANDA appeals to low risk traders but it should also really appeal to intermediates who have a bit more experience when it comes to forex trading Australia. The main reason for this is due to the company offering MetaTrader 4 as their headline trading platform. MetaTrader 4 has been the most innovative and powerful trading platform for over ten years. Its user friendly interface makes it perfect for intermediate traders. For those with a bit more advanced trading knowledge expert advisers or automated robots can be deployed using MT4. Essentially MetaTrader 4 is the only trading platform you'd ever need once you know what you're doing.
OANDA Has An Australian Financial Services Licence
It is also incredibly important to note that OANDA, although originally founded in Canada they have an AFSL and traders can feel confident in the knowledge their capital is kept secure, in segregated trust accounts, a pre-requisite for AFSL regulated brokers. This essentially means that OANDA cannot use client money for hedging against their client's positions. Upon OANDA review, we found that they have offices in Singapore, Canada, Japan and the UK. In Australia it operates under AFSL number 412981. Please note all brokers we promote on Compare Forex Brokers are AFSL regulated.
Training Offered By The Forex Broker
OANDA work to improve their traders currency trading by providing information, customer support, education support and the other tools they may require.
One key tool to help improve trading is the demo mode of their fxTrade platform. This allows Australian forex trading with no risk and 100,000 virtual money units. Unlike most other Australian forex brokers the demo never expires allowing ongoing testing of strategies on real currency trading data.
Another tool is the wealth of news available from OANDA's own economics and internal team who provide currency strategies. Free feeds to key news sources including UBS, Down Jones, Thomson Reuters and 4Cast. Getting the most accurate data from the most reliable sources is critical for any currency trader.
Finally, to improve strategies there are educational resources online and tools including Order-Book. Order-Book aggregates real-time orders, market sentiment and a plethora of trader positions.
Final Thought About OANDA
It is important to mention at this point that the low leverage option offered by OANDA was one of the key reasons we selected theme as the recommended broker. Everyone is aware of the risks that trading with significant leverage imposes. Often traders are blinded by the upside and don't fully comprehend the losses staring them in the face if things go awry. Traders who want to trade Forex but still limit their exposure to risk as much as possible would be well served by OANDA. To cap it off they also boast one of the most popular trading platforms on the market in MetaTrader 4. The combination of low leverage and MetaTrader 4 make it perfect for intermediate experienced traders.
What Is Trading Currency?
Trading currency entails simultaneously buying and selling of currency in pairs through dealers or forex brokers. Generally, different currencies vary in strength based on the level of economic performance which gives rise to differing exchange rates. In recent years, factors such as globalisation have contributed to a surge in trading activities between countries. The significance of trading currency cannot be understated since it has facilitated the smooth transfer of both goods and services between across the globe. Furthermore, the emergence of retail forex trading has enabled smaller institutions and individuals to participate in the forex market due to the lower capital requirements and the possibility of reaping huge profits.
What Are Currency Pairs?
This arguably represents the most crucial concept in trading currency as it forms the very basis of Forex trading. A currency pair refers to the pricing and quotation arrangement of all the currencies that are traded in the Forex market. There exists two type of currency pairs namely the major and minor currency pairs. Major currency pairs not only represent the widely traded currency pairs but also the most liquid pairs in the Forex market. In most cases major currency pairings constitute of the US dollar and any other leading currency such as the Australian dollar or Euro. On the other hand, minor currency pairings.Currency pairing enables traders to establish the present value of a given currency based on comparisons with a different currency. A currency pair constitutes of a base and quote currency.
For instance, AUD/USD. This currency pairing represents the Australian Dollar vs. the US dollar which can also be referred to as a Forex quote. From the example, the Australian dollar represents the base currency while the US dollar represents the quote currency. When buying a currency (going long) the prevailing exchange rate determines the amount of the quote currency to be payed when acquiring the base currency. In contrast, when selling in trading currency (going short), the current rate of exchanges helps the trader determine the number of units of the quoted money that can be acquired by using a single denomination of our base currency.
Bid Price & Ask Price
Pricing represents another fundamental concept that every aspiring currency trader needs to understand before indulging in trading currency. Pricing of currency pairs consists of two parts namely the bid price and the asking price. The Bid price refers to the prevailing market price that a broker is willing to sell a unit of the base currency so as to acquire a given number of units of the quote currency. In contrast, the ask price (offer price) is the price at which a broker is willing to sell a given amount of the base currency with an aim of acquiring a sole unit of the quote currency.
What Is Leverage?
In the past, the trading currency used to be a reserve of big corporations and governments. However, the advent of retail Forex trading has opened up doors for small investors to participate in currency market. Presently, any potential investor may be involved in the market using very smaller amounts of initial deposits or investment depending on the chosen broker. Typically, these little sums of capital invested by small scale Forex traders would translate to negligible profits.
However, Forex brokers introduced the concept the concept of leveraged trading as a way of enabling smaller traders to benefit from trading currency by allowing them to control a larger capital exposure. In trading currency, leverage is presented as a ratio and the amount of leverage available for a trader varies from one broker to another. Leveraged trading not only increases the potential for traders to rake in greater returns but also heightens the potential to make more significant losses. So it is important one understands the risks involved before deciding to trade.
Advantages Of Trading Currency
Flexible Lot Sizes
Trading currency allows traders to set their lot sizes which allow merchants to participate to pump in smaller amounts of capital.
Minimal Transaction Costs
Traders only incur minimal costs while trading currency since the cost of conducting a transaction is determined by the spread.
Flexible trading times. The Forex trading market essentially operates for 24 hours which allows a trader to choose the desired time for trading.
Leverage
Another advantage of participating in currency trading revolves around the issue of leveraged trading whereby a trader gets a bigger capital exposure as compared to the money invested.
Liquidity
The high liquidity associated with Forex trading allows for the instantaneous buying and selling of currencies.
Immediate Execution of Market Orders
Forex trading allows for the timely execution of buying and selling orders due to the high liquidity associated with Forex trading.
Easily Accessible
Technological advancements have made it easier for traders to easily access trading platforms using personal computers and smartphones.
Risks Associated With Trading Currency
High Risk Associated With High Leverage
The greater the leverage employed by a trader means a higher level of risk associated with trading.
Complexity in Determining Prices
Numerous factors influence prices levels in trading currency which make it extremely difficult to determine prices.
Volatility
The highly unpredictable characteristics of the Forex market means that a trader can easily suffer immense losses over a very short period.
Risks Associated With High Leverage
For example: when the exposure is set at 50:1 and a trader wants to take a $50,000 position on the Australian dollar. Under the present regulatory framework in Australia, a dealer is mandated to hold a minimum of $1000 AUD in his/her account to support the desired position. This occurs dues to the minimum margin requirements of not less than 2%. Under the 50:1 exposure a -1% move yields a $500 loss. This example shows the risks associated with high leverage forex trading Australia and its potential to amplify the potential losses.
About Our Forex Broker Comparison Tables
Due to our analysis process being a manual one, please validate all information found here with details sourced directly from the Australia Forex trading brokers' websites. If you do notice any inconsistencies please do not hesitate to contact us. We update our tables and website frequently but of human error does occur from time to time.