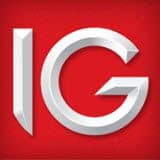 There are four IG Trading Platform options for forex trading including:
– The core web-based and app-based platform
– L2 Dealer utilising a 'forex direct' account
– ProRealTime with automated trading
– MetaTrader 4 (MT4)
Our IG trading platform review below looks at these four platforms and their associated fees to discuss which option best suits your trading style and needs.
IG Markets Core Trading Platform
The default platform for IG markets is their core platform with a 99.96% up-time. This platform has won a host of awards over the years including The Stockies Awards in a public poll two years ago.
The core forex trading platform for desktop devices is browser based with no downloads required. The platform focuses on flexibility when forex trading, with the ability to adjust windows and chart layouts to suit your needs. The desktop platform also includes free streaming Reuters news to get the latest market information live.
There are a range of features ensuring you don't need to stare at your screen all day including:
Stops & Limits so you can automatically close a position when the targeted price is reached
Tear-Off Prices, charts as well as tickets to view even after you close the main platform on your screen
Trading alerts that can be sent via text message or e-mail once a price is met
Key navigation features include a 'finder' allows forex traders to search for the assets they are focuses on as well as the ability to browse a financial products. Watch-lists can also be setup or pre-loaded focuses on areas such as past trades for easy access any-where, any-time.
The core platform also offers apps for mobile devices across android, apple and windows products. These applications won the 'best mobile and table app 2014' by Money Week.
They key feature of the IG mobile trading platform is that the design remains native across all devices that are updated periodically. They are all free to download and use a 256-bit SSL encryption allowing you to trade with confidence.  You don't even need to login to your account to see elements such as live prices, which is critical for those on-the-go.
Two key tools that can be incorporated into the core platform are:
Autochartist
This free feature for IG clients is a pattern recognition tool. When forex trading the tool monitors the market and alerts traders when opportunities exist. This can help eliminate guesswork & subjectivity when making a chart analysis not only for forex but also shares, indices and even metals. This can help remove time-consuming and complicated task of analysing charts for patterns. Visual and/or audit pattern alerts can be set allowing traders to do other tasks while this feature is active.
Trading Central
This is another free tool that is active on the web based platform. It provided technical analysis articles, charts and alerts. Traders receive independent analysis via e-mail across USA, Asian and European markets. It also provides traders information on upcoming events, broker ratings and the top performers before the markets open.
Overall Core Platform
The core-platform is ideal for those new to forex trading or those with time constraints who need easy to load platforms while they are on-the-go. The platform is free across all devices with no downloads required for the desktop version.
L2 Dealer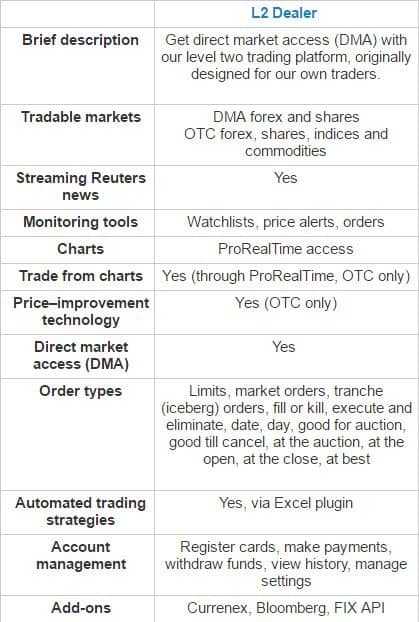 L2 Dealer is IG Trading Platform DMA (also known as a ECN forex broker platform) with direct access to forex liquidity markets with no dealer desk intervention. L2 is downloadable and created for advanced traders unlike the core trading platform with increased complexity and control.
L2 Dealer has arguably the lowest forex fees of the platforms offered by IG with heavily reduced spreads and instead flat commissions charged based on turnover. It provides institutional grade forex from twelve global large banks.The platform has smart order-routing, ensuring the best price is automatically sources from a number of trading venus.
It also has the fastest execution speeds of the IG platforms as it utilises the Equinix LD4 facility on the UK. This connects the IG server to the deepest liquidity currency pools. The platform displays order books by individual exchange or in a consolidated view across aggregated windows.
Other key benefits of L2 Dealer is that the option of automatic trading utilising their web-based API or FIX API.  The API can be used with Excel (VBA), Java, .NET, and any programming language that supports HTTP.
L2 Dealer can have data usage fees in certain circumstances but for active traders these fees are rebated making it free of charge.
ProRealTime
ProReal time is a leading web-based package that has automated trading integration. The platform has 100+ indicators inbuilt that covers volatility to prices.
The key point of differentiation is the interface which has won awards due to the customisation layout options and the ability to set and trade directly from charts. This also includes real-time tick-by-tick charting.
The tool's automation allows traders to build strategies utilisation their assisted creation tools. Traders can also code from scratch or import strategies from third parties with back-testing ability against 30+ years of historic data.
The costs of ProRealTime is $40 a month unless a trader makes four trades in a calendar month in which case a rebate for the full amount is provided by IG Markets.
The spreads for this IG trading platform are the same as IG Markets core platform with spreads starting at 0.8 for AUD/USD and a typical spread of 1.5. Margin for most currency pairings is 0.5% also know as 200:1 which is on the modest side compared to some brokers which offer 500:1 leverage.
MetaTrader 4
MetaTrader 4 is the most popular forex platform with a light package that can be downloaded for a desktop and associated apps for apple and android devices.
The popularity of MetaTrader 4 (MT4) is due to the speed of execution and no third-party bridges. The IG trading platform has tight spreads with IG markets across 70 CFDs and a virtual private server. Below shows the spreads of major pairings which are higher then forex direct.
Two extra add-ons are:
1) Trading Central
You can attach different levels & strategies to MT4 with the ability to display technical analysis for different time-frames. Commentary can be given for selected markets along with price alerts at no extra cost.
2) Autochartist
This tools provides detailed pattern recognition to find emerging trends within the currency market. Patterns such as Trend Change, Fibonacci and Breakout Strength can be activated and enhanced indicators can identify market direction and trends.
Overall, MT4 isn't a core platform of IG Markets with n ECN forex broker options provided. The tool is ideal for those already used to MT4 from a past forex broker but for those new to trading, another platform is recommended.
Leverage Offered Across The Trading Platforms
IG offer leverage on main currency pairings of 0.5% also known as 200:1. This level is lower than many other Australian forex brokers such as Pepperstone which offer 500:1.
A lower leverage offered by Saxo Capital Markets is ideal for new traders as it limits their exposure to the market. More experienced forex brokers though may require higher leverage to implement their forex strategies when forex trading. The forex trading comparison table highlights these higher leveraged brokers.
Other ways to
manage exposure to the market include:
Using a 'guaranteed stop' feature which ensures you can't lose more than the amount set on a trade (offered by IG and some other forex brokers)
Choosing a broker that offers no negative protection (Easy Markets and Plus 500)
Choosing a broker that offers 'deal cancellation' allowing a trade to be cancelled within an hour of making it
Overall, leverage enhances the risks when forex trading so make sure the level matches your risk appetite and if trading with IG, consider their guaranteed stop feature.
IG Trading Platform Review Conclusion
While there are four platforms offered by IG Markets, only two are recommended when forex trading. The first is the core trading platform for beginner traders which has cross-device platforms and a strong web-based desktop platform. The second recommended platform is L2 which is suitable for more experience traders due to it been an ECN platform. This means that there are no dealing desks, lower spreads and faster execution speeds. The remaining two platforms are only suggested for those used to the software packages or features but other forex trading brokers offer stronger features across these two options. Check out the advantages of IG Markets when compared to easyMarkets to learn more.
Note: Brokers are constantly looking to improve their services, brokers offerings and policies might have changed since this review was written. Please validate the information on the site with the IG Trading website before purchasing any products from this broker.