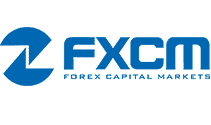 FXCM Inc. (Forex Capital Markets) offers indices, commodity and foreign exchange trading. FXCM client offering includes low spreads, no dealing desks and the choice between four forex trading platforms:
Trading station
MetaTrader 4
Ninja Trader
TradingView Pro
Background To Forex Capital Markets
Forex Capital Markets was one of the first established forex brokers worldwide in 1999. After filing for bankruptcy on December 2017, FXCM was rescued by Leucadia the former name of Jefferies Financial Group Inc. Nowadays, Leucadia Investment is the single-largest individual shareholder of FXCM. FXCM is also listed on the New York Stock Exchange, NYSE under the ticker symbol JEF. As of January 2020, Leucadia had a market capitalization of over $6.3 billion (USD). Headquartered in the New York, United States, the world's leading financial centre and with offices across 4 continents, FXCM has established a global presence so it can serve forex traders worldwide.
Our FXCM review found the broker employs over 500 people worldwide with offices in Hong Kong, New York, Paris and Dubai. Forex Capital Markets offer one of the best forex trading platforms on the market which allows traders to trade currencies, commodities and even bitcoin.
Compare Forex Brokers conducted an FXCM review revealing an Australian subsidiary "FXCM Australia Limited;" the only FXCM vehicle which Australians can trade through. The company is fully compliant under Australian law, their business details can be seen below.
FXCM Review Of Their Forex Trading Platforms
FXCM trading platforms offer Meta Trader 4 which is one the most popular platforms for trading currencies and other financial instruments. There are a web-based platform and mobile App trading platform for mobile devices which offer all the functionality required for trading on iOS or Android devices. Perhaps their best forex trading platform is their very own Trading Station. Some key advantages of the FXCM trading platforms are that you can trade with 1k micro-lots, there are one-click trading options & alerts, custom indicators and pre-loaded strategies.
Another key advantage is their no dealing desk option which was pioneered by FXCM. The no dealing trading execution removes potential conflicts between brokers and traders allowing forex traders to execute directly their trades which can help achieve the best transactions. It should be noted that this Straight Through Processing (STP) has some higher spreads than competitors so the extra fees should be weighed up against the advantages. For high volume traders, there is 'elite pricing' which is a lot lower making perhaps this forex broker more suitable for this high-end market.
FXCM Best Forex Trading Platform Demo Accounts
When opening an account a free demo option is available for 30 days. This is useful for both beginner traders or those used to another forex trading platform which may need to become familiar with the FXCM platform and terminology. Signing up for a demo trading account is also a great way to test strategies and using their historical tool benchmark your forex strategies to past movements.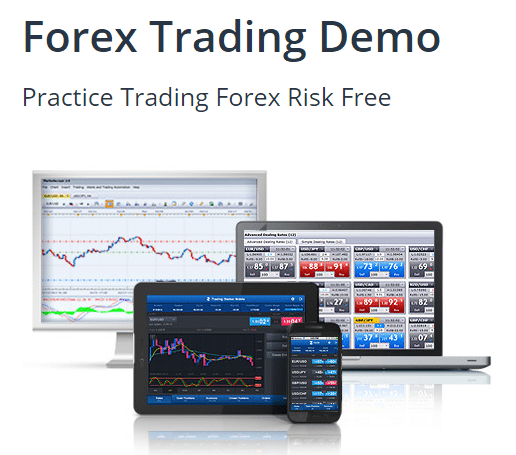 FXCM Review: Trading Partners
There are several 3rd party forex platforms that advanced forex brokers may utilise. this includes Mirror Trader which allows traders so select from a thousand hand-crafted strategies to Ninja Trader which provides unique charting, analysis and strategy options. There is also Zulu Trade which allows forex traders to copy other forex broker traders.
Currency Pairs Offered By The FXCM Trading Platform
One of the best features of the platform is that FXCM offers one of the most currency pair options of any Australian forex broker. There are 39 currency pairs including all the majors from USD, EUR through to NZD.
A really unique feature found in our Pepperstone vs FXCM review is the trading station of FXCM which for the currency pairs above provides historic forex market which can be back-tested against your current forex strategy. This can help you see how effective your current strategies may have been and what refinements you may need to make to maximise performance in the real currency trading market. Below you can review the range of markets offered by FXCM.
| | FXCM |
| --- | --- |
| Forex Currency Pairs | +39 |
| Index CFDs | 13 |
| Commodities | 9 |
| Cryptocurrencies | 5 |
| Currency Index CFDs | 3 |
| Metal | 3 |
Full Range of CFD Instruments
FXCM is truly a global broker by offering its clients access to a variety of CFD instruments. At FXCM, you can trade CFDs on commodities, indices, currency indices and cryptocurrencies. Below, our team of experts has broken down the number of CFD assets you can trade on FXCM platforms:
13 stock indices
3 currency indices (DXY, Yen index, Emerging Market Index)
5 cryptocurrencies (Bitcoin, Ethereum, Ripple, Litecoin and Cash ABC)
The only major disadvantage of FXCM is that it doesn't provide share trading. However, you can speculate on the price movement of stock indexes from 4 continents. The world's most traded stock indices from America (E-Mini Dow Future), Europe (DAX Index Future), Asia (SGX FTSE China A50 Future) and Australia (ASX SPI 200 Future). On the plus side, Australian traders can trade the AUS200 index, which is denominated in AUD $.
 Note* unfortunately, spread betting can only be done through FXCM UK.
Education Resources
As a global, long term forex trading platform that caters for both new traders and experienced individuals it's no surprise that the trading education is world-class. The videos, guides and technical write-ups (which update regularly based on trends) are excellent and are multi-award-winning.

For new traders, the on-demand video lessons are the most useful. DailyFX also offers live trading sessions each day, which is quite insightful. The daily webinars conducted by FXCM Senior Market Specialist Russell Shor can help novice traders improve their trading strategies as well as keeping up with the latest news developments.
Spreads Offered By Forex Capital Markets
Spreads are a key strength of Forex Capital Markets (FXCM) as they have a deep pool of liquidity providers. This ensures that forex trading is done directly to liquidity provides. Entry orders, limits and stops are not visible to price provides to avoid price manipulation. No extra spreads are added to the market spreads, rather commissions are the forex broker fees added. The average spreads for the AUD/USD pair can be viewed on the chart below.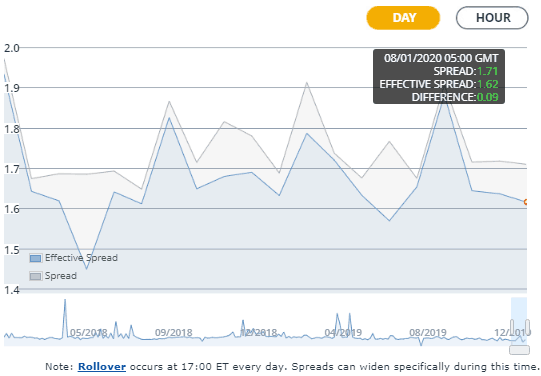 The spread conditions can be tighter on the Active Trader account. During the major trading sessions, you can experience the following types of spreads:
EUR/USD averages 0.1 pips
USD/JPY averages 0.2 pips
AUD/USD averages 0.2 pips
Forex Leverage By FXCM
Up until recently, one of the biggest disappointments advanced forex traders had with FXCM was the fact that they only offered maximum leverage of 200:1. This was significantly lower than the market leader which to this date still offers 500:1 and meant that traders need to deposit more capital to make substantial profits. However, as of the start of 2019, FXCM now boasts leverage of 400:1 if you deposit less the $20,000 equity. This is still just shy of the 500:1 offered by brokers including IC Markets & Pepperstone but it shows how the company is dynamic and can respond to the needs and wants of its clientele. It is, however, worth noting that if you deposit greater than $20,000 leverage is restricted to 100:1 which can help ensure you don't significantly lose money should currency movements be unfavourable.
Trading Instruments – Contracts for Difference (CFDs)
Trading with FXCM is not restricted to Forex. CFDs trading is available to include Indices such as ASX200, SPX500 and NAS500. Commodities such as Oil (US OIL, UK OIL), Soybeans, Wheat, Natural Gas and Corn.  Metals such as Gold, Silver and Copper and lastly Bitcoin Cryptocurrency.
FXCM Reviews By Customers
There are mixed FXCM reviews by the most popular review websites. Below, for example, shows Trust Pilot's reviews in April 2019 which averaged 5.4/10 from 10 reviews. Compare this to Pepperstone which received 8.6/10 from 193 reviews and IC Markets which has 9.0 from 246 reviews.
Other FXCM reviews sites such as Facebook has a better score of 4.2/5 from 71 reviews. These FXCM as mentioned above are mixed depending on the products traded and the markets the reviews come from.
Regulation and Licenses
FXCM abides by the financial standards imposed by the local financial regulatory body the Australian Securities and Investments Commission (ASIC). FXCM brands itself as being an ASIC regulated leading CFD and forex broker operating under the AFS license number 309763.
Judging by the number of top-tier regulatory authorities that supervises its financial activities, FXCM is a safe broker. In terms of regulatory oversight, we can name the following regulatory bodies:
FXCM UK regulated by the Financial Conduct Authority (FCA) in the United Kingdom
FXCM US regulated by the Commodity Futures Trading Commission (CFTC)
Financial Sector Conduct Authority (FSCA) in South Africa
FXCM Group is also regulated in France
FXCM Australia Pty. Limited offers segregate accounts for Australian traders, which is in accordance with ASIC's norms. FXCM Australia's client funds are held by the world's largest credit card issuer, Citibank. In case of an unwanted FXCM insolvency, Australian client money will be safe.
FXCM Account Types
Forex traders have the options to choose from a commission-free account, lower spread account as well as FXCM accounts dedicated for professional traders. In total four account types come with their individual advantages and disadvantages:
Retail Traders Account
Active Trader Account
Professional Forex Account
Islamic Forex Trading Account
FXCM Retail Traders Account
The Retail Traders Account works on a spread-only model that is similar to what other forex brokerage firm offer. This account welcomes all types of trading strategies. This is FXCM's standard account that comes with the following average spreads for the major currency pairs:
EUR/USD of 1.3 pips*
GBP/USD of 1.8 pips *
And AUD/USD of 0.8 pips**
Note* the average spreads are derived from July 1, 2019, to September 30, 2019.
Note**this is a promotional offer only available for the standard accounts until 23:59 AEDT on January 31, 2020
All FXCM live accounts can access the forex market in real-time through the powerful proprietary platform developed by FXCM experts the Trading Station platform. Additionally to the FXCM Trading Station, forex traders can also use the MetaTrader 4 platform that allows even scalping EAs. The minimum deposit requirement for the standard account is set very low at $50.
FXCM Active Trader Account
The Active Trader account, as the name suggests, is dedicated to those high-volume traders. Unlike the standard account, this account type is based on a commission type model. FXCM commissions are determined by two factors:
The minimum deposit
The average monthly volume
FXCM Active Trader account is superior because the trading costs can be reduced on average by 60% compared to the standard account. FXCM commission per one standard lot is $6 round-turn ($5 round-turn for monthly volume over $150 million). Ultimately, the commissions you pay are contingent not just on the average monthly volume, but also on the initial deposit. The table below outlines the pricing structure of the Active Trader account.
In conclusion, the more volume you generate the deeper the discounts are.
FXCM Professional Account
To be eligible for a Professional account, FXCM clients must satisfy two of the following 3 criteria:
Executing on average at least 10 transactions per quarter over the previous 4 quarters
Has a portfolio exceeding $500,000
Has worked one year in the financial sector
Professional and institutional clients can benefit from customized pricing structure, increased speed, and ECN direct market access, are just a few of the FXCM advantages.
FXCM Islamic Trading Account
FXCM also offers an interest-free account that caters for Muslim traders that can't earn or pay the interest due to the Sharia Law. The Islamic forex account offered by FXCM adds an extra cost to the spread or the commission charged. Muslim traders can enjoy the swap-free trading conditions, FXCM markup the spread to offset the rollover fee.
FXCM AU Funding Methods
Australian traders have several methods for depositing and withdrawing funds from their FXCM accounts. FXCM supports the most popular payment options including:
Debit card and credit card (FXCM accepts Visa, MasterCard, and Discover)
Bank transfers
Electronic wallets (Skrill, Neteller, Klarna and Rapid Transfer)
In total, at FXCM AU, forex accounts can be funded using 6 different types of payment options. Our FXCM review process didn't find any relevant information to suggest that the FXCM charges deposit and withdrawal fees. It appears that even bank wire transfers from your bank account are free of charge.
FXCM AU only supports two base currencies AUD and USD. By comparison, Pepperstone supports 10 funding currency (USD, EUR, GBP, JPY, AUD, CAD, CHF, HKD, SGD, and NZD).
FXCM Price Improving Technology
Fast order execution is paramount in today's financial markets, which are predominated by the high-frequency algorithms. Due to its deep network of liquidity providers that includes the most notorious brand names (Barclays Bank, Citadel Securities, Citibank, Deutsche Bank AG, Barclays), FXCM offers a trading environment with no re-quotes, no slippage and average execution speed of 0.016 milliseconds.
The deep pool of liquidity providers coupled with FXCM's Price Engine technology allows forex traders to get the best possible trading experience. Since FXCM is a market maker, traders should keep in mind that the broker is the counterparty to all your trades. In some cases, FXCM may hedge your trades on the interbank market.
FXCM Positive Slippage
According to the data found on FXCM.com, a disproportionate majority of orders benefited from positive slippage. According to the latest statistics (November 2019), 89% of trades experienced no slippage or positive slippage. The full slippage statistics can be reviewed below.
In addition to the access to the deep pool of liquidity and speed, FXCM has advanced order types that allow for better quotes than the ones found on the interbank market. When trading Forex the type of order you use can impact your overall execution experience. Our FXCM review revealed that 94.84% of the time, FXCM prices are equal or better than what you can get on the interbank market.
FXCM Customer Support
FXCM clients have at their disposal multiple channels of communications. Customers can contact the support service around the clock 24/5 by using one of the below-listed methods of communication:
Live chat
Phone support
Email support
SMS message support (send text message: +61 488 826 429)
Trading Desk (for order execution-related matters)
With over 20+ languages supported, the FXCM support team can offer a superior customer experience. For two consecutive years (2017 and 2018) FXCM customer support service has been awarded for its excellence.
Final Summary
The FXCM review above highlights a lot of key advantages when choosing the company's best forex trading platform. Some of these features include no dealing desk, fast execution, 39 currency pairs to trade as well as an ECN for accurate pricing which all help give you a good trading experience.
Australian forex traders have a large choice when it comes to selecting a broker. However, it is made quite clear in our Compare Forex Brokers review of FXCM that some companies stand above others. FXCM, without doubt, offers one of the best forex trading platforms in the market with only Pepperstone outdoing them. If you are after fast execution, low spreads and no-nonsense, FXCM Australia is the broker for you.
About Forex Broker Comparison
Compare Forex Brokers has made a range of forex broker comparison tables for different Australian forex traders based on their requirements from low fees, high leverage to the best forex broker platform. We created this website to make selecting the right broker easier for traders. Traders can now spend less time researching providers and more time practising their trading techniques and strategies. Another important step in becoming a seasoned trader is familiarising oneself with a broker like FXCM's trading platform. Traders that use CFB often have more time to play around with demo accounts and getting used to the speed of the market, ultimately making them better traders.