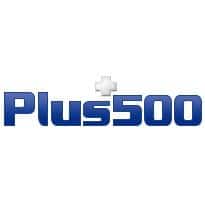 The Plus 500 Trading platform benefits are:
Top in house platform with great easy to use, user interface
50 currency pairs available for trading
Up to $10,000 trading credit on first deposit
Lots of tradable currency pairs on offer
Little cash required to open a trading account
Mac & Windows compatible
Plus500AU Pty Ltd, ACN 153 301 681, AFSL # 417727, issued by the Australian Securities and Investments
Commission is authorized to issue these products to Australian residents. Derivatives issuer licence in New Zealand, FSP #. 486026 authorises us to issue these products to New Zealand residents. Plus500AU Pty Ltd, is also an authorized Financial Services Provider in South Africa, FSP 47546. You do not own or have any rights to the underlying assets. Please consider the Disclosure documents available on Plus500's official websites.
Criticisms of Plus 500 Trading Platform are:
Slow execution speeds.
Does not support MetaTrader
Incorporates a dealing desk
Does not offer an ECN
Spread from 2 Pips which is quite high
One of the biggest decisions traders need to make is to choose the best forex platform for their needs; one that can help set them on the path to trading success. However, no trader wants to be the victim of a notorious Forex industry scam. With the number of Forex brokers on the rise, traders need to be even more careful. Safety and security is more important than ever. In our Compare Forex Brokers Plus500 Review, we placed Plus500 fourth out of five top brokers. The company offers one of the best Forex trading platforms for beginners.
Plus 500 Review: Company History
The CFDs provider was established in 2008 and has gone on to be regarded as one of the best in the business with over 6 years experience. It has carved a niche for itself with its unrivalled service, taking the market by storm. It is by far the largest CFDs provider operating in Europe.
Upon Plus500 review, one is immediately made aware of their UK origins. Further, not only does the company offer currency trading but also other financial instruments such as CFDs and Exchange Traded Funds. Since its inception the CFDs provider has served more than 1 million satisfied clients across the globe. At present Plus 500's best trading platforms are not offered in the United States due to regulatory restrictions. Plus500 is listed on the London Stock Exchange.
Plus 500's Best Forex Trading Platform
Although the CFDs provider is extremely popular in Asia and Europe, Plus 500 is different from other Forex brokers  such as Pepperstone, EasyMarkets and IC Markets because it provides a single online trading platform for ALL customers. It offers an in-house trading platform that is developed by experts in the industry. It comes in 3 different versions including a mobile trader, a web-based platform and as a downloadable package. Users can select the one they believe is the best forex trading platform for them.

Comparison of Plus 500 with Other Brokers
Different Forex brokers offer different leverage ratios. In our Compare Forex Brokers Plus 500 review, we found that their 300:1 leverage is in line with that of Easy Forex's and FXCM's. Other better-ranked brokers such as Pepperstone and ThinkForex provide 500:1 leverage options.


We didn't rank Plus500 that highly in our best forex trading platform category due to them not offering MetaTrader 4 which has almost become industry standard. Furthermore, upon Plus500 review we deemed their execution speeds to be quite slow due to the involvement of a dealing desk. If not for Pepperstone and FXCM offering an Electronic Communications Network (ECN) Plus500 would have placed higher.
Plus 500 Review of Trading Account
In terms of the philosophy behind their best Forex trading platform, Plus500 does not offer a myriad of trading accounts to its customers. The CFDs provider provides a single account type believing all traders' needs are satisfied within that one account. A minimum deposit of $100 is required before customers can start trading. The best thing about the trading account is that it offers a demo account with unlimited expiry time. It is rare to find a broker who provides unlimited access to their demo account.
The Financial Products That Can Be Traded With The CFD Provider
a) Indices & EFTs
The most popular indices globally can be traded through Plus 500 including the:
ASX 200
Germany 30
Japan 225
UK 100
USA 500
Up to 300:1 leverage is offered on these indices CFD trading with trades starting with $100 capital. Over 20 indices can be traded with the forex broker.
b) Commodities
Highly traded commodities across the global can be traded through CFDs including:
Oil & Gas
Gold & Silver
Coffee
Like indices trading, leverage if 300:1 allowing greater exposure to the market based on the initial capital provided. With commodity CFD trading and other products, Plus 500 offers negative balance protection. This means you can't lose more than your deposit on any trade.
c)  Cryptocurrency
This CFD products have higher movements meaning the 30:1 leverage can lead to high profits or losses across:
Features within the forex broker trading platform such as alerts and stop loss orders are critical in such quick moving markets that cryptocurrencies produce.
d) Shares & Options
The most popular shares not only in Australia but globally can be traded as a CFD product such as:
Leverage is 1:20 for shares and 1:5 for options due to the extreme movements that can occur after an announcement.
Payment Methods and Customer Service
One can make deposits or withdrawals through standard payment service providers like Visa or MasterCard debit/credit cards (there may be further limitations depending on your region), PayPal, Skrill and direct bank to bank funds transfer. Payments can be made easily and the time frame for processing a withdrawal request is normally 1-3 business days, in order to allow us to complete various security checks before initiating payment. The time frame for receipt of the payment, is dependent upon the payment method and processing time of the third party remitter.
As far as customer service is concerned, it is rated one of the best in the industry with a minimum response time of less than 30 minutes. One can contact the customer care executives via telephone only at present. However, the CFDs provider is striving hard to incorporate live chat and email as a part of its customer service and quest to offer one of the best forex trading platforms around.
Industry Regulation
Plus500 are regulated by the following regulation boards
Australian Securities and Investment Commission (ASIC)
United Kingdom Financial Conduct Authority (FCA)
PLus500 also hold the following licences
Capital Markets Services Licence from Monetary Authority of Singapore
Derivatives Issuer Licence from New Zeland Financial Markets Authority
Being under these boards helps ensure the brokers operate with financial integrity at all times and ensure your funds are protected when forex or CFD trading.
Where We Believe Plus500 Can Improve
An earlier version of our Australian best Forex trading platform comparison had Plus500 higher up the list than 4th. However, when we revisited the area of trading platforms on January 10th 2019 we found some new, superior players in the space. This is not to say Plus500 are a bad option. On the contrary, we've deemed them an excellent CFDs provider for traders with relevant experiences but due to them not supporting MetaTrader we had to relegate them to fourth. Should the company at some point start offering MT4 or 5 instead of their proprietary software we'd be happy to promote them.
Summary of Plus500
The truth is Plus500 do a lot right. They offer 50 currency pairs for trading which is towards the higher end.
If you're wanting a simple, no nonsense CFDs provider with easy to use trading platform, Plus500 is an excellent provider and well reviewed by consumers worldwide. Their customer service is second to none with competent staff manning emails even live chat in several languages (we often asked their support staff questions this way). Even though they don't offer more common trading platforms such as MetaTrader 4 which is available in most forex brokers including IG Markets, their privately designed platform if highly functional, effective and one of the best for trading on mobile that we've seen.