1) Pepperstone
Pepperstone is an Australian CFD provider that was founded in Melbourne, 2010
What makes Pepperstone so good?
Pepperstone aims to provide solution traders experience with online trading when it comes to delays in trading execution, excessive wide spreads and poor customer support.
How does Pepperstone achieve these features?
Best in class technology for low latency. 10 optical fibre connection directly you to servers at Equinix data centres near New York and UK trading exchanges.
No dealing desk trading for low-cost spreads. This is done through Electronic Communication Networks (ECN), aggregating one of the largest collections tier-1 banks for best spreads and endless market depth through wide source of dark pools for liquidity.
Award-winning customer service (Investment trends). The customer service team are traders themselves so can relate to your trading issues.
Key Features
Choose from the most popular trading platforms for brokers and trader including MetaTrader 4 (MT4) , MetaTrader 5 and cTrader on a wide range of operating systems such as Windows, Mac, Ios and Android operating systems.
Best in industry leverage of 500:1
Specialise in FX trading.
Narrowest spreads using No dealing desk and Electronic Communication Network (ECN) trading
Low slippage through superior trading execution speeds.  Edge infrastructure including fibre optic cables and Equinix servers means blazing-fast execution.
Commission and Commission free accounts to fit your trading needs
Award-winning Customer service from the support team that consists of experienced traders
Huge choice of funding methods with no fees
Choice of 6 difference social trading tools (ZuluTrade, DupliTrade, MetaTrader4 Signals, RoboX, MyFxBook)
Who is Pepperstone for?
We consider Pepperstone to be one of the best CFD brokers. We recommend the broker for intermediate to expert forex traders who desire super-fast execution with ECN online trading for low spreads.
2) easyMarkets
Established in 2001, easyMarkets are based in Cyprus with local offices in Sydney, Australia.
Whats makes easyMarkets so good?
easyMarkets business philosophy is to be Simple, Honest and Transparent when it comes to CFD trading. These are great values traders should look for when choosing a broker as it means you can trade with confidence.
What makes easyMarkets so distinctive in the online brokerage industry is that they aim to reduce your level of risk when investing. easyMarkets include a number of 'inclusive' risk management tools other brokers either charge a premium for or (in most cases) don't offer.
How does easyMarkets achieve these features?
Simple or painless trading by designing their platform to be super easy to use.
Open or transparency by being open about easyMarkets being a market maker. Being a market maker means easyMarkets are able to continue trading and honour their quotes regardless of extreme market volatility.
Honesty about their costs. easyMarkets never adjust trading conditions or quotes even when there is extreme price movement. This means their fixed spreads will remain fixed and no slippage will remain guaranteed.
'easyTrade' that since launching 2018 allows trading with high leverage, no margin requirements and featuring $0 spreads with the ability to choose the maximum risk and duration of the trade.
dealCancellation that when activated gives traders a 1 hour period to cancel their order when price direction moves against a trader with only a small fee based on the volatility of the market.
Key Features:
Free risk management tools backed by guarantees. Guaranteed stop loss (GSLO) and guaranteed negative balance protection to help protect your investments.
Innovative tools to further protect your investments. These include Deal Cancellation that allows you to cancel within 60 minutes if the price movement is unfavourable, freeze rate and inside viewer that gives greater insight into market sentiment.
Cost transparency through fixed spreads and no commissions
Choice of easyMarkets platform or MetaTrader 4 (MT4) which are available on iOS and Android Mobile and Win and Mac platforms
200+ markets including the option to buy and sell cryptocurrencies
Large range of account funding options all which have no fees
Who do we recommend easyMarkets for?
We are big fans of easyMarkets because they offer the best risk management tools of all brokers. Most of these tools are inclusive in your spreads which adds to their appeal. If you are new to trading, a risk-averse trader or trading in a very volatile market then easyMarkets can help you manage your trading risks.
3) AxiTrader
Is an Australian CFD trading broker that commenced in Sydney in 2007
What makes AxiTrader so good?
AxiTrader was founded by traders. therefore they understand exactly what you will want to experience as a trader. In particular, AxiTrader believes these features to be 24-hour customer service, tight spreads and speedy execution with only minimal slippage or as AxiTrader phrase it "integrity, service, execution".
How does AxiTrader achieve these features?
Tight spreads and liquidity by sourcing and pooling from multiple destinations in Forex Market. These include top tier banks and smaller banks and brokerages.
Speedy execution by using servers hosted by Equinix at their NY4 Data Center which is near New York MetaTrader centre.
24-hour Customer service throughout the working week commencing 10 pm Sunday and dedicated account manager to help you their trading processes.
Recognised as award-winning in Customer Service and trustworthiness by AtozForex.com, Investment Trends and UK Forex Awards.
Key Features
MetaTrader 4(MT4) trading platform specialist. AxiTrader only offers one platform, this means they can put all their energies into helping you get the best out of the platform.
NexGen adds on for MetaTrader 4. AxiTrader offer complimentary advanced trading management tools through the MT4 platform.
MetaTrader expert advisors, scalping and hedging
MetaTrader 4 Trading signals so you can copy from all the best traders throughout the trading world.
MetaTrader 4 Multi Account Manager – if you have more than one trading account then you can manage them all from the one trade terminal.
Free access PsyQuation Premium. This is one of the most advanced data analytics platforms on the market. This program is like a personal trading coach. It works by using algorithms to analyse your trading style and help you improve your trading skills. With this tool, you also get more comprehensive indicators, trade signals, and forecasting.
Choice of commission account (Pro Account) and non-commission (Standard Account)
No fees for deposits and withdrawals.

Who do we recommend AxiTrader for
If you are looking for a broker to help you get the most out of the MetaTrader 4 platform then AxiTrader makes a great choice. With MT4 you get a wealth of features than can enhance your trading experience.
4) GO Markets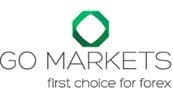 Go Markets was founded in Sydney in 2006 as a provider of online CFD trading services. It has the distinction of being the first broker in Australia to offer MetaTrader 4.
What makes Go Markets so good?
Go Markets are always striving to provide the best possible trading experience to their clients by proving customer service that is reliable, prices that are transparent, trading execution with low latency and stable platforms.
How does Go Markets achieve this?
Friendly customer support that is available 24/5. Customer service teams can help with MetaTrader support, general customer support, funding your accounts and opening accounts. Toll-free contact is available along with multilingual support.
Low latency execution through trading servers based in London
Transparency through a commission-based pricing structure. The commission is AUD$3 is less than the standard $3.50.
Choice of MetaTrader 4 and 5 trading CFD trading platforms. These platforms are the most popular platform throughout the world by both broker and traders and are known for their stability and reliability.
Key features
Choice of MetaTrader 4 and MetaTrader 5 trading platforms
MetaTrader 4 Genesis for professional-level trading tools
$200 initial deposit for a standard account with no commission
$500 minimum deposit for "GO Pro" account with industry low commission
Expert Traders and smart tools such as Autochartist and Trading central for better trading.
100:1 leverage default and maximum 500:1 leverage possible
Why we recommend GO Markets
This broker is a great option if using the GO Markets PLUS account. Go Markets have the lowest commission of all brokers and also offer great spreads.

5) Plus500
Plus500 was founded in 2008 and is an Australian based company with its main offices in Sydney.
What makes Plus500 so good?
Plus500 commenced trading with its own custom made trading platform from the very start.  The Plus500 platform is a well-respected platform that enables traders to trade on movements on a wide range of CFDs.
How do Plus500 achieve this?
Innovation: The Plus500 trading platform has features that are not available in MetaTrader such as Guaranteed Stop Loss Orders.
High ratings: The Plus500 trading platform is a highly rated CFD trading platform on Google Play and Apple App Store.
A leader in mobile innovation: the platform is one of the best for mobiles and tablets.
The platform offers a wide range of CFDs such as shares, ETFs, options, indices and commodities and cryptocurrencies
Key Features
Their own trading platform
Good range of risk management tools including Guaranteed Stop, Trailing Stops and Close at Profit or Loss.
Real-time alerts with email, SMS or push notifications. These can be price alerts, price change alerts and traders sentiments alerts.
Leverage of 300:1
Why we recommend Plus500 Markets
Plus500's strength is its unique forex trading platform. If you need a platform that works really well on mobile, tablets or small screens then PLUS500 have a great product for you.
6) IC Markets
IC Markets was founded in 2007 which its headquarters in Sydney.
IC Markets offer what they call 'True ECN' trading for all of its account. What this means is you have access to the lowest spreads, fastest trading execution and trading technology for all account types IC Markets offer.
How do IC Markets achieve this?
Tight Spreads: IC Markets offer Electronic Communication Network (ECN) which means orders are filled at market conditions directly through the liquidity pool, there are none of the requotes one has with dealing desks.
ECN style pricing for all accounts: Whether you choose a commission or non-commission account you will have access to ECN style pricing.
Tight Spreads through deep liquidity: IC offer up to 50 different liquidity providers which are made up of tier-1 banks and non-banks such as dark pools. Depth of market means more volume and therefore more aggressive pricing.
Best trading quality: IC Markets trading technology will find the best price through its liquidity providers regardless of the number of LOTs you trade.
Low Latency: IC Markets offer average execution speed of under 40ms which means low risk of slippage.
Trust and Transparent: IC True ECN means no dealing desk, no price manipulations and no restrictions.
Key features:
ECN pricing for all accounts
Choice of the most popular trading platforms on the market. MT4, MT5 and cTrader.
Advanced trading tools for MT4 such as one-click trading, spread monitor and advanced order types.
Customer Service team with experience in forex industry which means they can help you with all your trading needs 24/5.
Expert Traders, scalping, hedging are all available.
Flexible Leverage of  up to 500:1
Good range of CFDs to trade with.
Why you should choose IC Markets
We consider IC Markets on the best forex brokers. We recommend the broker to intermediate and advanced traders who want access to ECN style trading which means low spreads with fast execution for low spreads.
7) ThinkMarkets
This broker has headquarters in Melbourne and London It was founded in 2010.
What makes ThinkMarkets so good?
ThinkMarkets goal is to provide quick and easy access to a wide range of markets through their own in-house platform.  With this access, they promise tight spreads, fast order execution and great customer service.
How does ThinkMarkets achieve this?
Low pricing through Electronic Communication Network trading
Fast order execution through Equinix data centres
Free of charge dedicated account manager for great customer service
Multi-lingual customer support available
Great customer service includes its FX university which consists of training guides, videos and webinars.
Key Features
Choice of commission and no commission account
MetaTrader 4 or their own in-house platform Trade Interceptor
24/6 Customer support
EAs (Automated trading), scalping and hedging
Leverage of 500:1 for forex and 200:1 for CFDs
No fees for deposits and withdrawals
Social trading with MyFXBook

Why we recommend ThinkMarkets
ThinkMarkets are great when it comes to customer services. They offer support 6 days a week while most of our broker reviews on this page only offer customer support  5 days a week. In addition to this, they have good education tools and technical analysis tools.
8) IG Markets
IG Markets is one of the oldest broking companies (1974) in the Online broking industry. It is based in the UK.
What makes IG Markets so good?
IG Markets specialise in helping you trade across different asset classes. They are particularly known for forex and stock trading. Their objective is to help clients trade CFDs with leverage.  IG offers good spreads for a market maker with their CFD accounts and likes to give their client choices when trading.
How does IG achieve this?
Huge range of markets to trade: IG allow you to choose from over 16,000 markets.
Choice of unique CFDs to trade: In addition to the usual CFDs, the client can choose interest rates, options, ETFs and ETPs, IPOs and bonds.
Choice of 6 different trading platforms: You can choose the platform that fits your trading needs.
Low market maker prices by matching their prices to top global banks and exchanges. There is no dealing desk or requoting.
Option of low prices with Direct Market Access or DMA. With DMA, you have transparency in your trading as you can see prices of other orders on the market. The visibility means you can place your own order as you know the true market price.
Extensive tools for customer service: IG have a forum which allows the IG community to help each other out when help is needed.
Key Features
Competitive market prices
IG  promise not to fill your order worse than what your request (it may still be rejected). Tools like partial fills and points through current can help you your orders when limited liquidity is available.
Risk management features available such as guaranteed stops and limited risk accounts.
Choose from their own platforms (L2 Dealer, ProRealTime, MT4, IG Platforms).
Good trading education tools including an app for mobile (IG Academy)
Why we recommend IG
IG has one of the largest portfolios of all CFD traders. If you are looking for an all in one broker that has no commissions and risk management tools available then IG might be the broker for you.
9) FP Markets
First Prudential Markets or FP markets is an Australian based investment broker with offices in Sydney. It was listed on the Australian Securities Exchange in 2007.
What makes FP Markets so good?
FP Markets claim they can give you "The Ultimate Trading Experience".  FP Markets goal is to be a full-service broker which means you can trade a full suite of trading derivatives on the global market. The broker was the first in the world to have exchange-traded Contracts for Difference product in its listing (ASX CFDs).
Not only do FP Markets offer a full suite of products they are also consistently good in all other features a trader should look for when trading such as price, speed, product range, customer support and market analysis.
How do FP Markets achieve this?
Full suite product range to 10,000+ financial instruments including Equities, Indices, Commodities, Bitcoin and Futures.
Low cost with Direct Market Access or DMA and ECN style spreads.
Fast trading speeds through data centres in London (LD5) and New York (NY4) and fibre optics.
Award-Winning Customer Service with Investment Trends including a personal account manager.
Market Analysis through daily market reports, research libraries and economic calendars.
Key features
Choice of platforms: MT4, MT5 and IRESS
FP Markets own custom trading Platform IRESS which offers:

Transparent pricing through DMA.
Custom trading alerts and news.
Advanced charting.
 Complex order types

Trading on International Markets
Range of markets such as 50+ currency pairs
Leverage of 500:1
low starting deposit of $100 to start trading
Why we recommend FP
If your looking for a broker that allows you to trade on international markets across a range of CFDs then FP might be a good broker for you. The broker does everything consistently well without being the best in anyone.
10) CMC Markets
CMC Markets are a UK online broker that was founded in 1989. It has an office in Sydney.
What makes CMC Markets so good?
CMC Markets goal is to provide you with the ultimate trading experience.  The broker achieves this a number of ways such as by offering value for money with its prices and services, its own intuitive trading platform and wide range of trading opportunities.
CMC is known as share traders or stock traders but offers other asset classes also making it a great CFD trading account. With CMC you can access a huge range of ASX stocks and international stocks, in addition, your ability to trade CFDs of other types.
How does CMC achieve this?
Competitive pricing as a market maker through 100% automatic execution and no dealing desk.
Their own award-winning platform which includes its own native apps, professional charting and trading tools.
Guaranteed stop-loss orders to protect your losses for high-risk trades.
Trading opportunities with access to over 10,000 CFD markets. Making them one of the best CFD brokers.
Key features
A leader in CFD trading: these include share trading such as ASX stocks and contract for difference such as index CFDs.
The market-leading margin of 0.20%
Has its own trading platform that is built to meet the needs of its clients.
Offers MetaTrader 4
No commissions in spreads.
Guaranteed Stops for risk management
Who we recommend CMC
CMC are great brokers if you're looking a CFD trader that offer a large range of CFDs. CMC is a great broker if your into stock exchange trading.
To learn more about CFDs view out 'what is' CFD guide.
The 'Top 10' CFD Brokers List
CFD Broker
CFD Trading Platform
Leverage
CFD Instruments
Pepperstone
MT4, MT5, cTrader
500:1
Forex, Index CFDs, Share CFDs, Commodities, Crypto
easyMarkets
Web Platform, Vanilla Options Platform, MT4
200:1
CFDs on forex, forwards, crypto, indices, commodities, shares, metals and options
AxiTrader
MT4
500:1
Forex, Commodities, Equity CFDs, Bitcoin CFDs
GO Markets
MT4, MT5
100:1
Forex, Share CFDs, Indices, Metals, Commodities
Plus500
Plus500 Platform
300:1
Forex, Index CFDs, Share CFDs, Commodities, Crypto, EFTs
IC Markets
MT4, MT5, cTrader
500:1
Forex, Index CFDs, Share CFDs, Commodities, Crypto, Bonds, Futures
ThinkMarkets
MT4, MT5
500:1
Forex, Metals, Share CFDs, Indices, Commodities
IG Markets
IG, MT4, L2 Dealer
200:1
Forex, Index CFDs, Share CFDs, Commodities, Crypto, EFTs
FP Markets
MT4, MT5, IRESS
500:1
Forex, Equities, Commodities,
Indices
CMC Markets
CMC Platform
500:1
Forex, Index CFDs, Share CFDs, Commodities, Crypto, Treasuries