'Top 5' EasyMarkets Strengths
Our easyMarkets review updated in June 2019 found the provider was the best beginner forex forex based on five key strengths:
Fees + Commissions
| | easyMarkets |
| --- | --- |
| EUR/USD Average Spread (VIP) | 1.80 |
| EasyMarkets Commission | $0 |
| Minimum Deposit (Standard) | $200 |
| Maximum Leverage | 400:1 |
| Active Trader Super VIP | Yes |
1) DealCancellation – Cancel Trades Within 60 Minutes
Deal Cancellation (termed DealCancellation) is a feature unique only offered by EasyMarkets.
The feature allows trader to cancel a trade within 60 minutes to avoid trading losses.
The feature is only available on the EasyMarkets platform and on selected trades. Traders can see if they are eligible in the platform as the dealCancellation feature slider (shown below) will be shown.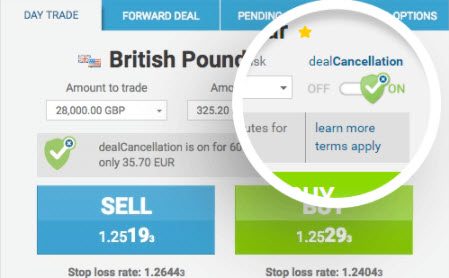 When activated the charge for this feature will be shown and the overall trade details. Once a trade is made a countdown clock shows how much time is left for the trade to be cancelled without realising a loss using this feature. If a stop-loss is also reached within 60 minutes and dealCancellation is active no trading loss will be realised.
Overall the DealCancellation is:
Opt for dealCancellation on a trade
Cancel the trade within 60 minutes if it's making a loss
Have your original funds returned minus fees
The feature is perfect for those new to forex trading, those who like to trade during turbulent periods (eg rate decisions) or those looking to manage the risks of currency trading.
2) Standard Risk Management Tools
EasyMarkets are the only forex broker to offer two risk management tools as standard.
i) Guaranteed Stops
When forex trading a 'safety mechanism' is guaranteed stops and they are recommended to those new to forex. This was a key reason that during our EasyMarkets review vs Plus500, the broker was recommended to new & intermediate traders.
A guaranteed stop means that you can set the maximum amount you are willing to lose in a single trade. This provides a 'safety net' in extreme situations when currency movements can be dramatic. While all brokers offer 'stop-loss' orders, most are not guaranteed. This means that in volatile markets you may execute a trade based on a stop-loss amount but the actual amount lose is higher. This is termed 'slippage'.
As leverage exposes all traders to high risk when forex trading in Australia a 'guaranteed stop' at least provides peace of mind that you know the maximum you will lose on a trade. Easy Forex (now EasyMarkets broker) is of the few forex brokers offering this feature.
ii) Negative Balance Protection
EasyMarkets broker (formally Easy Forex) ensures forex traders don't lose more than their deposit through their negative balance protection. This works by trading out traders when they get close to reaching a zero balance (no deposit). If in extreme events, this can't occur, the forex broker will incur any additional losses. This provides peace of mind as there are stories of high volatile events leading traders to lose more than their deposit from forex brokers that don't offer negative balance protection.
3) The Fees And Spreads Charged By EasyMarkets
Easy Markets charges no commissions on any trades.
It also offers fixed spreads unlike most Australian forex brokers as shown below.
The actual fixed spreads charged is based on the type of account chosen which is determined by the deposit:
$200 Deposit = Standard Account
$3,000 Deposit = Premium
$10,000 Deposit = VIP
$50,000 Deposit = Super VIP
The account type also impacts minimum trade sizes. All accounts have no fees for account deposits and withdrawals. The Easy Markets minimum deposit is $100 after the initial deposit is made that matches the account minimum.
What does fixed spreads mean?
Spreads are the difference between a buy and sell rate on any trade. It's similar to the situation at the airport when you try to exchange your currency and there is one rate they will buy the currency off you and another rate they will sell it to you. The difference between these rates are one of the ways that when forex trading in Australia the brokers make money.
Fixed spreads means that you will always know what the difference is between the buy and sell rate for currency pairings (eg AUD/USD). The provides certainty that you know the fees of every transaction unlike most other brokers who's fees will vary depending on the market. Variable spreads such as offered by Pepperstone, IC Markets and AxiTrader on the other hand can be lower compared to easyMarkets are the spreads are raw. This means the spread is determined by liquidity pool withouth intervention from dealing desk. Below shows the three different accounts offered to forex traders Australia and the fixed spread starting prices depending on the currency pairing.
Payment Options
Another positive aspect found when completing the Easy Markets review was that there are no charge or any fees on withdrawal requests. Easy Markets also accommodates many payment options including most major credit cards, EFT and Skrill.
4) Customer Service And Forex Training Available With EasyMarkets
Our Easy Markets review found that customer service and training were the two key strengths of the forex broker.
When it comes to customer support, three of the four accounts offer a personal account manager. If is advised that a premium account be considered if you want a regular customer service to assist with your day-to-day forex trading.
As the table above highlighted, two of the most popular contact methods are the phone and live chat. Live chat is not offered by all the forex broker and is ideal for short questions relating to traders.
Live chat is complemented by Viber and even Facebook messenger. The key is that these communication channels including live chat are available to all forex accounts offered by EasyMarkets.
Based on this it's strongly recommended to open a premium account as it ensure you receive lower spreads and better customer service and only requires a larger minimum deposit (which you don't actually have to trade)
When it comes to online training there is a plethora of options including:
An online community
eBooks
Seminars
Articles & News
Online Simulators
5) The EasyMarkets Forex Trading Platforms

This EasyMarkets review focused on their own trading platform. EasyMarkets also offers MetaTrader 4 (the most popular forex trading platform) but features unique to this forex broker are not offered.
Only with EasyMarkets platform a trader can:
Activate dealCancellation
Avoid Slippage
Guaranteed Slippage Orders
Trade all FX and CFD products
Trade forward deals
MetaTrader 4 has some great features such as Expert Advisors (EAs) which utilise automation but if your interested in this platform than another forex broker is recommended.
Overall, EasyMarkets platform is easy to use, doesn't require a download and is ideal for new to currency trading.
Our Overall EasyMarkets Review
Easy Markets is recommended for two types of traders only:
Those new to forex trading
Those looking to reduce their trading risks
If your an advanced or expert forex trader and looking for features such as Expert Advisors (EAs) then EasyMarkets may not be suitable to your needs.
An added incentive to try EasyMarkets is their current joining bonus. This is a 20% bonus on a minimum of $100USD deposit.
It's important to claim the bonus with your 'relationship manager' when opening the account by quoting the 'first deposit' bonus as part of the registration process. The bonus is only for those who have not traded with easyMarkets (easyForex) in the past and require the trader to trade within 30 days.
What People Say About EasyMarkets
While comparing Easy Markets reviews from several trading-related websites, we found that people generally regard their Easy Markets experience as positive. The EasyMarkets review analysis found that most forex trading Australia individuals praised the adoption of fixed spreads as they are competitive and affordable. People also like the MT4 trading platform and its ease of use for new traders. Trading accounts can be set up with as little as $200 which comparatively is extremely affordable. Customers also are quite fond of the multitude of payment options and fast payouts citing very few issues or difficulties.
It's also worth pointing out that we made this Easy Markets review because like other brokers compared on this site including IG Markets, they have an AFSL. This means that deposits are segregated to a separate account, there are training standards and the requirements for external auditing. It's strongly recommended that all Forex Trading Australia be done through an Australian regulated broker to avoid Forex scams that occur internationally. Forex scams are attributed to non-regulated forex brokers
Leverage Offered By EasyMarkets
Leverage is a critical element for any forex trader, particularly experienced traders, due to small movements in currency markets over time. Based on this, leverage is critical and Easy Markets offers one of the higher levels in Australia at 400:1
It should be noted that the broker (EasyMarkets) previously offered different leverage options so it's worth closely monitoring the leverage available at any one time. Leverage will amplify any movements within currency markets which are generally modest. This means that small movements can lead to big gains or losses. Risk therefore is the central outcome of leverage so understanding your level of forex trading knowledge and risk appetite is critical when factoring in this variable.
Why Does Forex Leverage Matter?
Leverage allows Australian forex trading with a multiple of their deposit. So at the maximum 400:1 level you can trade 400x your deposit or the amount your willing to trade on a currency pairing. An example of a $1,000 deposits at 400:1 means the forex trader is effectively trading $400,000 on currency markets. If during a forex trading Australia session a pairing then moves 0.1% a profit or loss of $400 will be recorded. This may not sound significant but it's in fact 40% of the initial amount traded. This means that leverage will increase the profits of smart trading but also increases the risks and ability to lose large sums. Due to this increase in risk profile traders should understand the risks and consider risk reduction strategies that some forex brokers offer such as guaranteed stops discussed next.
Deposits And Withdrawals
EasyMarkets holds all funds in a segregated bank account 'Bankwest'. This is owned by the CBA (Commonwealth Bank of Australia) providing stability to the bank account and allowing for fast transfers.
The EasyMarkets minimum deposit varies by the account chosen. The lowest minimum amount relates to the standard account which is $200AUD. The largest minimum amount relates to the super VIP which is $50,000. The incentive to choose an account with a higher minimum deposit are lower fixed spreads and a personal account manager.
The EasyMarkets minimum withdrawal account is $50USD to bank accounts. Other withdrawal methods to eWallets or credit/debit cards have no minimum withdrawal amounts. There are no Easy Markets fees on any deposits and withdrawals although some vendors may charge their own fees which are worth investigating.
As the table on the right shows, there are a number of deposit and withdrawal methods including:
Credit Cards
Debit Cards
Online Banking
eWallets
With no fees applicable to any of these methods, the key factors of which method comes down to convenience for the forex trader and the deposit processing times that varies considerably.
Background to Easy Markets Trading Australia Comparison
This forex broker comparison for Easy Markets was updated in 2019 by a panel of Forex trading Australia experts who have considerable experience with the Forex market. The easy markets review came from this forex comparison chart focusing on low fees which factored in pips and fixed vs variable models. All the information above and on our forex broker comparison tables are based on data found on the listed broker's official website  forex scams. This information is compiled manually and if you happen to come across any type of inaccuracy or misinterpretation of information please let us know; this is likely due to human error. From time to time brokers update information such as fees and bonuses. Our forex trading Australia team aim to update these frequently so we are always relevant to users. However, it is for this reason that the information included in our comparison tables be considered for indicative purposes only.