easyMarkets Deal Cancellation Review
In 2016 easyMarkets (Formally known as Easy Forex) introduced dealcancellation.
Read about our 2021 easyMarkets dealCancellation review below.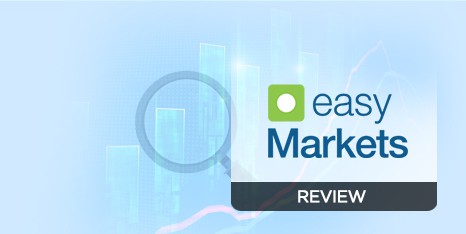 Introducing easyMarkets dealCancellation Feature
easyMarkets is a forex broker that focuses on those new forex trading or are looking to minimise their risks when currency trading.
To assist these traders several features are on offer including:
Minimum Balance Protection (so traders can't lose more than their deposit)
Guaranteed stops (to avoid slippage on trades)
Fixed spreads (to provide certainty of trading fees)
A unique feature that was added two years ago waseasyMarkets was dealCancellation (often termed deal cancellation by traders) which is explained below.
Skip ahead
What Is dealCancellation?
dealCancellation (which easyMarkets words dealCancellation) allows forex traders to undo a trade within 60 minutes of placing an order. This means that if a trade is moving in the wrong direction leading to a loss, the trader can undo the trade avoiding the loss.
The feature can't be subsequently enabled after a trade is made. The 60 minute countdown will only occur if the feature is selected when a buy or sell order based on a non-confirmed price level enter the market is triggered. At that time, the countdown clock will begin to tick.
The feature was developed by ORE which is easyMarkets platform provider. This means that the feature only works on the easyMarkets platform, not the MetaTrader 4 platform (also called the MT4 platform)that the forex broker also offers.
Markets Available With cealCancellation
easyMarkets cealCancellation is primarily designed for currency markets.
Additional markets though are available for day trading in gold, silver and oil. The trade must have the easyMarkets dealcancellation icon displayed on the trading ticket if the feature can be applied to the deal.
Key factors that may decide is dealCancellation recent market volatility and popularity of the trade. This means exotic currencies will rarely be available using this feature.

EasyMarkets dealCancellation Strengths
The easyMarkets cealCancellation review found the following five key strengths:
It provides the ability to undo a losing trade within 60 minutes
If your stop-loss is reached within the period the trade is automatically undone
It can be applied to selected currencies, gold, silver and even oil trading
It works well with easyMarkets 200:1 leverage as a 'safety-net'  (Outside Europe which is ASIC and FSA regulated and 30:1 leverage within the Europe which is CySEC regulated)
Traders don't need to use the feature on all trades
EasyMarkets dealCancellation Weaknesses
The same easyMarkets dealCancellation review found the following key weaknesses:
It is not available for traders using the MetaTrader 4 Platform
Only a limited number of currency pairings offer dealCancellation
You can't add the feature to any open trade
It leads to additional trading costs set by market volatility
It doesn't apply to Expert Advisors (EAs) – Automatic Trading
Conclusion
All traders, new and experienced alike, know the nervous physical sensation that precedes every trade especially when there is a high-risk level. Even those who have traded extensively over the long term feel this sensation. It is actually a valuable genetic survival trait. Those with many trades behind them do not experience this primal fear as intensely, but it never really goes away entirely. Having the safety net feature of easyMarkets dealCancellation has two primary benefits, but it is not meant to encourage reckless disregard for the risk of speculative trading of financial instruments of any kind.
Open a demo account >>Visit easyMarkets>>
The easyMarkets dealCancellation review wants to point out this feature not only helps traders to minimise the inherent intimidation factor of the markets, which is the primary benefit but it also, by reassuring the trader that trading is not life-threatening, assists in invoking an atmosphere where trading decisions are made from a less emotional, more objective perspective. View our detailed comparison ofeasyMarkets vs IG Markets here.
EasyMarkets dealCancellation FAQs
What Fees Are Applicable From dealCancellation
Fees are not fixed for this features and is based on market volatility level in effect at recent times around the trade involved. This fee is variable and is clearly shown when the command to "close" a trade is chosen. From there, it is a simple matter of comparing the fee to the potential loss from the losing trade. If the fee is higher than the loss, traders can let the trade continue if they choose.
What Are The Required Trade Size?
There are minimum trade sizes easyMarkets trading, but they are independent and apply to trades regardless of whether or not the trade cancellation feature is enabled. The key things for traders to determine in using the deal cancellation feature is to analyse market volatility at the time of the trade and understand what is the typical price movement over the course of an hour for the instrument being traded, and then structure the trade size accordingly. Our easyMarkets dealCancellation review wants to point out that account size must be considered first with regard to a traders' acceptable level of risk. Simple math is all that is required for this purpose.

Are There Fees When A Position is Closed For Profit?
No. That would defeat the purpose. The feature is a safety measure in addition to any stop loss orders that are put in place to limit the total exposure of the trade. Profitable traders make more trades, so it would be counterproductive to charge them anything beyond the normal brokerage spread fees applied to every trade.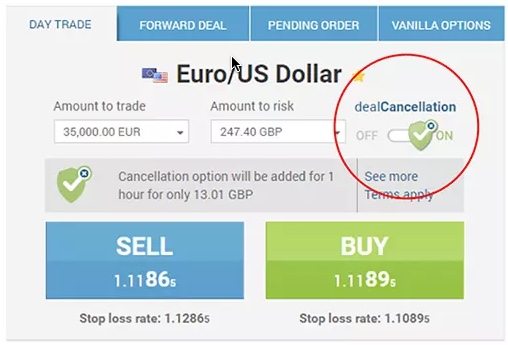 Is the close process the same as deal cancellation?
No. While using the feature will require a trader to select the close deal function to see the trading ticket, a large blue button labelled "Cancel Deal" must be clicked in order to have the money lost returned to the trader's trading account. Our easyMarkets dealCancellation review found this is a nice option, in that if the fee for cancelling a losing trade is higher than the amount of the loss on the trade, the trader can simply close the trade as he or she would do with any broker. Having this option is worthwhile and should be thoroughly understood.
Is dealCancellation allowed by regulatory bodies?
In short, yes.
easyMarkets are the following regulatory bodies. Australian Securities and Investment Commission (ASIC), Cyprus Securities Exchange Commission (CYSEC) and Seychelles Financial Services Authority (FSA). These regulatory bodies ensure the forex broker meets the international standard of financial security. When you open a trading account, your forex broker my keep your funds in segregated accounts. This ensures your investments are secure and safe.
About the author: Justin Grossbard
Justin Grossbard has been investing for the past 20 years and writing for the past 10. He co-founded Compare Forex Brokers in 2014 after working with the foreign exchange trading industry for several years. He also founded a number of FinTech and digital startups including Innovate Online and SMS Comparison. Justin holds a Masters Degree and an Honours in Commerce from Monash University. He and his wife Paula live in Melbourne, Australia with his son and Siberian cat. In his spare time, he watches Australian Rules Football and invests on global markets.