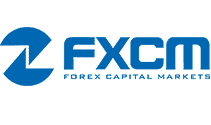 FXCM, also known as Forex Capital Markets is a global forex provider trading in Australia as "FXCM Australia Limited".
Our FXCM review found the Australian forex broker has:
– Medium Leverage
– Average spreads & fees
– No dealing desk
– Multiple forex platforms on offer
Read on below for our in-depth review & to see how we benchmark FXCM to other Australian forex brokers.

Spread & Fees FXCM Review
Unlike any other Australian forex brokers, FXCM charges commissions on top of spreads. While both the commission levels and spreads are both reasonable, in combination they are considerably higher than other brokers such as Pepperstone.

Our FXCM review found that in certain circumstances they had the tightest spreads and overall lowest commission. Below shows how for EUR/USD trades the spreads are extremely low at 0.2 and the most popular AUD/USD pairing spread is 0.5.

There are commissions on top of these spreads which also differ by currency trading pairing. Below shows these forex commissions structures.
Overall, calculating the spreads and commission final fees is complicated but in most scenarios, several other Australian forex brokers were seen as stronger in this area.
Leverage FXCM Forex Broker Comparison
Our leverage FXCM review found the broker was considerably weaker than other forex brokers with only 200:1 offered.

There are several high leverage traders including ThinkMarkets while other popular Australian forex brokers such as Pepperstone offer up to 400:1 leverage levels. With such lower leverage offered the amount of capital you need is higher to make gains/losses on the currency market.
What is disappointing is that with such low leverage guaranteed stops still are not offered. As the official statement from FXCM Australia explains, they guarantee the execution of a stop order but not at a particular price. This means that in fast-moving currency exchange markets slippage may occur which means you will get the price they can fill (not what the forex traders) set the price at. This increases the risk profile to a forex trader and may put many Australian's off the forex broker.
With low maximum leverage levels offered most experienced traders will prefer to consider another broker while no guaranteed stops will rule out Australian forex traders new to currency markets.
Customer Service FXCM Review
Customer service received mixed reviews for FXCM traders. with a good education and resource section but a lack of service on certain accounts.
Below shows the three accounts offered for FXCM traders. As it highlights only balances with $25k of greater receive a relationship manager and fore 1-1 calls you need more than $150k balance. There were high levels when conducting this forex broker comparison which led to the overall low score. It should be noted that at the 'Private Client Group' service is excellent and at the same high level as other brokers such as Pepperstone and OANDA.
FXCM Platform Review
Our FXCM review found the Australian forex broker offers the most trading platform options of any nationally regulated firm. This includes the industry-standard Metatrader 4 which most Australian forex traders user and a web-based and mobile forex trading platform.
There are other forex trading platforms offered including their propriety platform called Trading Station, Mirror Trader and  Ninja-Trade. These platforms each have specific strengths and weaknesses. On our FXCM vs Pepperstone review, FXCM is especially proud of their own Trading Station. It was built based on the feedback and also data over 10 years from clients to meet their needs. The Trading Station has become FXCM's hub for investment advice. This means clients have access to a range of charts and automation tools via the desktop, web and mobile app that are not found on other platforms. In addition to this, MetaTrader 4 can be used through the Trading Station Web version should any MT4 features be required.  A free demo account is available for each of these platforms so you can practice so beginners can practice forex trading and algorithmic traders can test their trading strategies. Most of these platforms also avoid requotes such as Mt4.
FXCM also offers a range of speciality platforms to enhance your trading experience. Most of these tools are exceptionally useful for algorithmic traders and high volume traders. These tools are useful for both forex and CFD and include
QuantConnect – This is a cloud-based and open source algorithmic engine used for trading. It allows the client to build and test their algorithms directly via FXCM platforms.
MotiveWave –  This tool provides charting for both technical and also algorithmic traders.
AlgoTerminal – Users can use a terminal for back-testing and execution of algorithmic trading approaches.
AgenaTrader – This advanced trading tool gives professional traders access to 130 indicators along with 14 chart types for automated trading. AdenaScript(C#) allows for sophisticated automated trading.
Sierra Chart – A multi-asset trading platform for financial markets that is compatible with external trading services
SeerTrading – Another trading platform that can assist with automated trading.
NeuroShell Trader – This is a point and clicks GUI that assists with technical analysis indicators.
StategyQuant – This platform uses machine learning and genetic programming for automated trading. Its simplicity means no programming experience is needed.
Other FXCM Features
1) No Dealing Desk
An interesting point of difference for FXCM Australia is they use No Dealing Desk (NDD) for Australian forex transaction. This means they act as a price aggregator taking the best available ask price and bids from liquidity providers and streaming them to the forex platforms. It is argued within the Australian Forex market what the true benefits are of having an NDD but FXCM Australia claim that they are:
No trading conflicts between traders and brokers (although this is rare in Australia due to local regulations)
Most trades have raw spreads direct from liquidity providers (although in cases it has been known that some intermediaries are subject to mark-up.
Orders are executed anonymously so that price providers can't see traders stops, limits or entry order)
A no re-quotes policy which exists based on order size, market conditions and trading patterns. It focuses on where a trader doesn't receive an execution at the requested rate.
2) National Regulation
As a global player that wants to attract Australian investors a subsidiary exists called FXCM Australia which is regulated under the Australian Financial Service Licence 309763. While there four other subsidiaries in countries like the USA, UK and China (Hong Kong) which each is regulated in their local countries, by having an Australian subsidiary provides peace of mind with strict controls over the way Forex orders are executed and ensuring deposits are held in an Australian trust account. Our fxcm reviews focused on this subsidiary.
3) Payment Methods available
Many Australian's who trade forex expect a large range of payment methods but FXCM Australia only offers the standard ways including credit card, debit card and direct transfers from other banks. Payment methods offered by other Australian forex brokers including PayPal, Skrill (formerly MoneyBookers) and bPay are not offered. This can be especially frustrating as the direct transfer is not instant which time needed to clear the funds from both banks.

Editors FXCM Review Conclusion
As a global player, originally founded in America but now headquartered in the UK due to regulatory restrictions in the US, Forex Capital Markets (FXCM) has targeted market share in Australia for some time with a very competitive Australian forex broker offering, including standard accounts as well as an active trader account for those budding Forex enthusiasts.
Experienced Australian forex traders that require a very specific niche forex platform should consider FXCM. Those that require high leverage or are looking for low spreads/fees should review our Australian forex broker comparison table and a provider like Pepperstone for advanced traders.
About Compare Forex Brokers
Compare Forex Brokers was created to help Australian forex traders find the right broker to suit their trading requirements. Our forex broker comparison tables were constructed from information from providers websites or actual trading accounts. We try to update our forex broker comparison tables periodically (including our FXCM reviews) but if you have any suggestions or areas that may need updating please feel free to contact the owners via our contact us form.