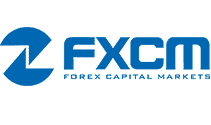 FXCM is one of the leading global providers of forex trading and related financial investment services. FXCM was founded in 1999 and was the first foreign exchange broker firm to list on the NYSE (New York Stock Exchange).
The company provides a number of advantages, including low fee forex broker variations, easy to use mobile platform among others.
Low Fee Forex Broker Fees
FXCM is known for their competitive spreads and commission rates making them a favourite for those Australian forex traders looking to minimise fx brokerage fees.The table below shows spreads offered by FXCM forex spreads for EUR to USD on the 06/02/2017
Our updated FXCM review found they use price improvement technology (PIT) and price tiers, providing Australian forex traders with an advantage when currency trading. PIT finds the best price available from the currency liquidity pool, ensuring forex traders get the best price available in the market. This can add up over time and contribute more towards currency trading profits then spreads of commission differences between forex brokers.
The innovative no dealing desk model provided by FXCM also offers anonymous execution and competitive spreads. Fast orders, transparency and low spreads will provide you with the pricing and execution to suit your varying trading needs. This way, the company suits just about any type of trader. Depending on the trading needs, clients can choose:
– No Dealing Desks: The company recommends No Dealing Desk executions to clients since it provides the best all- around trading experience available on FXCM.
No Dealing Desk is at the heart of FXCM's forex execution and business. The company has a large network of forex liquidity providers, such as prime brokers, financial institutions, global banks and other industry/market makers. This allows FXCM to offer more competitive spreads on the major currency pairs to forex trading Australia investors. Most serious traders anticipate that orders will be filled quickly and at the best pricing available. FXCM has taken the initiative to deliver this and nothing else. For instance, when a client sends an order to the No Dealing Desk, FXCM will fill it at the best available price, including the company's markup based on the liquidity provider and the account type.
Active Trader: The spreads on FXCM are some of the most competitive and lowest spreads available in the forex market today. Active Trader accounts have been designed for institutions and individuals who trade over 100 million notional on a monthly basis, or who have deposited over $ 25,000 into their trading accounts.
Platform Options
Our FXCM review rated the trading platforms available strongly with several options for different Australian forex trading needs. This is why the broker has designed its platform suite to accommodate every type of trader. With the FXCM Trading Station, clients can choose between 3 powerful and recognised ways to trade with a single login. The platform options available at FXCM include:
i) Trading Station Web
This is a popular trading platform among forex trading Australia investors. It is an intuitive platform equipped with professional charting packages that let clients trade directly from the available charts. No installation or download is required, making the Trading Station West accessible from behind most corporate and personal firewalls and on Mac computers.
ii) Trading Station Desktop
This platform is the right choice for clients who want the most advanced functionality. Users can customise their platform, access a robust suite of automated and analytical trading tools, pre-loaded strategies, detailed Analysis, History and Strategy Tools and advanced back testing functionality.
iii) Trading Station Mobile
Traders who are looking for a way to trade and monitor trades on the go can use Trading Station Mobile. It works on tablets and smartphones, including Blackberry, Windows phone, Android tablet and phone, iPad and iPhone. With Trading Station Mobile, you can view live streaming rates, deposit funds, analyse news, access charts and manage and place orders. This platform is also easy to use, has a simple user interface and is preferred by traders who like to act from anywhere and at any time.
iv) Options for Traders with More Specific Needs
Active and automated traders can also enjoy the niche solutions provided by FXCM. These include:
– MetaTrader 4 (MT4): This is a common choice for clients who already use EAs (Expert Advisors). The MT4 platform has been upgraded to integrate seamlessly with FXCM's No Dealing Desk forex execution.
– Active Trader: Clients who trade large amounts of currency on FXCM are rewarded with considerable reductions on their forex transaction fees. The Active Trader account is designed for institutions and individuals who trade over 10 million notional on a monthly basis, and those who deposit more than $ 25, 000.
– Mirror Trader: Mirror Trader has real- time Signals and Smart Filters, which traders can use to identify the strategies that are likely to work best. You can evaluate various tested strategies and build your own unique portfolio, or follow individual signals that provide support to your personalised trading analysis.
– NinjaTrader: This award winning software tool provides comprehensive suites of tools designed traders who follow futures, stocks and FX. It gives traders an advantage in building customised automated trading strategies and analysing the market.
– ZuluTrade: This auto trading platform has facilitated more than $ 405 billion in forex transactions. It services over 45000 forex traders on FXCM. ZuluTrade is ideal for traders who wish to dissociate their emotions from trading, and those who lack the time to build their own unique strategies.
Education
Another key strength when making this FXCM review was that the broker provides all the education a trader needs, including real- time instruction, platform walkthroughs, and webinars and on- demand lessons. Another advantage of the No Dealing Desk execution is that FXCM makes money on a per- trade basis to benefit from successful trades. As a result, the company focuses heavily on providing top- drawer education services to help clients become better traders. It has invested in DailyFX.com, which offers free market research, news, live instructor sessions, ongoing trading support and free news by qualified course instructors.
International Presence
FXCM is regulated and has offices in various global jurisdictions including Australia, Japan, Greece, Germany, Italy, France, Hong Kong, the United Kingdom and the United States. With affiliates, partners and offices in the major financial markets of the world, this broker is uniquely positioned to provide speedy and exceptional services to forex traders the world over.
However, even forex trading Australia investors can rest assured that the company abides by local laws and regulations on forex trading. Therefore, you can be confident that trading on FXCM will protect your investments, legally speaking.

Investor Protection
FXCM review their financial transparency and regulation seriously. It meets strict financial standards, such as capital adequacy requirements. The company is a vocal advocate of increased investor protection and financial services regulations. The Australian company is regulated by and registered with the most respected regulatory bodies in the country.
Industry Recognition
The customer service, education materials and trading platforms offered by FXCM have won various awards the world over. The company is also known for its low fee forex broker variations, which means that traders get to pay low fee to use the platforms provided.
 Overall, FXCM Australia (FXCM AU or FXCM Australia Limited) is one of the operating subsidiaries of FXCM Holdings, LLC. FXCM Inc. is a publicly traded holding company whose sole asset is the controlling equity in FXCM Holdings, LLC when forex trading Australia.
About This Forex Broker Comparison
Compare Forex Broker was created by Australians who are not employed by the individual forex brokers compared on this site. Each broker (including this FXCM review) has been evaluated through their website and/or their forex platform demo or live accounts. This forex broker comparison focuses on fees and spreads although on the site you can compare forex trading Australia accounts based on other features such as leverage or platforms.