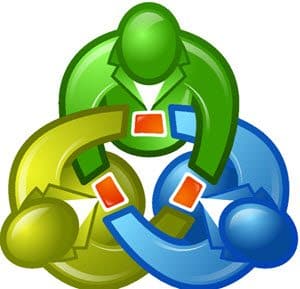 MetaTrader 4 is the most popular platform worldwide with our MT4 review finding five key forex trading platform strengths:
Easy to use interface
Apps to suit mobile and table devices
Fast execution speeds
Ability to use Expert Advisors (EAs)
A diverse range of charting options
MetaTrader 4 Interface
The MT4 trading software focuses on providing sophisticated currency management tools combined with enhanced charting functionality and charting tools. These combine allow forex trading that is quick and efficient helping to control an individuals positions.
The user interface of MT4 trading software is all about maximising ease of use. This starts with the interface, then through to the charting and indicator options through to the MQL language. This final area allows automated Expert Advisors (EAs) trading.
MetaTrader 4 Mobile Forex Trading Platform Options
MetaTrader 4 is available on a PC through their Web Trader and by downloading the software. There is also an MT4 for Mac software available for individuals using that platform.
1) iPhone
The iPhone MT4 forex trading platform allows trading across screens within the phone, with real-time custom views of live data.
Forex brokers like Pepperstone offer one-tap execution where traders can execute forex orders without multiple buttons needing to be pressed to maximise execution speeds.
Through swiping the screen, historical data can be accessed. This is great for those on the move who need to be informed prior to making a trade.
2) Android
The Android MT4 Forex Trading Platform provides full trading capabilities. This includes actually making trades combined with attaining currency related news events through sources such as Dow Jones when the forex broker provides it.
Like the iPhone app, it allows one-tap execution so there isn't the need for multiple pressing of elements to execute a trade.
There is an offline mode including charts and symbol prices which is especially handy when ravelling.
3) iPad/Tablet
The iPad MT4 Forex Trading Platform app is very similar to the full web-based version of MT4 except all the dimensions are suited for the device.
There is support for all execution modes, trading history, interactive charts and thirty technical indicators.
Ways MT4 Allows Forex Trading
MT4 forex trading has a built-in compiler & editor with access to articles, help and a free software library. This software uses MQL4 & MQL5 which is propriety language allowing Expert Advisors which explained further below.
MetaTrader has two trading orders:
1) Pending Orders
These orders are what share traders will be used to with the order executed when a predefined price level is reached.
2) Market Orders
There are four market orders including:
i) Instant execution where the price displayed leads to the execution of the order.
+ The order is executed at the known price.
– Trading opportunities in high volatility periods can be missed when the requested price can't be filled.
ii) Request execution allows traders to execute an order after a price quote request is made and then the trader makes the decision to buy/sell based on that quote.
+ Several seconds to decide based on the quote received and price certainty
– Reduced execution speed
iii) Market execution is when a trade is based the price of a forex broker which may differ from the platform.
+ No risk of requotes when trading
– During volatile trading periods deviations can be high.
iv) Exchange execution sees an order executed based on market depth through the exchange.
MetaTrader 4 design is focused on a stand-alone configuration. A forex broker can manually manage their positions as a market-maker or integrate the forex trading platform to other liquidity pools for automated trading (ECN forex broker trading).
Using EAs To Automate Forex Trading
The mt4 trading platform popularity over the past decade, in part is due to the ability for traders to easily write scripts and create robots. These trading tools allow automated forex trading meaning a forex trader doesn't need to be online to make trades. A forex broker may offer backdated market information through the software to test these scripts and bots to test their performance.
Over 12,000 members on Yahoo! focus on the development of MetaTrader as an open source software. These ea programmers mt4 experts offer a range of automation that can be downloaded and backtested.
How To To Add EA To MT4
Expert Advisors (EAs) are all coded using MQL4 environments. These files are attached to 'experts' folder unlike indicators.
Create The EA Or Download It

Select the EA created or downloaded
Find the MT4 folder (in most cases this will be int he C: drive)
Paste the file

Install The EA On MT4

Launch MT4 and find the EA section in the navigation section (left side)
Select the '+' sign and a list of EAs will become available
Choose the Expert Advisor and drag it to the charts within the MT4 platform
Install the EA

Adjust the MT4 setting

The settings of the expert advisor will appear on a pop-up box
Ensure all alerts and setting are find before confirming
Trading More Than Currency
The MT4 Forex Trading Platform is a margin trading product. With the rise of financial products outside of currency such as CFDs, some forex brokers use MT4 for more than forex trading. While MT4 forex trading was not created to make exchange-traded futures and stock market trading, this functionality does exist and is offered by forex brokers like Pepperstone.
You can view the best forex trading platform brokers on our comparison table.
MT4 Charting Options
There are a plethora of mt4 charting software available with MT4. Many come pre-installed with MetaTrader 4 while others can be added on (some forex brokers offer their own premium charting additions). Charting tools can help you minimise high risk trading by demonstrating patterns in forex pairing behaviour across time frames. This can be in real time or historical.   The three main charting categories are tick based charts (number of trades), price range based charts and volume based charts (number of contracts). There are explained in more depth below:
1) Tick Chart MT4
This charting option shows the number of trades that are impacting the market. Trades (know as ticks for this chart) can change on forex markets to near zero to thousands with expert trades using this data to make trading decisions. Charts can range from 33 to 233 tick options. The larger will remain flat unless a high under of trades are made over a minute.
To have activate a tick chart in MT4 you need to:
Download a Tick Data file
Open the zip file and put the content into the indication folder
Restart MT4
Open a currency pair and place on M1 chart
Open the MT4 navigator, drag and drop the file into the M1 chart.
2) Candle Clock Indicator MT4
The Candle Clock indicator helps identify the time before the last candle is closed. As the time gets close to closing the indicator acts like a countdown clock. An an example, when trading from a one minute chart, the indicator shows the seconds and minutes left.
This indicator is useful for traders who need to open a position when a new candle scalpers that review individual bar ticks.
3) Divergence Indicator MT4
The divergence indicator is a great technical analysis tool to measure price action with an oscillator indication. This can help trader buy near the bottom and selling near the ceiling of the market. This can improve profits and manage risks. The two types of divergence are:
i) Regular Divergence
This divergence can help trigger trend reversals. Price actions that make lower lowers but the oscillator produces higher lowers leads to regular divergence. Higher Highs and an oscillator of lower highs is also regular divergence. The signal for both of these are a trend reversal.
ii) Hidden divergence 
This can help trigger trend continuation. Higher lows but the oscillation of lower lows produces hidden divergence. This signals a bullish trend continuation. A bearing trend continuation is when the price action makes lower highs but the oscillation is higher highs leading to a hidden divergence. In such conditions the indicator may signal the trader not to enter a trade.
Background To MetaTrader 4
MT4 also know as the full name MetaTrader 4 is a forex trading platform used by forex traders with a retail focus. MetaQuotes software are the developers with the original release occurring over a decade ago in 2005. MetaTrader 4 licences are primarily provided to forex brokers (foreign exchange brokers) who in most cases then provide it to retail investors who sign up with the forex broker.
MetaTrader 4 has a client & server component, with the later run by the forex broker. The client software is then provided to the forex broker's customers to utilise to observe foreign exchange markets and make order as needed.
The software is Windows based (Microsoft) and allows robots and trading scripts to be created at ease. A newer MT5 version was made in 2013 but most forex brokers still only offer the MT4 based on the original platforms ease of use. Benefits of MT5 though is the programming language offered which is MQL4, MQL5 which can be combined using Meta Editor.