Pepperstone Fees Are One Of The Lowest In Australia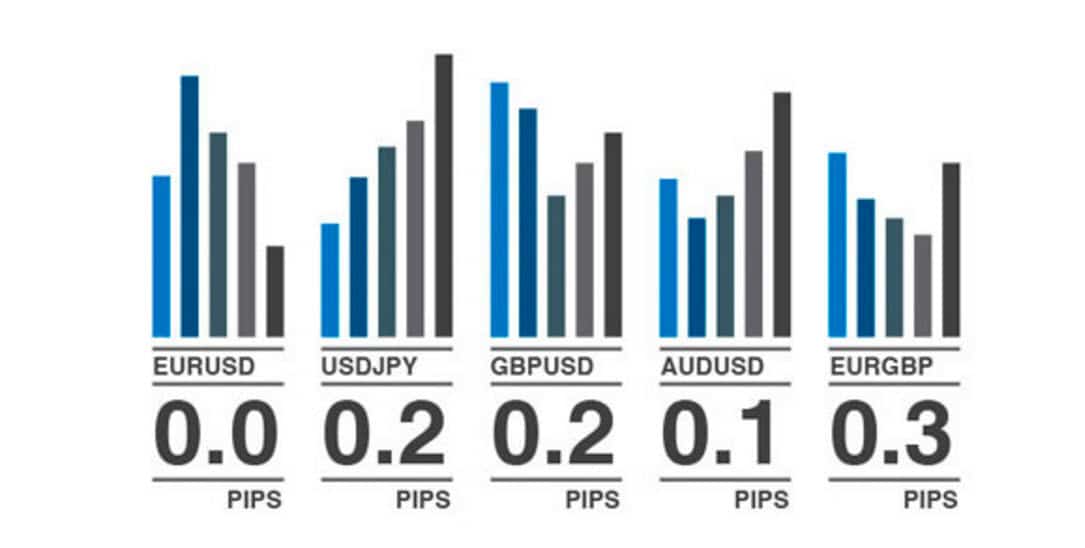 Average Spreads Of Pepperstone's Two Accounts
In 2020 There are two trading accounts that Pepperstone offers forex traders.
Standard Account
Razor Account
The standard account has no commissions but higher spreads. Many other Australian forex brokers offer similar accounts with similar spreads. The standout account is the Razor account. This is a direct market (ECN forex broker) account allowing trading direct to liquidity pools. This allows for lower spreads as you can view below but there are commissions (explained later).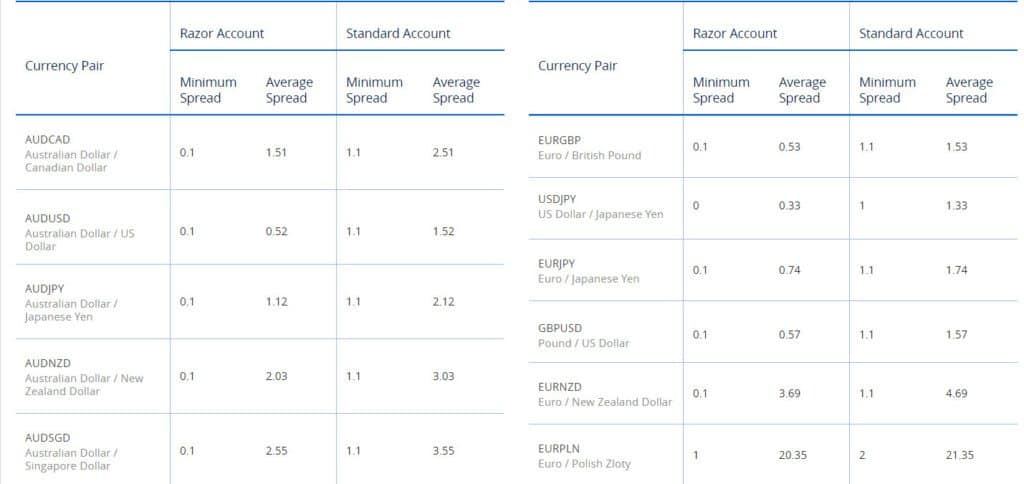 As the table above highlights, spreads differ based on the currency pairing with more exotic pairings having higher spreads. The actual spread is determined by the market and the 'gap' between the buy and sell price at any period. The Razor account spread will be this exact buy/sell differential while the standard account is usually this amount in addition to an additional spread (the fee) of the forex broker.
Higher volume and experienced forex traders based our Pepperstone analysis and review prefer the Razor account as its easier to track Pepperstone fees and get quotes without fees associated within them. In some market situations, these spreads can be almost non-existent making high-frequency trading more lucrative.

Have a review of our comparison of each of these accounts and their differences.
Commissions Of The Razor Account
As discussed above, the Razor account has set commissions based on the volumes and currency pairings traded. These Pepperstone fees are also determined by the forex trading platform selected (either MetaTrader 4 or cTrader). The figures below are accurate as of the 09/01/2020.
1) MetaTrader 4
MetaTrader 4 (MT4) commissions are based on 0.01 lots of the base currency (1,000 units). To the right shows how the commission for most Australian traders who will have an AUD based currency is $3.50 per lot ($100,000 traded).
Of course, a forex trader will need to return a trade the base currency requiring an additional trade. This is known as a round turn (the full commission costs of a completed trade). As the below table published by the online broker highlights, the round turn cost of a lot ($100,000 traded) is $7.
MetaTrader 4 is known for expert advisors which is algorithmic trading. These bot programs often have higher frequency trading which is when the commission rate is critical. A weak Australian dollar also makes a big difference as many competitors such as IC Markets charges commissions in USD. Therefore, as long term pressures push down the AUD, competitors USD pegged commission rates are relatively higher than Pepperstone.
It should be noted there is an active trader program which is mentioned in the MetaTrader 5 section below. This applied to all forex trading platforms and provides a discount on commission rates based on the monthly volume of trades and standard lots made once past a threshold. While many competitors may have similar programs, they are rarely advertised or made transparent except for high volume traders. This is another reason for the popularity of Pepperstone in Australia

2) MetaTrader 5
New to Pepperstone if MetaTrader 5. In 2019 there is a bonus discount offer for MT5 but regularly MT5 has almost identical commissions to MT4. This means the when the base currency is the Australian Dollar that the rate is $7.00 per round turn.
The active trader program available for all forex traders allows cash rebates on commissions of up to 43%. The rebate amount depends on the volume of trades and is paid daily back into the account once a position is closed. There are five tiers of rebates:
Tier 1 = FX Volume 200 – 499 = Rebate Per Lot $1
Tier 2 = FX Volume 500 – 1,499 = Rebate Per Lot $1.5
Tier 3 = FX Volume 1,500 – 2,499 = Rebate Per Lot $2
Tier 4 = FX Volume 2,500 – 4,499 = Rebate Per Lot $3
Tier 5 = FX Volume 500+ = Rebate Per Lot Negotiable.
3) cTrader
cTrader Razor has a different commission structure to MetaTrader 4. Unlike MT4, cTrader's commission is based on the currency traded rather than the deposit base currency. The commission rate is 6 units of the first quoted currency of any pairing. As an example, a single lot of CAD/SGD will cost CAD 7 in commissions.
This may make commissions slightly confusing but it's all transparent within the interface for when a review of Pepperstone fees is required.
Other Pepperstone Fees (Swaps)
Forex trading involves leverage which could be compared to the forex broker providing a loan to increase the trader's exposure to currency markets. This is a requirement for most traders due to the relatively small movements of currency pairings over time. With Pepperstone offering up to 500:1 leverage, it's only natural that they can't allow traders to hold positions for a long period. To limit this, Pepperstone (and other Australian currency brokers) charge a forex swap rate when a position is held overnight to claw back the interest.
The swap charge is based on individual countries interest rates. These rates are based on the currencies bought and sold in any currency pairing. These exact charges are provided weekly by financial institutions associated with Pepperstone factoring in market conditions as well as risk-management analysis. Every currency pairing has unique swap charges based on a single lot (100,000 base currency units). These rates are indicative and can change based on market volatility.
Pepperstone swap rates can be viewed within the MetaTrader 4 forex trading platform. Simple go to the Market Watch option within the 'View' section. Then right-click on Market Watch > Symbols. Select the currency pairing you wish to check for swap rates and choose 'properties' to see the rate. View more details on the full review page of Pepperstone.

Fees Of Other Forex Brokers
Different forex brokers have different fee structures. One, for example, is Easy Markets which has fixed spreads which means that the spread of a currency pairing is always set at a pre-determined price. Overall, fixed spreads will often be more expensive over the life of trading but do provide certainty of trading costs for the trader. Another fee can be attributed to advanced features such as guaranteed stops. These features can provide more certainty about a trades maximum loss helping manage risk, but like fixed spreads will lead to higher trading fees in the long term. You can compare Pepperstone with other forex and CFD brokers in the world such as IC Markets,  AxiTrader, easyMarket, GO Markets, and Plus500 on their comparison tables.
Fees from other brokers can also be charged for deposits and/or withdrawals especially by payment method. For example, many have additional fees for AMEX or Paypal withdrawal methods. Many forex brokers also charge for inactive accounts (including demo accounts). Some brokers will charge more for a minimum deposit, whereas Pepperstone has one of the lowest minimum deposits in the industry. It's critical to check any Australian forex brokers T&Cs and even discuss with an account manager the fees to avoid surprises when monthly statements are sent through.
More About Pepperstone
Pepperstone is based in Level 5, 530 Collins Street Melbourne VIC. New traders have the option of opening a demo account before opening a live account with MetaTrader 4, MetaTrader 5 or cTrader. Regulated by ASIC, the broker uses leading server technology to maximise executiston speeds to minimise slippage. The broker also offers more than forex trading including cryptocurrency, precious metals and energy trading.
Understanding The Risks Of Forex Trading
Forex trading with Pepperstone and other forex brokers like IG Markets, FXCM, and OANDA, involves leverage which for Pepperstone group limited is 500:1. Leverage increases the risks of forex trading so it's important to seek independent advice. Personal circumstances may make it unsuitable to have high leverage levels which can be lowered at the trader's request. Overseas forex traders such as those in the United States may not be able to open a Pepperstone account. This is because it's regulated by the Australian and UK regulators only.
Information on this site has come from the forex and CFD brokers websites which can be changed without notice. For this reason, before opening an account, you should view their site to make sure the broker is right for you. Customer service should also be factored in as should make sure they are one of the largest forex and CFD providers. Regulation, reputation and customer service are three factors often overlooked but key factors that lead to the popularity of Australian forex brokers.