What Is Forex Trading?
Forex trading, also known as foreign exchange trading is when one currency is exchanged for another at a set agreed price on the OCT (over-the-counter) market.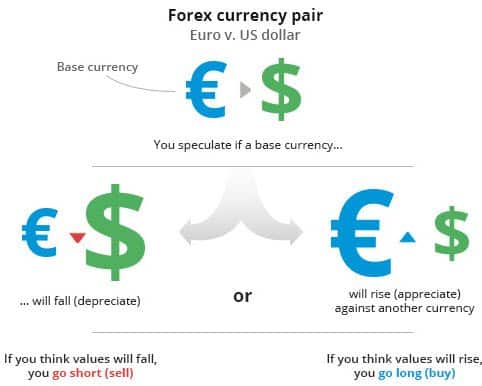 As the table on the right indicated, you can speculate between a currency pairing either appreciating or depreciating. Often for an Australia the base currency will be AUD but this doesn't need to be the case even though your deposit will be in AUD. For example, you may wish to speculate on the EUR/GBP pairing.
The two most common terms are to:
Go Short which means you think the base currency you hold will fall relative to the other currency.
Go Long which mean you think the base currency you hold will rise relative to the other currency.
Currency pairing types are generally grouped into two types. These are 'Majors' and 'Exotics' or 'Minors'. 'Major' currency pairs are common pairs like USD EUR or AUS USD while exotics involve more unique currency pairings such as USD SGD (Singapore Dollar) or USD SEK (Swedish Krona).
How Popular Is Forex Trading?
The forex market is the largest financial market worldwide and is over 189 times larger then the New York Stock Exchange.
Once of the key reasons why forex is so popular is that currency trading occurs 24 hours a day during the 5 working weeks. Stock Markets on the other hand are open for less than 8 hours a day.
Another reason for it's popularity is the flexibility of currency trading including the ability to trade small amounts (which are amplified by leverage which is explained later).
The Australian dollar is the 5th most traded currency worldwide highlighting the popularity of currency trading in Australia.
Other key reasons that forex is so popular to Australian traders include:
The fact the local forex brokers have Australian Financial Services Licenses providing some security for traders
Australia has an ideal timezone to trade overseas currencies
It provides an opportunity to trade on international markets easily
Why Is Leverage Critical For Currency Trading?
Unlike stocks and equities, generally currency markets fluctuate very small increments with most days recording less than a 1% fluctuation. This means that making meaningful gains or losses will be extremely difficult unless large sums remain stuck in currency markets.
To make forex worthwhile, leverage is offered by all fx brokers. This providers traders with 'purchase power' in the form of a multiple of their deposit (or the amount they are willing to place on a trade). The table below shows how different leverage levels increase an initial capital investment (or deposit) of $1,000.
The best forex broker in Australia offer a maximum of 1:500 (also known as 500:1). As the table highlights, a $1,000 deposit would allow based on this leverage level $50,000 to be traded on currency markets. Now as an example of how this dramatically increases the opportunity to make profit or losses it's worth examining a 0.1% change in a currency pairing. This relatively small change would lead to a profit or loss of $500 which is 50% of the initial investment. If this change was double, it could mean you doubling or losing your whole investment. With leverage increasing your risk level so significantly, you need to understand the risks and investigate safety measures from guaranteed stops to 'no negative balance' protection.
How Can I Trade Currency Online?
To start forex trading you will need to sign-up with a forex broker. These broker range in features and a few areas you should investigate include:
1) Spreads & Commissions
Just like when you go to the airport and go to a foreign exchange counter, forex brokers make their money by having a different buy and sell price (know as a spread). These very greatly by broker and even by currency pairing they offer. Some brokers also charge commissions which allow them to minimise spreads.
Spreads can be fixed or variable. Fixed spreads are great for risk averse traders or those dealing in a volatile market. Variable or floating spreads on the other hand are more common in electronic communication network platforms as traders can trade directly with the market. Spreads here will be cheaper but can more volatile.
2) Leverage
As explained above, leverage is critical and more experience traders may require the highest levels to implement their forex trading strategies. It's critical to note that if you join a forex broker like Pepperstone that offers 500:1 it doesn't mean you have to accept that leverage level and can set lower leverage to match your risk tolerance.
3) Training
Some brokers provide just top line currency training, some provide over the phone training while others offer face-to-face training. It's worth getting the best training possible in your early trading cycle to make sure your strategies are best practice.
4) Platforms
The forex platform is the interface you will use to buy/sell currency. There are mainstream forex platforms such as MetaTrader 4 and cTrader which are commonly offered by brokers as well as propriety platforms offered exclusively by brokers. The view on these platforms differ by traders but the advantage of the mainstream platforms is they make it easier to switch from one broker to another.
5) Execution Speed
Speed can be critical when trading currency as the markets can shift in micro-seconds. In extreme volatility, you may not be able to process an order fast enough to meet the profit or loss targets you have set (know as slippage). Choosing a broker that has the fastest servers and connection (ie using optic fibre cable) can help reduce slippage and ensure you get the price you placed in the order.
6) Type of broker
There are several types of brokers. These can be broker into two basic types of categories. These are 'Dealing Desk' and 'No Dealing Desk' (NDD). Dealing Desk brokers will be a Market Maker broker. Market Makers set their own spread prices for which you can buy and sell from. These prices will typically be higher that 'No Dealing Desk' broker however they can offer greater risk management features which might be beneficial if you are new to forex trading. Spreads will also tend to be more stable and possibly fixed.  Brokers known as No Dealing Desk broker will either be an Electronic Communication Network Broker (ECN) or a Direct Market Access (DMA). Brokers offering these platforms allow you to trade directly with interbanks without need to deal with an intermediary buyer as a result spreads can be narrowest on the market. As spreads are variable, there is a risk of slippage which can result in unexpected changes in your buy or sell price during execution process.
7) Customer Service
You should consider the hours customer service or customer support is available. Ideally your broker will have 24 hours a day and 5 or 7 days a week. You should also consider their contact methods and if they are based in your market rather than oversead.
8) Contracts for Difference
If you are looking to trade other contracts for difference (CFDs) then you might want to consider a broker that offers an all-in-one derivatives service. Some brokers will allow access to difference stock markets in the world, indices, commodites on the global market. Other broker might only a few CFDs.
9) Platforms
Some brokers have their own proprietary platform while others use generally available platforms such as MetaTrader or cTrader for currency and CFD trading. You will want to open a demo account and play around with the platform your broker offers before committing. Proprietary platforms allow them to build in features that their clients are asking for and features that may give them an edge over their competitors however there is a risk you can be locked into their eco-system. Generally available platform are available with many brokers so will require less learning if you wish to switch brokers in future.
10) Currency pairs 
You will want to decide what type of forex pairs on the forex exchange market you wish to use for currency trading and check that your broker offers their pairs.
Below shows some recommend forex brokers with the five factors above compared.
What is Forex Trading Summary
Overall, forex trading is the most popular form of trading worldwide with different currency pairings chosen. The key to success is education, market knowledge and adopting the right forex broker to suit your needs. Have a look at our forex broker comparison charts for detailed forex broker tables to help find the right broker to suit you.