Growth Of The Australian Forex Market In 2018
In the 12 months leading to March 2019 the forex market has grown considerably. This is especially true in Australia due to:
Large-scale movements in the AUD
Minimal regulation changes limiting forex trading (unlike EU countries)
Negative movements on property markets and the Australian Stock Exchange.
Here's what you should know about the growth of Australia's Forex market and the state of that market as it exists today.
A Brief History of Forex in Australia
The Forex market became a major investment area in Australia after 1983, when the Australian dollar was first allowed to float freely against other currencies. Prior to that time, the AUD had been pegged to the British pound, followed later by the American dollar. Once Australia's dollar was able to float within the international currency marketplace, Forex investment naturally occurred as a result.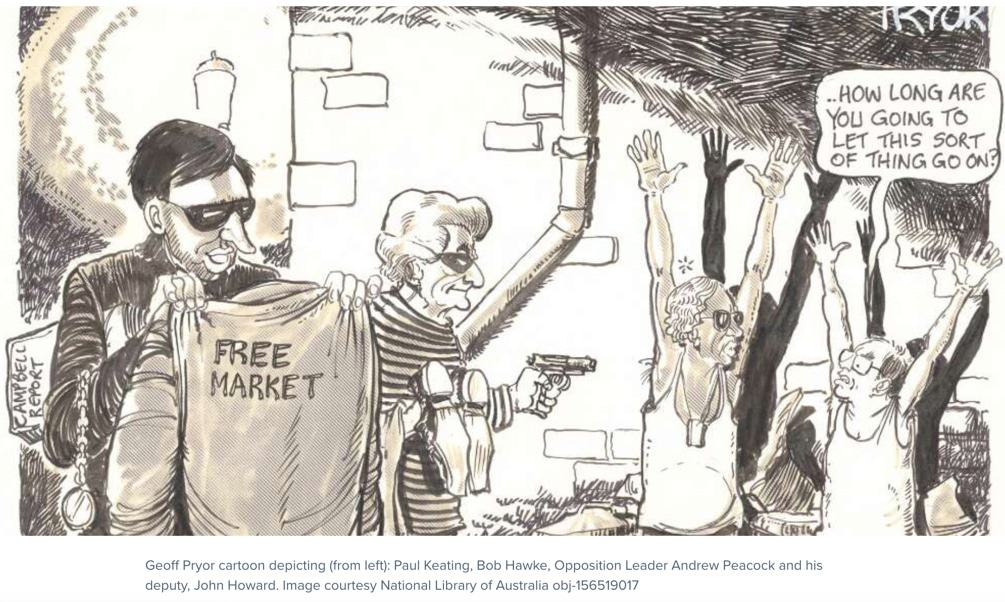 From there, the Australian Forex market grew quickly. By 2006, Australian Forex traders were executing $70 billion in trades every day, up from just $4 billion in 1985. With this explosive growth, several large Forex brokerage services cropped up in the Australian market to meet investor demand.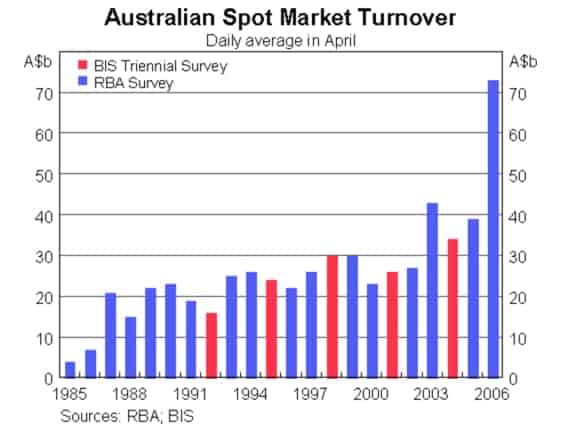 How Large Has the Australian Forex Market Gotten?
Today, Australia's Forex market is larger than ever before. According to some estimates, trading volumes now exceed $400 billion per day, a massive increase over the volumes that were typical only a decade ago. As one might expect, the number of traders active in the market has also grown considerably, with as many as 60,000 retail-level investors now trading in the Forex market in Australia. Growth in the number of retail traders has been particularly pronounced in recent years, as some 16,000 traders joined the market in 2016 alone.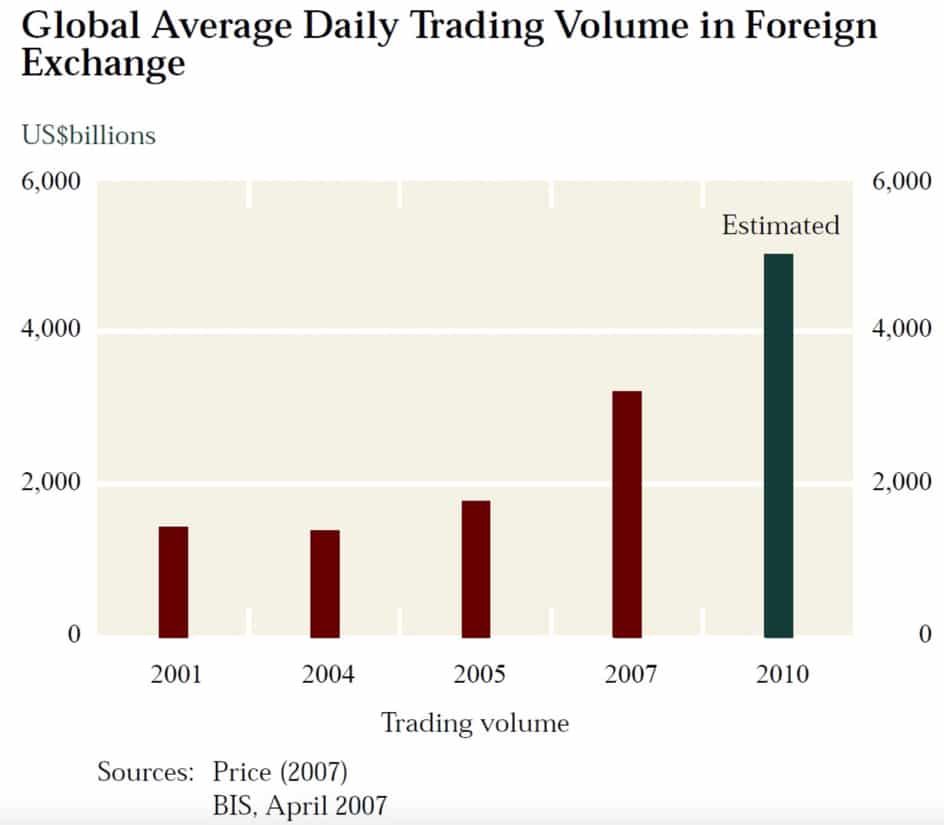 What Are the Reasons for This Growth?
A critical part of the growth the Australian Forex market has seen in recent years is the country's regulatory approach to Forex brokers. The Australian Securities and Investments Commission, or ASIC, takes a generally favourable approach to the foreign exchange market, though it does impose rules that work to the benefit of individual traders. One such rule is the requirement that brokers use segregated accounts for funds deposited by traders, which keeps brokerage companies from misappropriating those funds for marketing or other business activities.
Despite enforcing rules that protect traders, ASIC does not impose the same kind of strict regulations that burden many American and European Forex traders. An excellent example of this looser approach taken by ASIC is the fact that there are fewer restrictions on leverage in Australia than in the rest of the world. While US traders are restricted to leverage ratios of just 50:1 and the EU caps leverage at an even more strict 30:1, Australian brokers often offer ratios of up to 500:1. While this higher leverage does allow traders to take on considerably more risk, it also opens up Forex trading to people who otherwise would not have the capital reserves to execute trades of large enough volume to be worthwhile.

The general state of the Australian financial services market also plays a role in the success of Forex. The financial services sector is the single largest industry in Australia in terms of its contribution to overall GDP. The industry adds approximately $140 billion to Australia's GDP each year and employs nearly half a million people. As a result, Australians tend to have a high degree of market confidence when it comes to financial service companies. This fact contributes to both the popularity of Forex trading in the Australian marketplace and the generally favourable approach taken to it by the national government.
Australian Forex Market Performance in 2018
In Australia in 2018, the average daily turnover of all Over-The-Counter FX instruments was $122.6 billion. These figures were measured in the RBA's semi-annual report back in April. By comparison, Canada's average daily FX turnover was $94.9 billion, Hong Kong's $482 billion and in the UK, the largest FX trading centre in the world, daily volumes measured $2.73 trillion, up 15% on the previous year. Since 2014 daily FX volumes in Australia have remained largely flat but year on year volumes have increased on 2017 numbers.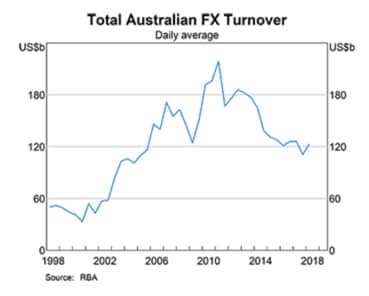 Where Does the Australian Forex Market Go From Here?
With the high rates of growth that it has seen in recent years, particularly in the number of retail traders who are actively participating, it is very likely that Australia's Forex market will continue to expand for the foreseeable future. In general, the Forex market has continued to expand worldwide, making it probable that Australia's market will continue to see a similar trend. Going by the fact that global Forex trading reached record highs in the first quarter of 2018, we can expect to see the market both within Australia and worldwide grow in the coming years.