Online Brokers Australia – A New Era In Trading?
A family member is an avid share trader and has been since the late 80s. He's been rather successful and has an impeccable knack of knowing when to buy and sell stocks actively and when to keep out of the market for a while. Technology has changed and the web has made nearly everything easier, yet he refuses to adopt an online broker. He enjoys dialling his broker at Ord Minnett when he's ready to make an order, a custom of his for nearly 30 years. No matter how inefficient his process, this relative of mine refuses to join the new age and sign up to an online brokers Australia. I appreciate the nostalgia, but stubbornness is costing him money.
If you're a seasoned trader or even a beginner, you'll need a broker that makes trading simpler. It is no secret that the staff at Compare Forex Brokers are advocates of online brokers Australia, especially those brokers that boast new age technology, top line services and features or just have great customer service. In fact our whole website is devoted to ranking brokers and we'll touch on how we help Australians choose the write online brokers Australia if you continue reading below.
We Like Comparisons
The family member I mentioned above wouldn't have had much help finding a broker that was right for him. He most definitely would not have been assisted by a comparison website that objectively ranks some of the best brokers in the country. He simply would have chosen a brokerage house based on advice from a friend or from an advertisement he saw in the newspaper. People like comparison charts because it makes the research process easier and helps you make decisions sooner. This is why our team loves comparisons and with the aid of the world wide web, we're getting traders trading with online brokers Australia faster than ever.
How do we rank online brokers?
If you've spent some time scanning our website, you'll notice we rank most online brokers Australia on our website. We started by gathering a long list of all the top brokers in the country. We then divided each online brokers Australia into differing groups or niches based on similar features such as leverage, spreads or fees, trading platforms, regulation and even bonus offers. Once we've placed the different brokers into the category that suits them the most we then go into even more depth and examine each broker. After we have completed extensive research of each company we determine a 'top 5' and place them in order of 'best' to 'worst.' Below is an example of the comparison table we've compiled in each niche.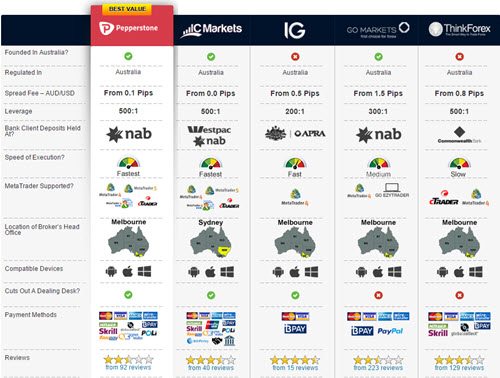 We promised you a list of the best online brokers in this article. As you can see above, different brokers are featured as 'best value' in each comparison table, although Pepperstone are the only company that rank 1st on more than one of our comparisons. Notable mentions also go to IC Markets and IG who impress us too with the range of services and markets to trade that they offer.
How online brokers Australia are different?
Australian brokers operate within rigid regulation stipulated by the watchdog. The local set of rules that govern the way Australian companies are governed are robust. While both online and offline brokers are compliant to the same set of standards, online brokers in Australia provide clients with unrivalled access to the thousands of markets around the world. Local brokers can usually only provide a customer with the ability to buy and sell financial instruments on domestic exchanges such as the ASX. Online brokers Australia can easily connect you to a range of markets both local and foreign via the web. Most platforms are compatible with a range of markets with clients being free to dabble in instruments from CFDs, equities, Forex, futures, options and more.
Do all brokers offer online services?
There are still a handful of Australian brokers that shy away from the new age of web trading although these companies are becoming more scarce. Brokerage, particularly in shares, is a lucrative business and bricks and mortar brokerage houses aren't going out of business any time soon. However, even though they may not offer online trading platforms, they still use the web to better connect to clients to the vast range of information available on the web. There has been a boom in the number of online brokers in recent years with foreign owned brokers, particularly Forex and CFDs brokers, flocking to Australia to take advantage of the local demand for retail derivatives trading.

How do online brokers Australia differ from standard brokers?
Online brokers differ from standard brokers in pretty obvious ways such as by allowing you to settle trades quickly, by granting you easy access to overseas markets any by connecting you to vast trading data and market information. This helps you make more informed decisions and enables a trader to execute their own trades and trading strategies rather than relying on a broker for advice. If you're only going to be an active investor and trading shares on a local exchange a regular broker will suffice. However, if you have aspirations to try and make money on currency markets the only way you'll be able to do so is with a Forex or CFDs broker. 
Online brokers also have lower brokerage fees than traditional brokers which means you can buy and sell shares and CFDs more regularly with lower costs for trade. This makes it great for both high volume and casual investors. Brokerage is lower because some or all of the trading is done electronically meaning human costs are not necessary.
Another difference is that sign up is very simple. Once you are signed up and provided basic information then you can start trading once checks by the broker for anti-laundering are completed. This can be very fast, in some cases it can be completed the same day. 
Online brokers will also offer include complementary or for a small fee a library of research tools and CFD information services which can greatly enhance your trading experience.
Summary
Human beings are creatures of comfort and like sticking with things they're used to. My relative is a stickler for routine; did I mention he was stubborn too? While your age old stock broker has their place in the market, if you want to get serious about trading global markets you'll require a company that can connect you to them. It may seem daunting at first placing your trust in an online broker. However, Australian regulation is strict and your interests are well protected. Furthermore, the customer service at a number of the companies we feature on this site is fantastic; they'll be more than happy to guide you through any issues you may encounter along your trading journey. If you're current software is out of date and sluggish and you can't access the markets with ease you need to start looking at Australian forex brokers that operate online.