Forex Broker Australia
Australian forex trading strategies differ between traders and it's critical to match the right forex broker to match your needs.
Below looks at types of traders and our recommended broker to suit them.
Beginner Low Risk Traders = EasyMarkets
Those new to training need to choose a broker that helps control risk and provides training.
Based on these requirements, EasyMarkets is recommended as the forex broker:
1) Offers guaranteed stop losses
2) Charges fixed spreads
3) Provides a personal account manager for support
What Is A Guaranteed Stop Loss Rate?
When trading with leveraged products, there is an ability to to make quick profits or losses on trades especially during volatile periods such as when interest rate announcements are made. Most brokers offer stop loss features where you can pre-determine the amount your willing to lose on a trade but in these periods of volatility there may be 'slippage' which means your order won't be filled at the rate leading to larger losses.
Only a guaranteed stop loss allows you to exactly set the amount your willing to lose on a trade and the broker will always ensure this is the case. Not only does EasyMarkets offer this but at no additional costs.

What Are Fixed Spreads?
Spreads are the difference between the 'buy' and 'sell' rate of any currency pairing and the way all forex brokers make their profits. This is exactly the same as when you go to an airport and a 'buy' and 'sell' rate for foreign exchange.
The currency rate of all brokers is almost exact the same as world currency markets move but the spreads for each broker change throughout the day. This means the the 'trading costs' of buys and then selling a currency pairing such as AUD USD will differ based on when you make the trade and often it's hard to determine what that is.
A fixed spread (which easyMarkets / Easy Forex offers) means the difference between the buy rate and sell rate never changes and is pre-determined by each currency pairing. This means you will know the forex brokers costs for each trade helping provide certainty when currency trading.

Why Is An Account Manager Important?
Having a personal account manager not only can help train you on currency markets but also using the forex brokers trading platform. Another key reason as a beginner it's critical to have extra customer service is to provide guidance on market information and information on when key information is released such as jobs data that lead to currency fluctuations.

Intermediate Low Fee Trader = Pepperstone
Those with months to years of experience in currency trading should focus on reducing costs and still having risk safeguards.
For these traders,  cfd broker Pepperstone is recommended because they offer:
1) Offer some of the lowest spreads from 0.1 pips
2) One of the fastest trade execution speeds
How Does Pepperstone Offer Low Spreads?
Pepperstone is an ECN trader. This means that trades go directly through to liquidity markets. By setting up infrastructure allowing this setup, no dealer intervention is needed and cost savings are passed on for Australian forex trading individuals.

Currency pairing spreads start from:
AUD/USD = 0.1
EUR/USD = 0.1
GBP/USD = 0.2
USD/JPY = 0.2
EUR/GBP = 0.3
Pepperstone also offers Price Improvement  Technology which can detect 'hot spots' in currency markets and deliver optimal pricing. The technology does this by detecting favorable price movements at the time of trades and filling the trade at the improved price. This in effect is the same as further reducing the broker pricing when when making Australian forex trading.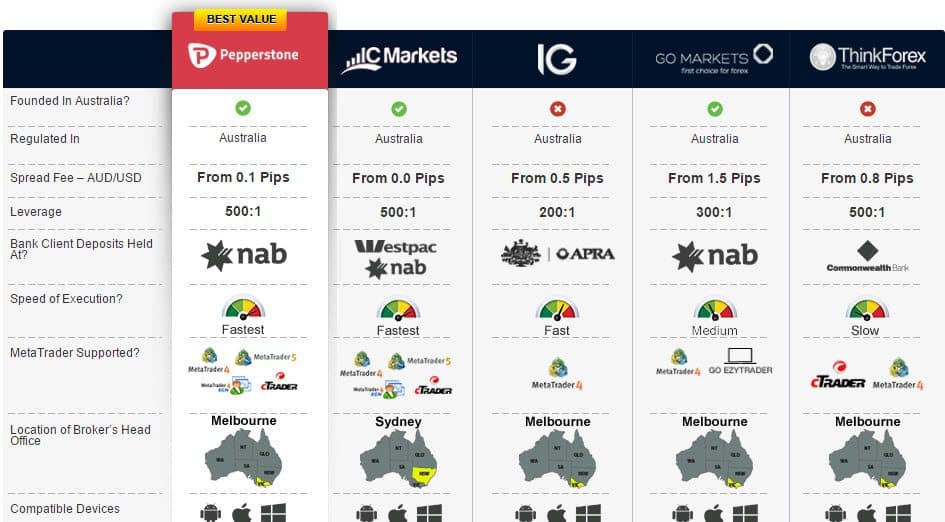 How Does Pepperstone Offer Faster Execution Speeds?
Pepperstone has partnered with Equinix which has their forex trading servers in New York nearby Wall Street. Connections to deep liquidity pools from banks to financial services institutions happen in fractions of a second.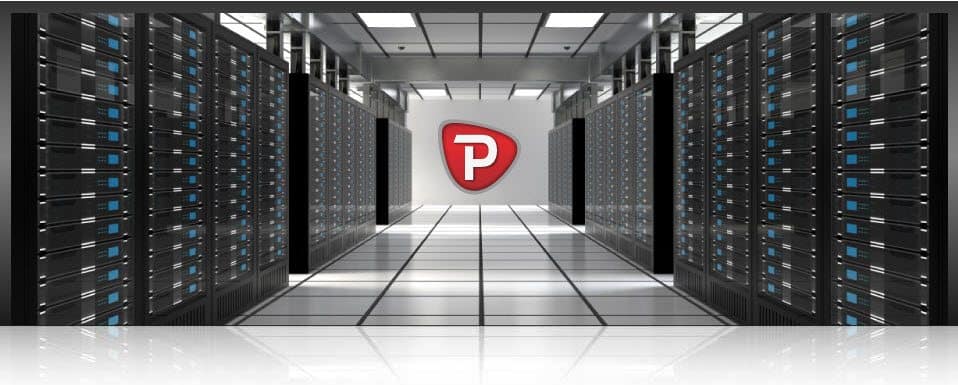 There is also fibre optic connections between Sydney and New York to minimise the time taken to travel across wide distances that can disadvantage Australian forex market trading.

Expert High Risk Trader = IC Markets
Experienced forex traders should focus on find an Australian forex broker that offers high leverage, low fees and the best forex trading platforms.
For these expert traders, Online broker IC Markets is recommended based on the brokers;
1) High Leverage Of 500:1
2) Two leading forex platforms offered
3) Low fees as an ECN broker
Why Is Leverage Important?
Australian forex trading wouldn't exist without leverage as hourly fluctuations are mostly a fraction of a percentage point which means relatively small profits or losses. To amplify these fluctuations leverage is offered where traders can trade a multiple of their initial deposit. Most experienced brokers will want to maximise the leverage offered as they will accept the high risks involved this poses but want to maximise profits when they predict a currency pairing correctly.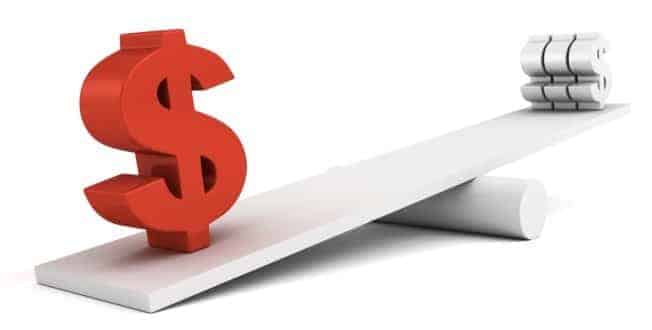 IC Markets offers the highest leverage of the mainstream Australian forex brokers that are nationally regulated of 500:1. This means that a trader can trade 500 times the deposit they place. An example would be a $1,000 deposit could lead to the equivalent of $500,000 to be traded on currency markets. Just a movement of 0.1% would mean a profit or loss of 50%. It's critical to be experienced and have an appetite for risk when trading this level of leverage with IC Markets with no safeguards such as guaranteed stops or 'no negative deposit' existing with the broker.
What Are The Leading Forex Platforms For Experienced Traders?
As mentioned above, IC Markets offers the two leading forex platforms which are also the most popular worldwide. Both work through IC Markets ECN network which means that trades are made directly to liquidity pools with no dealer intervention.
These two forex platforms are:
1) MetaTrader
The worlds most popular platform with the industry standard for interface, charting and a simple to use trade execution process.
– 85 indicators, market watch windows & navigator
– Ability to setup as many charting and analysis tools as a trader wants
– Expert Advisors functionality allowing for automatic trading
2) cTrader
Less popular than MetaTrader but most commonly adopted by expert currency day-traders.
– Expert charting that is detachable and level 2 pricing availability
– Fully automated options directly through the platform
– Back testing of strategies and the ability to implement 3rd party programs
IC Markets Fees
There are three fee options with IC Markets which are a mixture of spreads and commissions depending on the account and platform chosen.
1) Standard Account
This is tailored for intermediate traders who are not familiar with commission based trading and have lower volumes. Spreads start from 1.0 pips with no commissions at all.
2) True ECN
This is for expert traders who use MetaTrader 4 and are looking for value for money when frequently trading on currency markets. Spreads start at 0.0 pips.
3) cTrader
This is the most popular option for expert traders as IC Markets is the only broker which at times offers negative spreads (from -0.3 pips). It is only available for cTrader brokers.
Customer Service / Customer Support = AxiTrader
If customer service and customer support is important to you then you will want a fx broker than offers the following features 24/7 Customer service, a range a of method to contact the support centre including email, live chat, phone live, online support library so users can look for solutions or information regarding their issues and education resources.
AxiTrader do an excellent job when it comes to customer service. They offer the following
1) 24 days by 7 contact support – AxiTrader are not only available for contact at all times but they can be contacted via a range of methods. This includes
Live Chat which allows user to start a conversation with support via the AxiTrader website and via the MT4 platform.
Email
National or Domestic Phone Contact – Users can call Australian help desk within Australia Toll Free or from overseas with an international number. Nationals of other countries can call customer service directly within country toll free as well. These countries include China, Germany, Hong Kong, Indonesia, Malaysia, New Zealand, Thailand, Singapore, Spain and United Kingdom.
Call Back Request – users can leave their details and AxiTrader will call back
2) Free Education Resources – AxiTrader provide a good range of free education resources. The library is divided into the following sections –
'The Basics" which is a range of resources to educated people new to and wanting to learn Forex and CFDs.  A Glossary is included to help users under some of the industry terminology.
Online Training –  a series of video and e-books are available which contain a range of in depth courses to help you understand forex trading better.
Advanced Training – This is for experienced traders wanting more technical information. Here tools are available so you can learn technical analysis and further develop your skills with online training.