Top FX Providers
Below shows the 'top 3' best forex brokers based on the costs (spreads and commission), choice of forex trading platform, customer support levels, risk management features (such as stop-loss orders) and financial markets offered for 2020. These fx providers (in-order of recommendation) are:
Pepperstone – Best forex broker for high volume/expert traders
IC Markets – Best FX provider for intermediate/low fee traders
EasyMarkets – Best forex provider for those new to forex trading
Pepperstone – Fx Broker For Experienced Traders
Pepperstone has tailored it's offering those with expert trading experience due to their:
Active traders low commission for high volume traders
Low minimum deposit requirements
Strong reputation amongst forex traders
Range of forex pairs including exotic and minor currencies
Fundamental and technical analysis updated daily
Regulated by ASIC (Australian Securities and Investments Commission)
Key elements are discussed below or you can view a comprehensive Pepperstone review here.
Pepperstone Has The Lowest Spreads (Especially For High Volume Traders)
Below compares the spreads for Pepperstone's ECN-like account – The Razor Account. ECN-style accounts are the choice for advanced and high volume traders looking to lower trading fees and gain access to Direct Market Access spreads.
Pepperstone charges competitive, low commissions, especially when you consider commissions are charged in AUD.

| Commission | Side-ways (Standard lot) | Round-turn (Standard lot) |
| --- | --- | --- |
| Pepperstone | AUD$3.50 | AUD$7.00 |
| IC Markets | USD$3.50 | USD$7.00 |
| AxiTrader | USD$3.50 | USD$7.00 |
| Think Markets | AUD$3.50 | AUD$7.00 |
These commissions are even lower once you trade over 100+ lots and become an active trader for a month. These rebates on commissions start at 10% and for higher volume traders, meaning Pepperstone is the best forex broker when it comes to low fees.
Pepperstone Has The Lowest Minimum Deposit
Technically Pepperstone has set a minimum deposit of $200 US Dollars (or the equivalent in the base currency chosen such as the Australian Dollar). While is higher than some of the largest brokers, Pepperstone is open that this is not actively enforced allowing for smaller deposits to be made.
What sets Pepperstone apart is they don't charge funding or withdrawal fees. Only some payment methods such as international transfers may see the financial institution themselves charge fee for money transfers. The funding methods include:
Bank transfer + BPay
Visa + Mastercard
PayPal
Union Pay
POLi
Neteller + Skrill
Pepperstone Has The Best Customer Support And Broker Reviews
While most brokers would argue they have the most satisfied customers and best support, Pepperstone has the reviews and awards to back-up their claim. A benchmark annual study by Investment Trends surveys active forex traders, recognising Pepperstone's excellent customer service with various awards.
Another gauge of the forex broker reviews is from Trustpilot which in 2020 gave the score for Pepperstone:
This is the highest of the forex broker reviews that have over 500 reviews.
The Sweet Spot For Pepperstone
Pepperstone is the best forex broker for expert traders looking for a low fee fx provider with strong customer service. They offer all major forex trading platforms including MetaTrader 4, MetaTrader 5 and cTrader. As well as an excellent selection of trading platforms, Pepperstone is regulated top-tier authorities such as the Australian Securities and Investments Commission and the Financial Conduct Authority (Registration Number 684312) in the UK.
IC Markets – The Best Forex Broker
IC Markets was awarded the best forex broker based on the following features:
Low spreads and commissions
A range of popular forex trading platforms
Access to various CFD markets and currency pairs
High leverage up to 500:1
Strong customer service
Regulation based in Australia (ASIC)
You can view the full IC Markets review or below goes through each of the six points in greater detail.
IC Markets Has The Lowest Fees
Forex broker fees have two main components. The first is similar to an exchange rate known as a 'spread' which is the difference between the buy and sell (bid/ask) rate of a currency pair. Most forex brokers offer a market-market trading account that has no commissions but high spreads and those closer to an ECN/STP broker accounts. Such accounts that mimic an ECN broker environment with no dealing desk allow for the lowest spreads but charge an additional fee of a set commission. Below compares the spreads on these accounts.

| | IC Markets (RAW) | Pepperstone (Razor) | Plus500 | IG |
| --- | --- | --- | --- | --- |
| EUR/USD | 0.1 | 0.16 | 0.6 | 0.6 |
| AUD/USD | 0.2 | 0.27 | 0.6 | 0.6 |
| GBPUSD | 0.4 | 0.49 | 1.1 | 0.9 |
| USDJPY | 0.2 | 0.25 | 0.70 | 0.79 |
IC Markets Offers A Range Of Markets
Foreign exchange is just one of the markets IC Markets offers access to. IC Markets is one of the few online brokers to offer Bond CFD trading. These movements are based on market sentiment and interest rate speculation. As interest rates movements are historically small, IC Markets offers 200:1 leverage on Bonds CFD trading. Two newer markets include cryptocurrency that offers Bitcoin to Ripple, as well as Futures markets across energy, metals and agriculture. Other core markets are shown below including Indices, Commodities and Stocks.
IC Markets Offers The Most Popular Forex Trading Platforms
All three popular forex trading platforms are offered by IC Markets: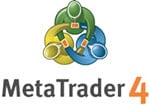 MetaTrader 4 (MT4)
MT4 is the most popular forex trading platform worldwide based on key features including:
Fast average execution speed of 36.5 milliseconds across order types.
The ability to trade across 64 currency markets (currency pairs).
The ability to purchase automate programs known as Expert Advisors.
MetaTrader 5 (MT5)
MT5 is a platform suited for those looking for more than currency trading including:
A full range of CFD markets including currency trading, Commodities and Indices.
Level II Interbank Pricing with the full range of prices from IC Market liquidity providers.
Expert Advisor market for MT5 and MetaQuotes MQL5 code for programming.
cTrader
cTrader is for experienced forex traders requiring advanced tools, with the forex trading platform focusing on:
Trading all markets including 64 currency pairs and 16 major equity indices
The lowest spreads for the EUR/USD Dollar (average spreads of 0.1 pips)
Scalping allowed and the ability to purchase from the cBots marketplace.
The Sweet Spot For IC Markets
IC Markets is ideal for intermediate forex traders looking for a low fee provider. With the leading spreads, IC Markets focuses on providing the basics for traders from the most popular forex trading platforms, decent customer service, ASIC certification and access to a range of markets. This ensures most traders needs can be met by the fx provider.
EasyMarkets – Beginner Foreign Exchange Broker
EasyMarkets (formally Easy Forex) are ideal for those new to forex trading based on their:
High-risk management features
Low minimum deposits
Fixed spreads with no commission fees
Forex training modules
Market and technical analysis
Advanced Risk Management Tools
Easy Markets like most CFDs providers offer a high risk environment due to their maximum leverage of 200:1. This means you can effectively trade up to 200 times your deposit in real-time increasing your exposure to the market. As CFDs are complex instruments, EasyMarkets offer ways to reduce this high level of risk.
DealCancellation
This feature allows a trader to cancel a trade when:
DealCancellation is selected when making the trade.
Within 60 minutes of trade, the DealCancellation is triggered.
The amount risked in the trade minus fees is returned.
Overall, this feature can avoid heavy losses on a trade within 60 minutes of activation.
Guaranteed Stop Loss
All EasyMarkets trades include a guaranteed stop-loss trading tool ensuring:
A trader can set the maximum loss they are willing to accept for a trade.
That loss is guaranteed as the maximum amount.
Irrelevant of market conditions at the time, no slippage can occur.
No other charges are associated with this feature.
Negative Balance Protection
The final trading tool offered to reduce the high risk nature associated with CFD trading is negative balance protection. This ensures that if a trader's losses exceed their deposit, EasyMarkets will exit the trader from the market and pay any additional losses. This can be critical when executing multiple trading strategies where profits or losses can be hard to monitor.
Easy Markets Has Fixed Spreads, Not Variable Spreads
The majority of Australian forex providers offer variable spreads which change during the day making it hard to difficult to understand brokerage fees. Below shows the fixed spreads across the two standard accounts offered by EasyMarkets which differ by the forex trading platform across major currency such as the GBP and USD.
The three key benefits of fixed spreads over variable spreads are:
Transparent trading costs as they are a market maker.
No surprises in spread spikes during turbulent markets.
Easier trading based on news events when it's critical to calculate exact profits and losses.
The Sweet Spot For EasyMarkets
EasyMarkets is ideal for those new to currency trading requiring a forex broker with transparent brokerage and excellent risk management tools. While EasyMarkets offers MetaTrader 4, it's recommended to use their own forex trading platform that integrates with all unique risk management features such as DealCancellation. Account types include VIP, premium and standard structures, with minimum deposits and spreads varying between account tiers. In general, it is recommended to choose the premium account if your willing to meet the initial deposit requirement of $3,000 AUD when signing up.
Should You Trade Forex?
FX trading occurs throughout the day, with no limitations on short currencies. If you believe a currency will fall, sell it and if you feel it will increase in value, buy it (buy low, sell high). Trading forex comes with high levels of risk, with the potential to lose or gain money at any time. The fact that most traders concentrate on a few currencies means there is plenty of people trading. This makes it easy for you to get in and out of trades at any time you prefer. The liquidity available is deep and allows you to trade at high leverage to take advantage of market movements. However, you need to remember that it might increase your profits as well as your losses.
Low trading costs are another reason why there are plenty of Australian forex traders and brokers. Usually, there are no hidden mark-ups or charges associated with liquidity providers, with most trading accounts offering tight, ECN-like spreads with competitive commissions. Forex trading creates international exposure, with investors always looking for new opportunities to make net profits. Forex is the easiest way to invest in other markets without the need for financial statements and securities laws.
An Overview of the Forex Industry
Forex describes the act of trading currencies often undertaken by speculators and investors in the foreign exchange market. For example, if the U.S dollar weakens in value relative to the Australian dollar, a trader will sell U.S dollars and buy Australian dollars. In case the AUD strengthens, the USD's purchasing power increases. In such a case, the trader can buy more USD, thus making a profit, with the process similar to stock trading. Traders purchase stocks that they think will increase in value and sell stocks whose value is likely to depreciate in the future.
How to read a quote?
Since traders compare one currency to another, they are quoted in pairs on the forex market. Reading a quote is a straightforward method. For example, you compare the value of one Australian dollar to the U.S dollar. The first listed currency is known as the base currency and the currency is quoted in this currency.
What is a lot?
A 'lot' represents the number of units that are bought and sold when trading currency. FX accounts in Australia use 'standard' lots, made up of 100,000 units of currency. Other types of lots available include mini-lots which are 10,000 units and micro-lots which are 1000 units. You can trade as many lots as you wish as long as they are in increments of the chosen lot. Ie: if you trade 5 standard lots that will be 500,000 units.
One thing to look out for when trading lots is the cost charged by the broker per lot. Costs of trading with smaller lots may be more expensive, especially since a trader may need to buy or sell more lots to achieve the same volume as a single standard lot.
What is margin/leverage?
Online forex brokers and CFD brokers allow you to execute trades using borrowed money, allowing traders to take advantage of a margin. Leverage of 100:1 enables you to trade with $10,000 in the market by using $1000 dollars as a security deposit. This $1000 is known as the margin. You can take advantage of margins to control more money in the market than you have in your account. However, leverage comes with high risk and can also substantially increase your losses. FX trading is not a suitable venture for all investors who are not willing to take risks. A margin requirement is a specific amount a trader is required to keep aside to hold a position. It can be a good faith deposit expected to keep open positions. It is a part of your account equity allocated as a deposit and not a transaction fee.
Leverage and margins are fundamentally the same except they are expressed differently. Leveraged products will usually be expressed as a ratio. Thus, leverage of 100:1 as mentioned earlier means you can trade $10,000 using $1,000 worth of funds as security. Margin or margin rate, on the other hand, is expressed as a percentage. Thus a 1% margin rate of $10,000 equates to a $1,000 margin requirement. Forex brokers such as OANDA have a low margin rate compared to brokers such as IC Markets or Pepperstone.
What is a pip?
It is the unit used to count losses or profits. Most currency pairs are quoted to four decimal places. The fourth value after the decimal point is what you use to count a pip. Anytime a point in the quote moves, it is counted as a pip of movement. For example, if the AUD/USD increases from 1.4011 to 1.4018, the AUD/USD currency pair has grown by seven pips.
What is Spread?
Spread is similar to pip. The spread is the difference between the buy and sell price (bid/ask price). For example, if the buy price is 0.83860 and the sell price of the foreign currency is 0.83855 then the spread equates to 0.83860 –  0.83855 = 0.00005 and can be expressed as 0.05 pips when rounded.
Licensed and Regulated Forex Brokers
It is important when choosing a forex broker to consider signing up with a service provider that is licenced in your domestic market. In Australia, this means the broker must be granted an adequate Australian Financial Services License (AFSL) by the Australian Securities and Investments Commission (ASIC) to legally trade in Australia. Additionally, they monitor all foreign exchange contracts and derivatives to make sure they are legal and markets are competitive. To see if a broker is ASIC regulated you will find the brokers ASFL licence number published on their website. There are also regulatory bodies in the UK (known as the FCA), Singapore (MAS) and Cyrus (CySEC). The best brokers are always regulated and any forex scams are almost always associated with unregulated forex brokers. When you start trading, check with the regulator's site to make sure the broker holds a current licence.